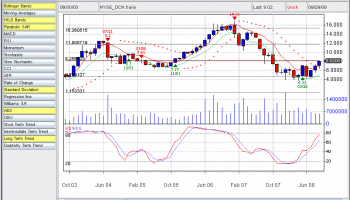 There is no one technical analysis indicator that will win 100% of the time. There is no holy grail of charting... and if there is, then someone is keeping one hell of a secret. However, technical analysis techniques can help you make educated decisions, putting the odds on your side that you are on the favorable direction of a move.
So the question is...
"Besides MarketClub's 'Trade Triangles', what is your favorite technical analysis indicator?"
Prize
Winner will receive 6 workshops on technical analysis from our authors in INO TV. These MP3s and digital PDF workbooks will be mailed to you courtesy of INO TV.
| | |
| --- | --- |
| | Construction & Application Of The MACD Indicator |
| | The Theory of Momentum & Lane's Stochastic - George Lane |
| | The Relative Strength Index Explained - Andrew Cardwell |
| | Classic Technical Analysis as a Powerful Trading Methodology - John Tirone |
| | Applying Fibonacci Analysis to Price Action 1 - Joe DiNapoli |
| | Applying Fibonacci Analysis to Price Action 2 - Joe DiNapoli |
How To Enter:
Comment on this post telling us what your favorite technical analysis study is and why. There are no wrong answers.
We want to you to share your thoughts and stories with our other visitors. Here are some responses from in the office to get you started:
Bob F. : I'm a fan of the MACD. I like to backtest various exponential moving average and signal settings for different markets.
Melissa P. : Average True Range is one of my favorites. I don't use this indicator for any other reason that to see activity. I can quickly see how much a stock has been moving throughout the day and leave the stagnant stocks alone.
Kenny S. : I have been trying to study up on the concepts regarding standard deviation. I'm still learning about Bollinger bands, but it's something that is very interesting thus far.
Lindsay T. : The MACD is one of my favorites too. I use the MACD crosses to confirm the "Trade Triangle" signals. When the market is moving sideways, I don't always follow each and every "Trade Triangle" unless I have a confirming back up.
---
Rules
1. This contest is open until 11:59 PM on October 31st.
2. No wrong answers, any participation counts as an entry.
3. One entry per email address.
4. Winner will be picked by random integer software.
5. Winner will be contacted on Monday, November 3rd via email.
--
Good luck!