If you get a few minute this weekend I would love to hear feedback from MarketClub customers. I am putting together some promotional material and I would like some fresh testimonials to jazz things up. We will also be adding new friendly faces to our testimonial page of MarketClub.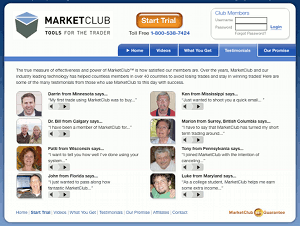 Liz B., Great Britain -"Two weeks with Market Club and 422 pips up is good news for me! This stuff can be very addictive."
Gene S., Florida- "As an active trader, I make 10-20 trades per day. MarketClub has become my number one source for analysis and forecasting. Over the past year of using +100 Trade Triangles as the basis for my trading, my portfolio is up 100% with over an 80% win ratio."
If you have a success story, enjoy a specific tool, or just want to give your thoughts on MarketClub or INO.com please send your testimonials, suggestions or comments to [email protected]. We will be incorporating a few member responses into our print, web and possible radio campaigns for the remainder of this year.
Feel free to be specific or general. Please also send your contact information as I will be getting in touch if we choose to use your comments to give you a special little gift.
Send to [email protected], subject line MarketClub.
Have a wonderful weekend and I look forward to a full inbox on Monday!
Best,
Lindsay Thompson
Director of New Business Development
INO.com & MarketClub