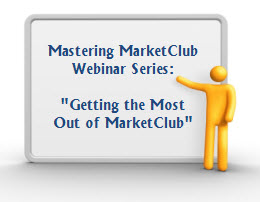 This week's webinar will start the "Getting the Most Out of MarketClub" series.  The first part of this series titled, "What Type of Trader Are You?" will help you identify your trading style and also how to use the "Trade Triangle" technology successfully within that style.
To kickoff this webinar series, our presenter will be MarketClub co-creator and INO.com President,  Adam Hewison. With Adam's wealth of knowledge, we couldn't think of anyone better to get us started.
We hope that you'll be able to join us on Friday, December 11th at 4 p.m. EST. You can register by clicking here.
You can also register in advance for the 2nd and 3rd parts of this series by clicking the links below:
Part 3 - "Tips and Tricks of MarketClub"
If you would like to be notified about future webinars, click here to sign-up.
Best,
Susan Jackson
Webinar Administrator
INO.com & MarketClub