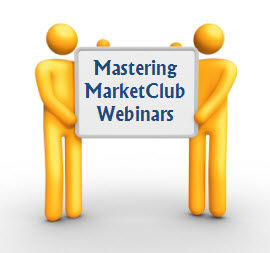 Have you wondered if the Fibonacci lines will stay on your chart? If MarketClub carries Canadian symbols? What the Chart Analysis score means?
In this week's webinar, which will be hosted by Susan Jackson and Jeremy Lutz, you'll be able to inquire about anything you've always wanted to know about MarketClub as well as the answers to some frequently asked questions compiled by our member service group.
We invite you to submit questions to [email protected], but please keep in mind that they should be related to MarketClub's features, tools, and charting services.
Click the link below to register for MarketClub's Open Forum & FAQ Webinar on Friday, January 15th at 4 PM EST.
https://www1.gotomeeting.com/register/640285609
As always, we look forward to seeing you there!
Susan Jackson
Webinar Administrator
INO.com & MarketClub