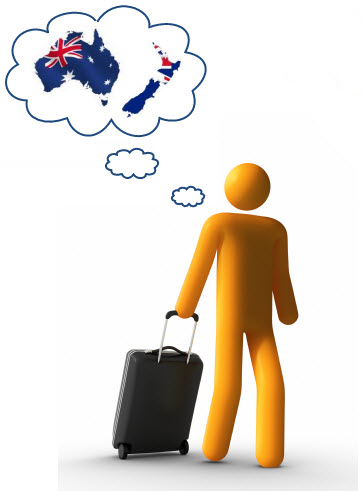 My Daughter's Wedding The number one reason my wife and I traveled halfway around the world was, of course, our daughter's wedding in New Zealand. My daughter married a wonderful young man from New Zealand who we are all thrilled about and being her dad, this was most important.  I'm happy to report that my daughter looked beautiful and the wedding was fantastic. The bride and groom were blessed with a rare double rainbow at the reception.
Franz Joseph and Fox Glaciers After the wedding my wife and I took off for a helicopter tour of the Franz Joseph and Fox glaciers. I must admit that we were very lucky with the weather and were able to land on the top of the glacier.  It was an experience I hope you all get to enjoy in the future. After our adventures on the North Island, we flew down to the South Island. It was there that we had one of the most amazing experiences with the geography of New Zealand. We stayed in Queenstown, which is a mecca for thrill seekers. Among the exciting activities offered are parasailing, bungee jumping, jet boats and skydiving.  Basically, you name it and they do it there. My wife very wisely held me back from doing something really stupid like jumping out of an airplane, but I have put it in my list of things to do in the future, maybe next year?
The Remarkables & Milford Sound It was from Queenstown that we flew over the mountain range named the Remarkables and then over the Southern Alps to get to Milford Sound. This was one of the great experiences of my life to witness this amazing part of the planet with its towering walls of granite, beautiful waterfalls, dolphins, and seals. This is a truly unspoiled region of the world. Milford Sound was the entrance into the amazing fjord that Capt. James Cook missed when he was sailing around New Zealand in 1770. The physical beauty is spectacular and we felt incredibly blessed that the weather cooperated as Milford Sound is very weather dependent and if the weather is bad (and it had been for seven days prior tour arrival in Queenstown) we would have missed this whole amazing experience.
Ayers Rock From Queenstown we traveled to Sydney, Australia where we stopped briefly before departing for Ayers rock which is in the middle of the country, or I should say, the middle of the desert. When we arrived at Ayers Rock it was raining which is practically unheard of during this time of year (keep in mind that it is midsummer down under). We had expected temperatures to be 40 Celsius and instead it was a very pleasant 25 Celsius which made our stay all the more enjoyable. Again, we lucked out as the rain stopped that afternoon and were blessed with good weather for the rest of our stay. Ayers Rock is something that I've wanted to see for many, many, years and I felt quite fortunate to be able to witness the rare and unique waterfalls coming from this monolithic rock the middle of the desert. After spending a few more days and getting some much needed R&R, it was time to jump on a plane and head up to Cairns which is the gateway to the Great Barrier Reef.
The Great Barrier Reef The Great Barrier Reef turned out to be just that and much more. My wife and I went scuba diving and snorkeling, and quite frankly the snorkeling was just as much fun, if not more fun, than the scuba diving.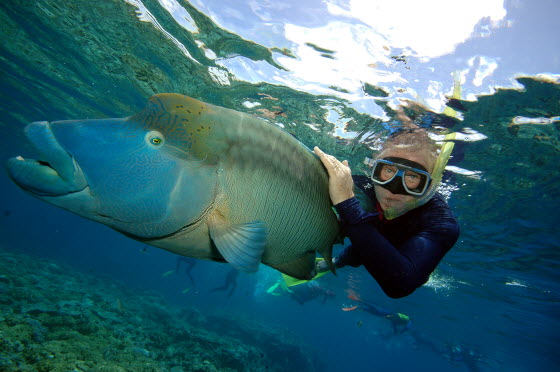 It was while snorkeling on the Great Barrier Reef that we met Roxie the fish. Here was a huge fish (that's her in the photo) that was not afraid of humans in any way. All you had to do was hold your arms out and Roxie would swim to you, unbelievable. It was one of those experiences that I will never forget. After spending a delightful few days diving and dining it was time to get back to Sydney for our next adventure.
Sydney Harbour Bridge Time was certainly running out for a vacation, but I had one adventure that I had promised myself I would do on this trip. I wanted climb the Sydney Harbour Bridge. Now this sounds very adventuresome, but the reality is it was it was more like a trek than an actual climb.
It's funny how you remember some things in life and not others. I grew up in the north of England in a town called Newcastle upon Tyne. Some of you may have heard the expression, "carrying coals to Newcastle". This expression refers to spending copious amounts of time on a pointless activity. Newcastle has an abundance of coal and therefore it would be pointless to "carry coals" there. Well, that's the Newcastle I grew up in. In fact, several of my uncles were coal miners.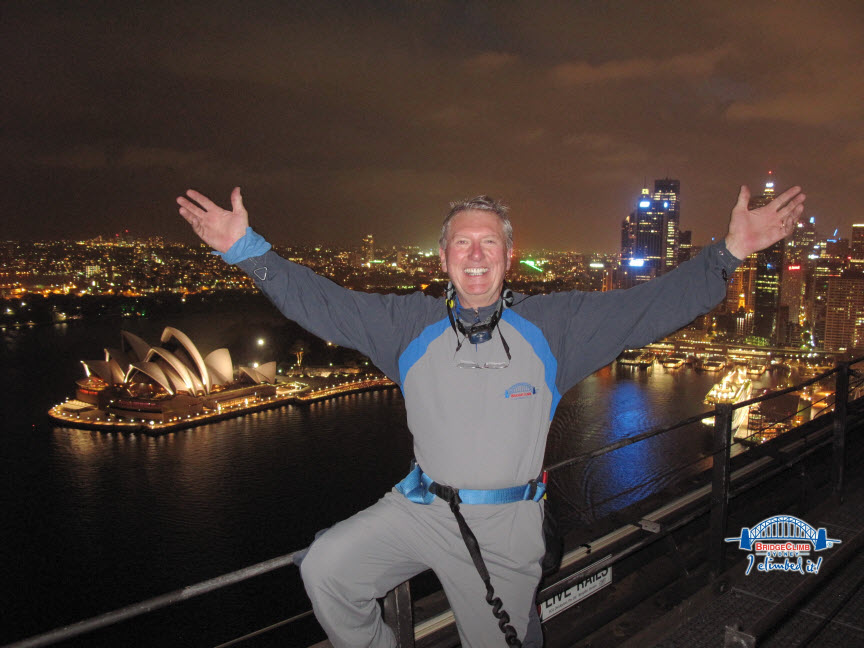 What do Newcastle upon Tyne and the Sydney Harbour Bridge have in common? The bridge that crosses the River Tyne is the exact same bridge that crosses the Sydney Harbour. The only difference is, the bridge in Australia is substantially bigger. I remember going down to the Quay in Newcastle with my grandfather when I was just four or five years old and the bridge I grew up with looked so big. With our last night in Sydney, I had to make the twilight climb if I wanted to climb the bridge this time. As luck would have it, I met up with a charming fellow from UBS (that's Union Bank of Switzerland) who was in Sydney doing business. The two of us teamed up and together with our guide we made it to the top of the Sydney Harbour Bridge.  The view of Sydney Harbour, the Sydney Opera House and the surroundings was, to say at the least, breathtaking. It was an experience I couldn't possibly forget. I hope that many of you will have the opportunity to enjoy it as well.
The next morning it was time to pack the bags and catch a flight to Auckland, New Zealand, change planes, and begin our final flight home.
All of this would not have been possible if it had not been for my business partner Dave and all of the wonderful staff we have here at both INO.com and MarketClub. Thank you all for doing a super job while I was away.
All the best,
Adam Hewison
President, INO.com
Co-creator, MarketClub