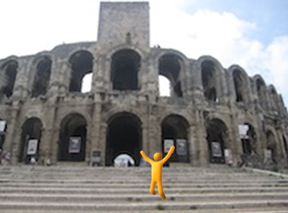 I recently had the good fortune to travel to France with my wife on holiday. We both wanted to go to Provence which is an area in France that is steeped in history and Roman antiquities.
Okay I admit, we did eat some great food and how could we not drink the wine. What's that expression, "When in Rome … "? Also Provence is home to Châteauneuf du Pape, one of the worlds best known wine regions.
We traveled all over Provence taking in the sights, smells, and yes, our share of wine. It was during a visit to the small city of Arles that the immensity of the Roman Empire really struck me. It was there that I witnessed the awe of a true Roman amphitheater.
This brings me to the popular myth, "Morituri te salutant," known as the gladiators salute. This was what was supposedly said before every gladiatorial contest in Rome and cities like Arles before the gladiators went into combat. Now I ask you, is that something that you would say before going into hand-to-hand combat with an uncertain outcome? I can think of a great many things I would be say, but "Morituri te salutant" would not be one of them.
It was there in Arles that I realized I could actually touch history; it was there that I discovered how much we, as traders, have in common with the gladiators of old. Right now you're probably thinking, Adam you been sipping on too much wine, right? But, the question I have for you is, are you a gladiator in the markets?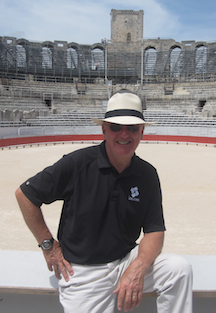 Let me explain my thoughts. It is a pretty well-known fact that most people that trade in the futures and forex markets lose money, or to put it another way, get "killed" in the market. The guesstimates range from 80-95%, depending on who you talk to, but it is definitely up there. It's not unlike the gladiator fights of old when only a few gladiators ever won their freedom and made it out alive, but when they did, they were showered with money and glory.
I want you to become that winning gladiator today so you to can enjoy the riches of winning in the markets.
Here are five easy steps to put the odds in your favor. These five steps will make sure that you walk out a winner in any trading arena.
One: Trade with a game plan
Two: Diversify into different arenas
Three: Implement good money management stops
Four: Act and think confidently
Five: Follow all of the above
Unlike the gladiators of old where the odds were stacked against you, traders who follow the five steps outlined above will become winners in any market arena you choose to fight in.
Thanks for taking the time to read this blog. I welcome your feedback and comments.
Every success,
Adam Hewison
President, INO.com
Co-creator, MarketClub