Dave Curran is a respected author on a number of sites, Forex Avenger being one of them.
Today Dave will talk about managing your emotions in this tough market, specifically fear and greed. Read what he thinks
about disciplined trading.
--------------------------------------------------------------------------------------------------------------------------------------------------------
After the trader has learned the mechanics of trading, we then enter into the world of Greed & Fear.
When you have your trading system in place, and know all about technical analysis, money management, probability, risk to reward and all the other components needed to be a successful trader, we are then introduced to our two friends Mr Greed and Mr Fear.
Greed and Fear = Emotions
It is sad to say this is the area that most traders cannot master, and if there was ever a secret attached to trading, this has to be one of the biggest, just behind money management.
If the trader can stay focused, and still show discipline to take the trades their system is generating after a string of losses then this is a quality that will result in becoming a great trader.
Most traders will be deeply affected after taking a few hits, and their discipline will waver by making changes to the plan. These changes mainly come in the form of exiting too early, cutting the trade's potential for the need to be correct. Not realizing that doing this reduces the profits on the winners, and places the whole money management plan in jeopardy.
Handling a string of losing trades is not the only hazard because landing on a winning streak will places demands on your discipline.
A trader is most vulnerable when they start thinking this is easy, and start to take their foot off the pedal. Reading about some of the best traders in history reflects on some of my own experiences, that the biggest losses come very shortly after some of the biggest wins or a run of wins.
The fear factor will increase after every losing trade and the greed factor pops up after winners.
Very few traders are content with the results of every trade, they always think they could have won more on winners and reduced the amount on losers.
(Remember you will never find the tops and bottoms consistently, but all you need is that part in the middle to be profitable.)
Mr Fear and Mr Greed
Fear and greed, will play extraordinary tricks with your emotions but only through self control and discipline will you be able to control them.
Everybody has different levels of fear and greed, some people show no fear at all whatever they are doing, and then you get the others that are so greedy they will literally do anything. Having a balance between the two will be easier to control.
It`s without doubt, trading is a test of emotional control as the price swings up and down.
Without doing the ground work and arming yourself with the correct trading education, the diagram below highlights the emotions the trader will experience.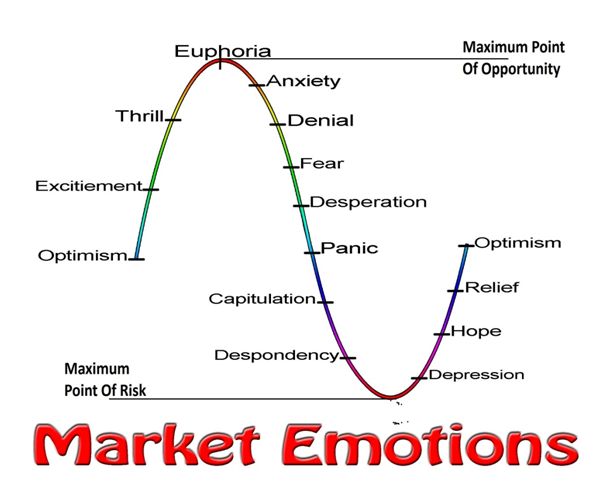 The only way we can control these emotions is to have complete faith in the system we are trading and understand that part of the system (plan) means that there will be losing trades.
To have undoubting faith in your trading system does not come cheaply in time and effort, the need for testing is really important. You should back test and forward test until you have conditioned your mind to accept all the possibilities that can be thrown at you.
Only then will you be able to dispatch Mr Fear and Mr Greed out of the equation, and trade with complete discipline.
But..?
How many traders will ignore this advice and jump in to soon, because of impatience and the lack of respect to their educational needs in conditioning their minds?
Self control and discipline is what makes a good trader, if they can hold their hands up at the end of the month and be true, by saying, I have traded my system without any deviation from the plan, then the future is looking good.
Trader's that show discipline in their everyday life usually bring this quality to their trading business.
Happy Trading,
Dave Curran
Forex Avenger
[email protected]