As we go through the charts of the daily indexes and individual names we see a lot of Pullback Off Lows (POL) patterns.
Much like in uptrending markets Pullback Off Highs (POH) patterns are the only pattern you need to know, in downtrending markets the opposite applies.  In downtrending markets POL's are the only pattern you need to know for shorting. Those POL's are also the what to watch out for if you are long. That all said below are the daily charts of the indexes.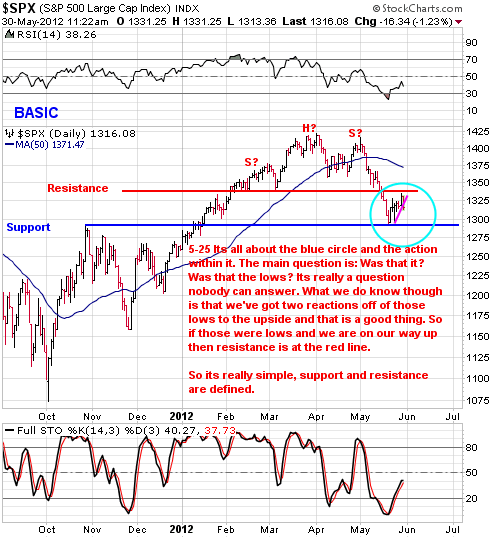 As you can see from a daily chart perspective each of the above has broken the Pink POL,Snapback rally, D wave, Bear channel call it what you will to the downside.  Does that automatically mean this is it? Meaning a retest of recent lows? No, at this point all it means is that its initially broken to the downside and its all about follow through from here.  We'll take it a step at a time as usual.
The Russell 2000 shown below tagged its neckline (resistance) of its head and shoulders top and one could say and rolled right back over.
This all said? So far so good.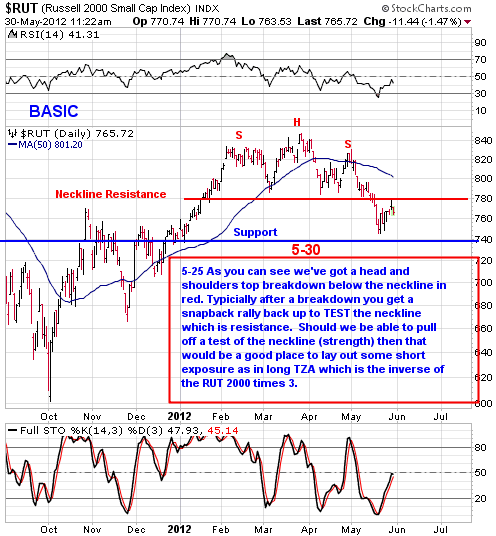 Now let's take a look at DECK.  What is the overall trend of this stock – up or down?  The answer is both.
Overall it's locked in a downtrend as shown by the red lines.  But within those red lines, it has a series of mini-uptrends as shown by the green lines.  Those green lines are Pullback Off Lows patterns.  Notice how each time, it's failed at the red line/50-day?
A short sell trade is triggered on a break to the downside below the green lines.
We've earned a 76% return in just under 4 years while the S&P 500 has produced a return of just 4% in the same period.
We have a simple process to help you earn consistent returns in the stock market.
1. We publish a newsletter each Sunday and each trading day that gives you an overview of the market, teaches you about profitable technical chart patterns and how to trade them and includes a watch list of stocks that have completed these patterns.
2. When a stock on our watch list triggers a trade, we send you a Trade Trigger email alert so you can take the trade at the most opportune time.
3. Each newsletter provides updates on our current positions, stocks on our watch list and new stocks added to our watch list.
4. When we are ready to lock down our gains, we send you a Locking In Gains email alert.  With our trade trigger alerts and locking in gains alerts – we make it easy for you to trade in tandem with us!
All of this is available to you for just $29.99 a month.
But since you are an INO member, you'll receive our service for just $19.99/month – that's a 33% savings and is month to month, cancel anytime!
Folks, it doesn't get much better than that. To sign up today, just click here.
You have very little to lose and a lot to gain!
Sincerely,
All About Trends
allabouttrends.net