There were reasons for the mind numbing gold stock correction out of the hysterical events of the 2011 Euro-led meltdown and its aftermath.  Take your pick…
Too many lousy gold mining operations not keeping on top of costs and/or execution projections.
Too many scammy smaller operations doing little more than issuing stock and telling stories needed to be weeded out.
Over bullish sentiment was that this time the gold bug true believers really were going to take Hamburger Hill as Europe's implosion would be taking down the rest of the civilized world.
Highly strategic yet indirect manipulation of the gold miners' product – a barbarous relic not welcome in an economic discussion by today's monetary policy setting intellectuals – by a very overt (publicized) manipulation of the Treasury yield curve in Operation Twist.  I will spare you another chart of gold's correlation to the curve.
There are more reasons, but now is a time for planning for what comes next.  Not crying over spilled nuggets.
A lot of damage was done to the ratio of the HUI Gold Bugs index to the S&P 500. So where are we now?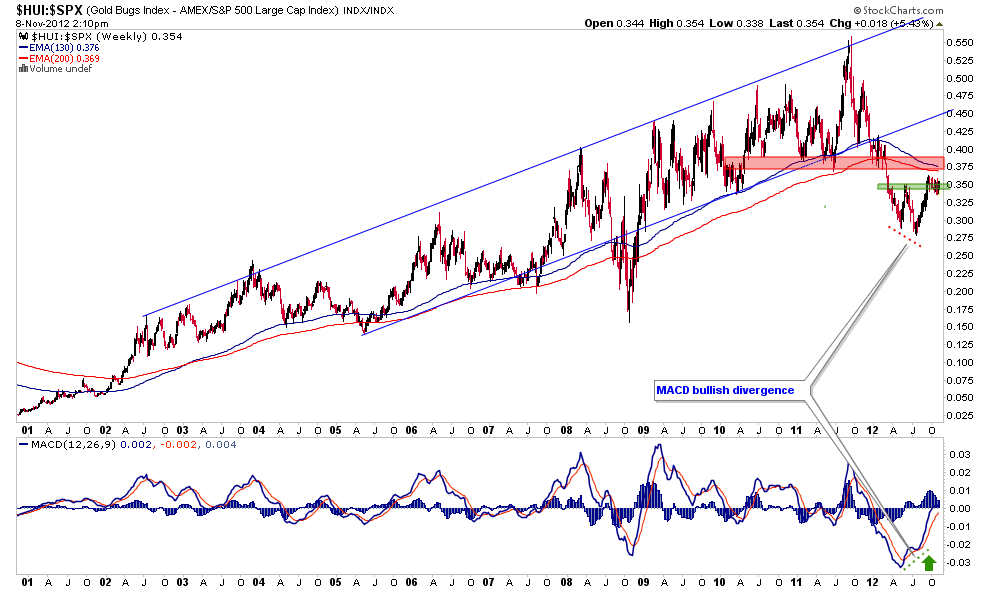 We are at a 'W' bottom that formed with a lower right side of the 'W' while MACD (along with other indicators not shown) made a weekly bullish divergence.  That's good, but more needs to be done.
The green shaded area shows the middle of the 'W' that should hold as support as the ratio bull flags with a downward biased consolidation.  Yet this is really not a great looking picture as the moving averages have turned down more noticeably than at any point in the bull market out of 2000 thus far.
Is that a negative?  Could well be, if we are going to go by unbiased TA signals.  But if on the other hand that bullish divergence and the extended bottom ('W') making process is implying pent up energy, then the out performance of gold stocks over regular stocks could be stunning.
My work on the macro economic fundamentals – updated most weeks in NFTRH, hint hint – says this is a very viable course.  Regardless, if that thick red resistance zone is surmounted along with the moving averages, your head is going to spin watching the gold sector [re]assume leadership.
The last couple days of short-term out performance have been fun.  But the real work begins now.
By: Gary Tanashian
Twitter @BiiwiiNFTRH