Hello traders everywhere! Adam Hewison here, co-creator of MarketClub, with a special look at Netflix (NASDAQ:NFLX).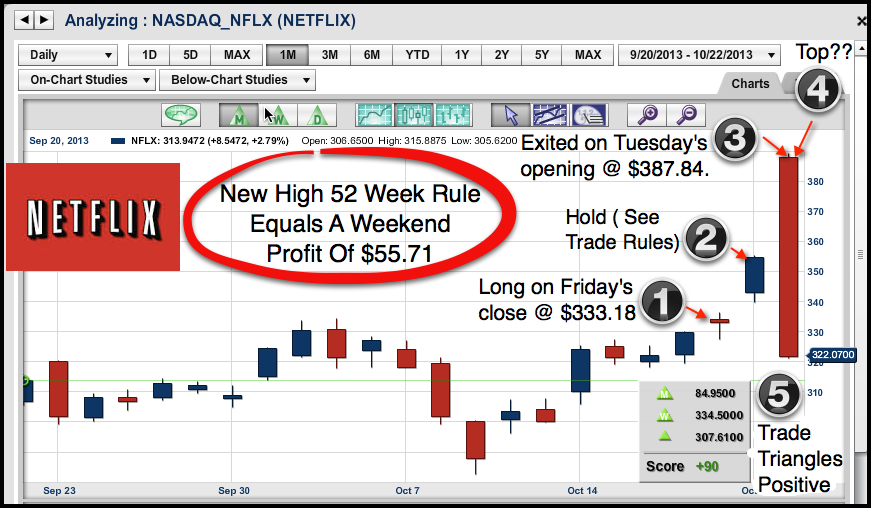 The market action in Netflix yesterday suggests that for the moment this stock has put in a fairly significant top. While all of our Trade Triangles continue to be in a positive mode, yesterday's market action created a "negative engulfing or bearish engulfing pattern." A top will be confirmed should Netflix close lower today.
Also notable, Carl Icahn has sold a shade under 3 million Netflix shares since Oct. 10th, at prices from $304.23 and up. The largest portion was the 2.4 million shares he sold yesterday at $341.44, for more than $819 million. Mr. Icahn still owns about a 4.5% stake in Netflix.
While the major trend in Netflix continues to be positive, it is going to take some time for this stock to repair the technical damage that was created on Tuesday. I would not be surprised to see this market quiet down and begin to regroup after yesterday's massive $68 trading range.
Several of the major stocks I discussed in last Thursday's post became great examples of a "52-week new highs on Friday" trade.
Netflix (NASDAQ:NFLX)
Purchased on Friday @ $333.18
Exited on open on Tuesday @ $387.84
Profit on trade: $55.71
Facebook (NASDAQ:FB)
Purchased on Friday @ $54.21
Exited on open on Tuesday @ $54.33
Profit on trade: $0.12
Apple (NASDAQ:AAPL)
Purchased on Friday @ $508.60
Exited on open on Tuesday @ $528.40
Profit on trade: $19.80
Here are the three rules you need to make a "52-Week New Highs on Friday" trade:
Rule #1: On a new 52-week high, when the market closes at or close to its high on a Friday, buy and go home long for the weekend.
Rule #2: Exit long position on the opening the following Tuesday.
Rule #3: If the market opens lower on Monday, exit this position immediately.
As always, I appreciate your comments and questions, so please feel free to leave them on this blog.
Every success and have a great day,
Adam Hewison
President, INO.com
Co-Creator, MarketClub