Hello traders everywhere! Adam Hewison here, President of INO.com and Co-creator of MarketClub, with your mid-day market update for Wednesday, the 20th of November.
Today, I'm putting Apple under the microscope and looking at the various scenarios I can see playing out for this stock. As many of you know, I'm a very big Apple fan and I love Apple products. However, there are times when I don't share the same feelings for the stock of Apple.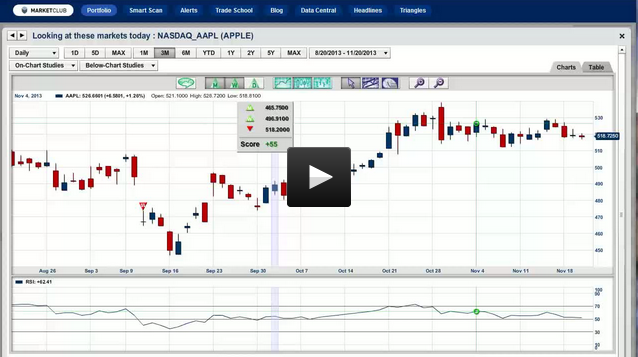 The stock of Amazon is barely changed for the week and continues to consolidate over the $360 level. I still feel that this stock can lazily move up to the $400 level by the end of the year.
I am a little concerned that the market action on Monday created a "negative engulfing line" for Netflix. This "negative engulfing line" was confirmed yesterday with the $337.04 close in this stock. On the positive side, Netflix should begin to find support around current levels as the RSI indicator is close to its support level at 50. With both the weekly and monthly Trade Triangles positive, I see little reason to abandon the upside target of $380-$400.
Under the stewardship of Marissa Mayer, Yahoo has really come to life and is shining again in the eyes of investors. The monthly Trade Triangle picked the major trend change in this stock early and is doing exceedingly well. I still believe that Yahoo can move higher and challenge the $40 a share level.
It is all steam ahead for Exxon as this stock has clearly broken over resistance at $95 and now has an upside target zone of $130 a share. I would use pullbacks in this stock, which is somewhat overbought, as buying opportunities. As with any investment, money management stops should be used at all times.
It would appear as though Facebook has recently lost some of its mojo and youthful followers. In the future, look for more and more teens to abandon Facebook for the likes of Twitter and Snapchat, as Facebook is in danger of just being for old folks. The big picture paints a slightly different story and indicates that the major trend is still intact on the upside. Only the weekly Trade Triangle is negative on Facebook and that was enough to exit this stock. For now, I prefer to observe from the sidelines and see how Facebook performs.
It only took three fires to drop the price of Tesla shares almost $80 in six weeks. With all of the Trade Triangles now negative, I see little reason to try to pick a bottom in this stock. Tesla is going to have to rebuild its image, its undercarriage and its stock price. For now, I prefer the safety of the sidelines.
I would expect the $28 a share level to provide some support for Pandora. At the moment, both the weekly and monthly Trade Triangles are positive on this stock and I see no reason to change my longer term bullish analysis of this market. Look for Pandora to regroup and continue to move higher.
We appreciate your comments, questions and any feedback you may have on the stocks mentioned in today's post. Feel to interact with us below.
Thanks and every success in the market,
Adam Hewison
President, INO.com
Co-Creator, MarketClub
Adam appears frequently on the following financial news channels as a guest expert. Click on any cable logo to watch Adam's latest appearance.