I have had a number of requests to update my January 3rd special report on gold. Since that report, gold has rallied $150 from the lows that were seen in late December 2013.
On January 3rd, I outlined what I thought was going to happen to Gold (FOREX:XAUUSDO) and I was very happy to see that scenario play out for both our members and myself. Since that date I have seen a number of factors play into the market, the biggest being the events in the Ukraine right now.
One fact I wanted to share with you, which I found surprising and did not know, was the fact that Indian housewives hold 11% of the world's gold. That is more than the reserves of the USA, IMF, Switzerland and Germany put together. Now, there's a bit of trivia to impress your friend with.
One of the major changes to take place this quarter in the gold market was a new monthly Trade Triangle that kicked in and signaled a major reversal to the upside at $1326.91. This was the first signal in our monthly Trade Triangle since December 18, 2012 at $1672.40 when this indicator signaled a downtrend. These monthly Trade Triangles do not come along that often in gold and when they do you need to pay close attention to them.
Looking at the chart of gold, the two most dominant features I see are the resistance levels around the $1350 area (number 6) and at the long-term trend line (number 9).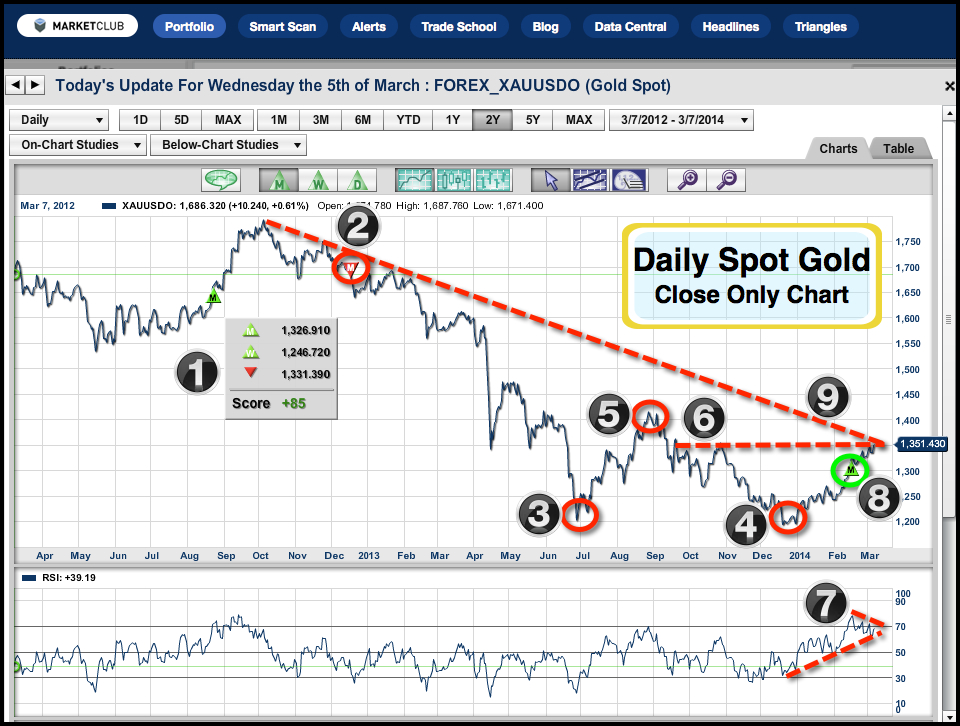 1. The monthly and weekly Trade Triangles are positive
2. Previous red monthly Trade Triangle signal
3. Part one of double bottom
4. Part two of double bottom
5. Pivot point
6. Major resistance from previous high $1350
7. Negative divergence on RSI indicator
8. Major Trade Triangle reversal to the upside
9. Major 15-month downtrend line
The potential exists for the gold market to pullback to the $1280 or even the $1260 area from present levels. This is based on a Fibonacci retracement measuring from the highs that were recently seen around the $1352 level and the lows that were seen in the late December around $1200. If given the opportunity, I would like to add/put on new long positions around the $1270 zone.
Another key area to watch for clues will be the RSI and the 50 support line that I've talked about before. If you haven't seen the special lesson on the RSI you can watch it here.
I still believe that gold eventually will trend higher, especially as inflation becomes more and more of a keyword in the media. The immediate outlook for this market I expect will be somewhat choppy and in a defensive mode. Pay close attention to the weekly and daily Trade Triangles, as they will give you a heads up as to where this market is headed.
Don't forget a comment if you'd like to discuss gold and give us your views on the gold market.
Here's to a very successful gold trading year to all our members, traders and friends,
Adam Hewison
President, INO.com
Co-Creator, MarketClub