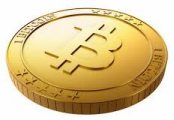 Bitcoin evangelist and Coinapult Cofounder Erik Voorhees gives us his thoughts on the demise of Mt. Gox and losing nearly $300K in Bitcoin… why cryptocurrency exchanges are a threat to government and the banking industry… what really happened with China's "ban" on Bitcoin…and advice for investing in cryptocurrencies.
Here are a few excerpts:
"You know, Mt. Gox was … really the first Bitcoin exchange. They got started by this hacker guy who put it together and was suddenly running a $100 million Bitcoin exchange. That's sort of a recipe for disaster. … This is the ultimate creative destruction of capitalism. There's a huge market opportunity for people who know how to do this right, to step in and do it—and already we have exchanges that are better run than Mt. Gox."
"I think that it will be very common to send digital money over the Internet, just like it's common to send digital information over the Internet today. … You can't put the Internet back in the bottle, and Bitcoin is just one more extension of Internet technology changing the way that we interact with each other."
"I guess [the government] will try the typical tactics of vilification, of trying to associate Bitcoin with black markets and terrorism and money laundering and all that kind of thing. They will try to slander it, but that's really not going to work. I think there is a certain inevitability of fiat money losing to what I call hard digital currencies, and I don't see them as being stoppable … they're just really going to waste a lot of taxpayer money and time."
"I would say that Amazon accepting Bitcoin will be at the tail end of it. You know, Amazon is a large company, they move slowly. They're not going to be an early adopter. By the time it's on Amazon, it will already be widespread."
Sound Money Radio host Andy Duncan speaks with Erik Voorhees about the collapse of the popular Bitcoin trading exchange Mt.Gox and the implications of this for the ongoing future of cryptocurrencies.  Erik is the cofounder of Coinapult, a popular Bitcoin transfer website.
Listen to the full interview here