Each Week Longleaftrading.com will be providing us a chart of the week as analyzed by a member of their team. We hope that you enjoy and learn from this new feature.
As we start the week our attention turns to the September E-Mini S&P 500 (CME:ES.U14.E) as it looks to extend a 6 day winning streak. US equities have benefited from the dovish and accommodative tone from the FED last week. Existing home sales and manufacturing PMI data have added an additional boost to the market this morning. Coupled with last week's support, the path of least resistance in the S&P 500 is a move higher. The primary concern that could spark profit taking in this market are the geopolitical risks surrounding the conflict in Iraq which has given early strength to the Crude Oil market.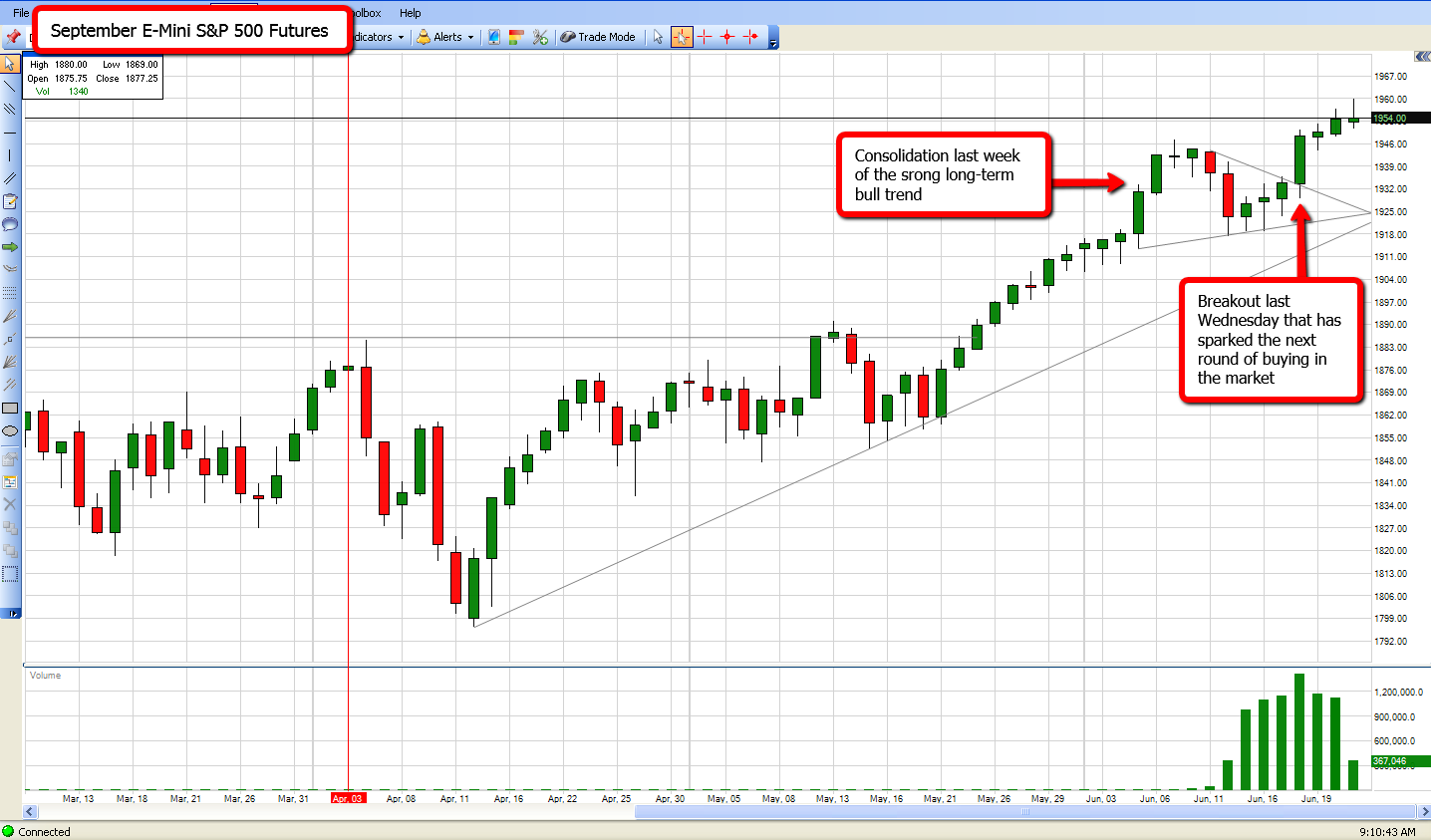 As we turn to the chart, last week we saw a breakout of a consolidation pattern in an overall strong bull trend last Wednesday, June 18. Since the breakout from this consolidation, the market has legged decisively higher to put in new all time high levels to close out last week. The market put in a new high print in the overnight session of 1959.75 and I expect this bullish momentum to continue this week. For a multi-day swing trade, I would be a buyer at the current levels of about 1954.00 – 1956.00 with an early upside objective at 1965.00. Should the market undergo this move higher, I would roll sell stops behind the market accordingly, starting with a sell stop below last Friday's low print of 1948.25.
I advise clients on trading futures and futures options markets on a day to day basis. If you have any questions regarding this chart or questions regarding trading futures and futures options, feel free to call me directly at 888-272-6926.
Thank you for your interest,
James Leeney
Account Executive
Phone: (888) 272-6926
www.longleaftrading.com
** There is a substantial risk of loss in trading futures and options. Past performance is not indicative of future results. The information and data contained in this article was obtained from sources considered reliable. Their accuracy or completeness is not guaranteed. Information provided in this article is not to be deemed as an offer or solicitation with respect to the sale or purchase of any securities or commodities. Any decision to purchase or sell as a result of the opinions expressed in this article will be the full responsibility of the person authorizing such transaction.