Do you ever stop and think to yourself, "things have really changed since I was a kid..."? All nostalgia aside, there is one sector that is probably most responsible for the change! This sector has become an essential part of everyday life.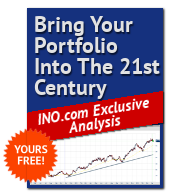 One look at the fundamentals and you will quickly see that it shows no signs of slowing down. It has continued to innovate, impress and continues to climb.
In this complimentary report, you'll learn...
The identity of this sector and an ETF that has "upside" written all over it.
One of the hottest stocks in the sector that is poised to outperform!
The fundamental and technical support behind these picks.
View this report: Bring Your Portfolio Into The 21st Century
I hope you enjoy this report and are set to profit from the continued growth!
Best,


Wayne Burritt
Market Research Contributor
INO.com, Inc.