Each Week Longleaftrading.com will be providing us a chart of the week as analyzed by a member of their team. We hope that you enjoy and learn from this new feature.
The major US stock indices pushed into record high territory late last week ahead of the start of the second quarter earnings season. To start this week, we see equity markets on a lower track following strong US economic data last week. Japan and European shares underwent profit taking, and with a relatively light US economic calendar ahead of the release of Wednesday's FOMC minutes, we may see a round of profit-taking following last week's record high print.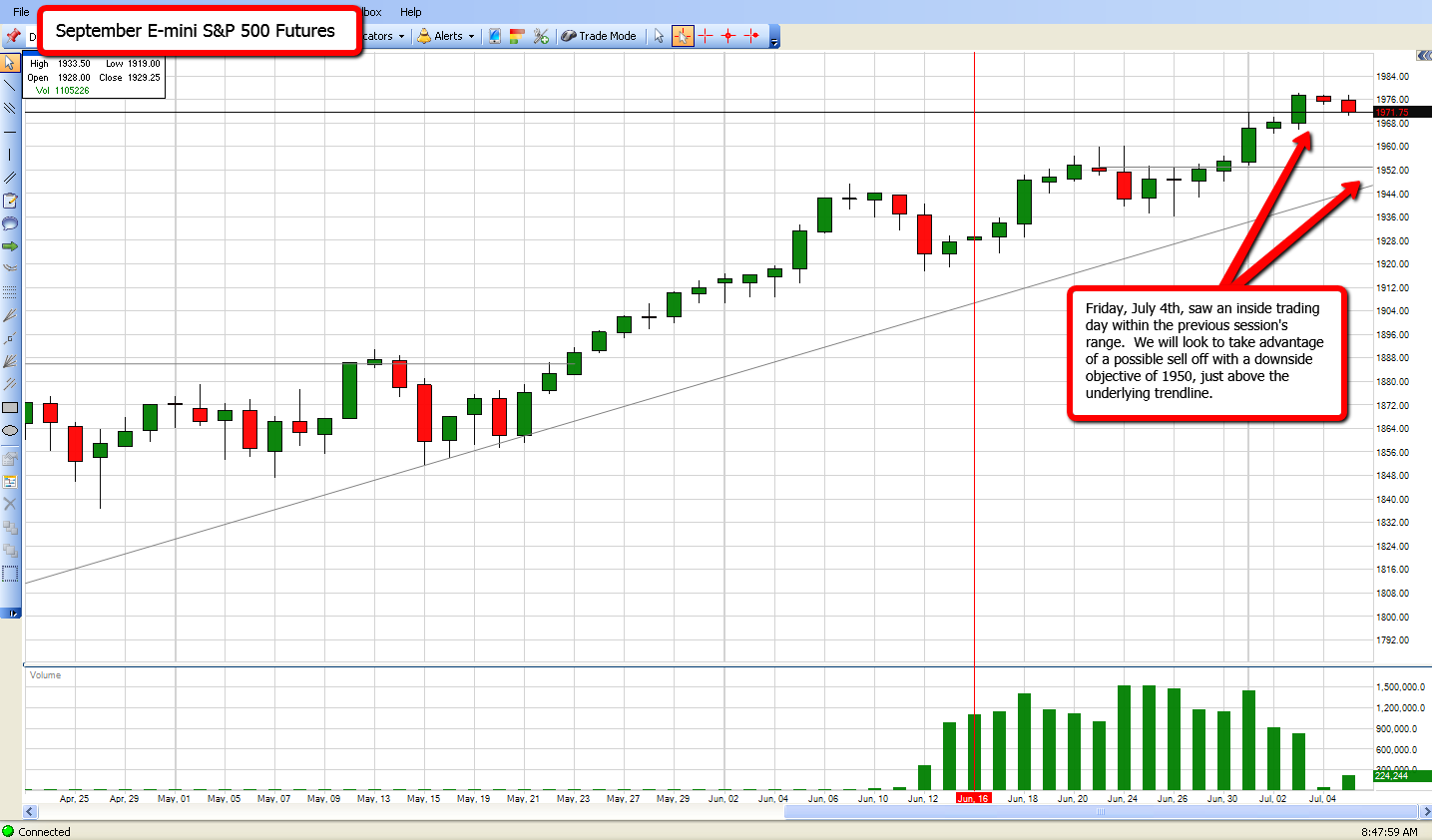 Friday, July 4th, saw a consolidation within the previous day's range with light holiday volume after the 7 previous sessions had finished in the green. As we open the week on a bearish note, I would look to be a seller in the September E-mini S&P 500 just below Friday's low of 1973.50 or better. My downside objective would be just above the underlying long-term trend-line at 1950. I would place a protective stop-loss order just above Friday's high print at 1978.00. Should the market follow through to the downside, I would roll my stop order behind the position accordingly.
I advise clients on trading futures and futures options markets on a day to day basis. If you have any questions regarding this chart or questions regarding trading futures and futures options, feel free to call me directly at 888-272-6926.
Thank you for your interest,
James Leeney
Account Executive
Phone: (888) 272-6926
www.longleaftrading.com
** There is a substantial risk of loss in trading futures and options. Past performance is not indicative of future results. The information and data contained in this article was obtained from sources considered reliable. Their accuracy or completeness is not guaranteed. Information provided in this article is not to be deemed as an offer or solicitation with respect to the sale or purchase of any securities or commodities. Any decision to purchase or sell as a result of the opinions expressed in this article will be the full responsibility of the person authorizing such transaction.