Natural gas futures on Friday dropped below $3 for the first time since September 2012, on an intraday basis. December is now on track for the dubious distinction of producing natty's largest one-month drop since 2008 – currently about a 26% month-to-date (MTD) decline – as producers continue churning out the commodity even while mild weather has resulted in below-normal consumption.
Crude oil, by comparison, has declined about 17% in December (MTD).
Natural gas and crude oil prices have taken turns out-dropping each other over the past 6 months. This simple graph (and accompanying chart) shows how oil and gas have crashed both together and separately for the last 6 months. What do I mean by that? Both have nosedived, but with 5 distinct periods of divergence (highlighted in blue when oil is outperforming, and highlighted in red when gas is outperforming). See for yourself: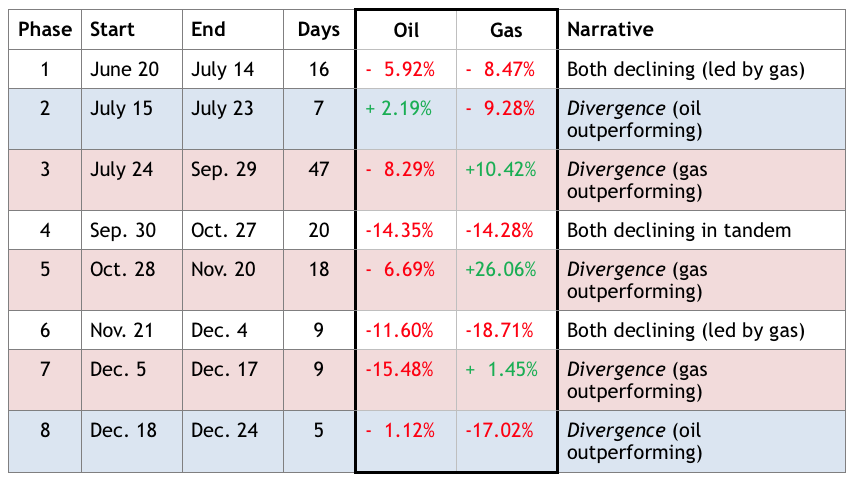 In total:
Oil & gas have crashed "together" for 3 of the 8 periods, for a total of 45 trading days in which gas has generally declined more than oil.
Oil has "diverged" to the upside in 2 periods (highlighted in blue), for a total of 12 trading days.
Gas has "diverged" to the upside in 3 periods (highlighted in red), for a total of 74 trading days.
Actually, at its recent peak on Nov. 20th, natural gas prices were only a few pennies below their June 20th level; so effectively all of natty's 2014 crash has occurred in just over 23 trading days since just before Thanksgiving.
What happened to natural gas from Oct. 28th through Nov. 20th, when it rose about 26%?
Remember the polar vortex, which returned to the US during that time? Investors wondered if the country might be in for another long, cold winter like the last one. But that idea – along with natural gas prices – hit a nice, warm wall of resistance around Nov. 20th. Since then, mild weather has allowed natural gas prices to basically freefall along with its crude cousin.
In trading on Friday, Dec. 26th, natural gas lost about 0.16%, and oil lost about 1.72%.
All told, oil and gas futures have both regurgitated 30-50% over the last 6 months, but they haven't declined together very much of that time. Which somewhat makes sense. Aside from weather, both oil & gas are subject to many similar pressures – oversupply, the US shale boom, shrinking demand due to slow global growth, etc. (Oh… sorry for the "puke" references, by the way; my wife, kids, and I have been sick all week; ugh!).
Implications
Investors are starting to look for bottom-feeding opportunities. Many are trying to find a theme, such as energy-sector stocks that haven't deserved the punishment they've have been dealt. I read a Kiplingers article that was published a few days ago, but used price quotes from Dec. 16th. Unfortunately, a lot has changed since then!
One of the article's main premises was that certain companies who deal predominantly in natural gas should not have seen their share prices lose as much value as companies who deal mostly in oil. Oops! Natural gas prices have fallen more than 15% in just the few days that article was apparently awaiting publication.
Still, the article probably had some very valid points, in the long term. In fact, I added a couple of the article's recommended stocks to my MarketClub watchlist, just to keep an eye on them and see when their price movement turns around. Whenever an uptrend begins, I don't disagree with Kiplinger's sources that these natural gas companies may represent opportunities to "buy low." Of course, none of the 5 stocks are showing any strong technical signs right now. All have 2 or 3 red triangles and very weak MarketClub scores. I prefer to be patient before buying an investment, in order to allow the market to provide signals that demand is taking control. I do also love to "buy low," so I'm eagerly awaiting any positive signals, especially in energy investing. I'll keep you posted.
Keep an eye out for next week's post,
Adam Feik
INO.com Contributor - Energies
Disclosure: This contributor owns Enterprise Product Partners (EPD), but not any other stocks mentioned in this article. This article is the opinion of the contributor themselves. The above is a matter of opinion provided for general information purposes only and is not intended as investment advice. This contributor is not receiving compensation (other than from INO.com) for their opinion.