Oil's free-fall hasn't been kind to offshore or onshore drillers. A quick look at the Energy Select Sector SPDR (XLE) is evidence of weakness in the industry.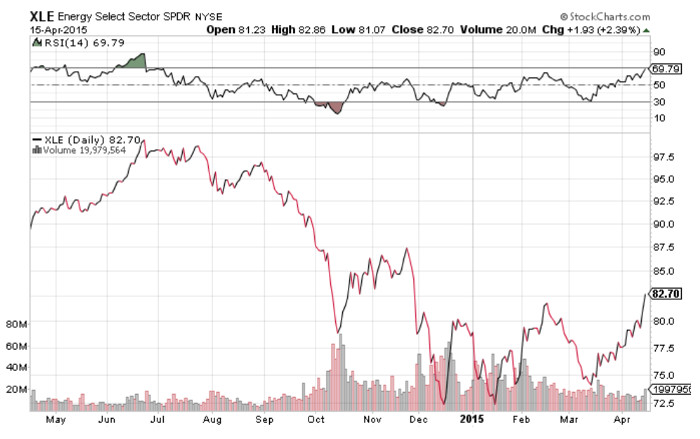 Chart courtesy of StockCharts.com
Since the summer of last year, oil has fallen from over $100 per barrel down to to less than $45 per barrel. For the past few weeks though, oil has been on an uptrend. It now stands at around $56 per barrel and investors are clamoring to get back into the very stocks that were sold off over the past several months.
Fueling the recent gain is the news that oil inventories only rose 1.3 million barrels in the latest U.S. data report, the smallest increase seen since January 2nd and far short of the 4.1 million barrels that most analysts had predicted. It's a good sign that we've finally seen the bottom in oil and are now seeing the bounce back off of those previous lows.
While oil could still track down before ultimately heading back up, there appear to be more tailwinds for the commodity than headwinds. The energy sector is beginning to look overbought as evidenced by XLE's RSI rating of nearly 70 so there could be some short term volatility. However, OPEC is rumored to cut back production this summer which could ultimately lift oil above $60 per barrel and permanently off its sub-$50 lows.
A strong company on sale with more upside potential than downside risk
Finding a strong oil company amidst the chaos going on with oil prices requires that we identify a few key items. The company needs to have high margins to absorb higher production costs and little or no debt liabilities that could sink an otherwise healthy company. One company that meets these requirements and more is Helmerich & Payne (HP).
This $8.3 billion oil and gas driller hasn't escaped the pain of the oil industry. The stocks performance over the past year is -25%. Looking at it for the past month though, it's up over 21%.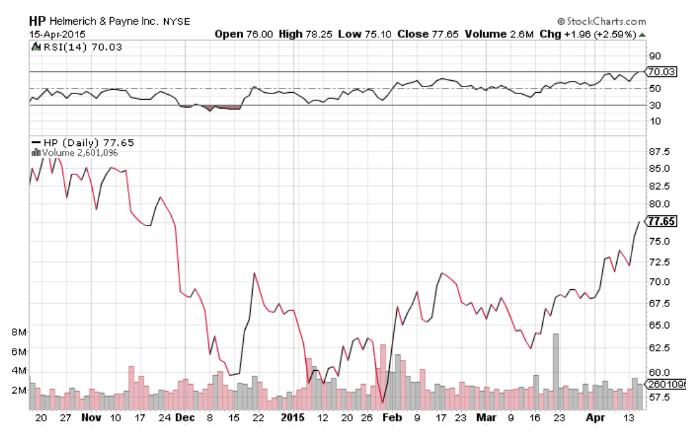 Chart courtesy of StockCharts.com
Like the XLE ETF, Helmerich looks overbought with a RSI of 70, but any short term pullback could be a huge buying opportunity for value-minded investors.
Helmerich and Payne is the leading oil and gas driller for the U.S. market constituting a 17% share with Patterson-UTI Energy (PTEN) being the second largest at 13%. The company has done a good job stacking rigs and as of March 15th, only has 190 active – down from 294 at the start of 2015. Now that the excess capital expenditures have been dealt with, Helmerich should be in a position to grow.
The stock trades at less than 12 times earnings with a long term EPS growth rate of 22.7% giving it a PEG ratio of less than 1 – a strong indicator that the stock could be undervalued. It's also cheaper than the industry average P/E of 16.4 and has higher long term EPS growth expectations as well with the average being 12.7%.
One of the biggest positives the company has going for it is its relatively high margins. It has an operating margin of over 28% – well above that of peers like Nabors Industries (NBR) at just 9%. This allows Helmerich to be flexible when it comes to operating and production costs and can easily absorb the volatility we've been seeing in oil. Helmerich also has almost no long term debt liabilities to speak of at $40 million while cash holdings are in excess of $251 million.
Investors get downside protection in the form of a 3.5% dividend yield as well. While there have been some concerns that the weakness in oil may force Helmerich to cut its dividend, it seems an unlikely scenario given that the company has steadily increased it for the past 42 years and only has a payout ratio of 39%. Given the strength of its balance sheet, I think it's safe to assume that the company will continue paying its dividend out regardless of where oil is trading right now.
Check back to see my next post!
Best,
Daniel Cross
INO.com Contributor - Equities
Disclosure: This contributor does not own any stocks mentioned in this article. This article is the opinion of the contributor themselves. The above is a matter of opinion provided for general information purposes only and is not intended as investment advice. This contributor is not receiving compensation (other than from INO.com) for their opinion.