Investment opportunities can be found in many places – the new 52-week high list is one of my favorites. These stocks have built-in momentum already on their sides along with at least one major positive catalyst that propelled them beyond that resistance line.
While it might seem strange to start buying a stock at such a high price, history suggests that stocks breaking above a 52-week high generally continue to climb upwards. It's arguably the easiest trend to spot and can be a lucrative investing strategy when the momentum is carried along by strong fundamental catalysts.
While rummaging through the new 52-week high list, I found 2 stocks that I think have a lot of untapped potential and more room to run.
A hot software company with no debt and improving prospects
LogMeIn (LOGM) is a $1.6 billion software application company that's building its brand around mobile computing, cloud networks, and the "Internet of Things." The stock hit a new 52-week high following an earnings beat along with an analyst upgrade. Year-to-date the stock has soared 34% and over the past year 69% yet the ceiling doesn't seem to be anywhere in sight.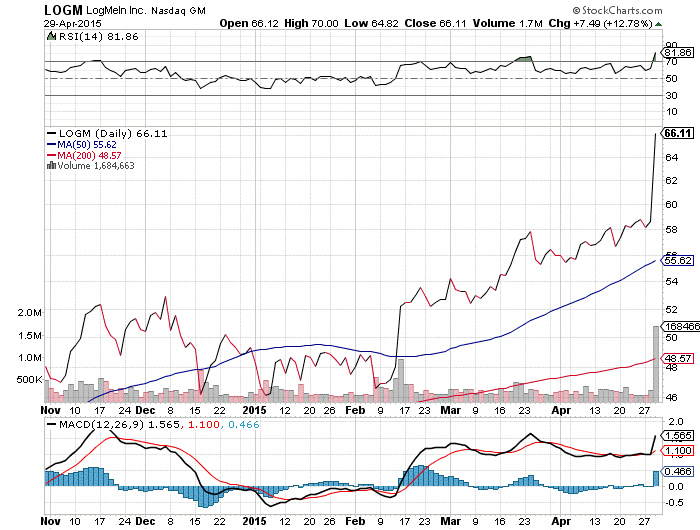 Chart courtesy of StockCharts.com
This chart clearly shows the momentum behind LogMeIn with the 50-day moving average well above the 200-day and the MACD showing increasing strength as well. Investors should note the relatively high RSI reading above 80 which could mean that the stock is overbought, but with so much momentum behind it, it might not matter.
The company beat earnings estimates for the 1st quarter by around 24% increasing full year estimates and triggering an upgrade by Needham from "buy" to "strong buy." The reason cited for the change in expectations was primarly based on the fact that LogMeIn beat earnings estimates without monetizing its Join.Me product leaving it available as a possible catalyst for a later date. Management raised guidance on the heels of the earnings report as well further fueling the positive momentum building in the stock.
Adding to the company's bright outlook is its strong balance sheet. LogMeIn carries over $102 million in cash holdings while having no long term debt and total liabilities of just $144 million. That gives the company plenty of room for growth and investment going forward.
This communications conglomerate is on the right path to bigger profits
Level 3 Communications (LVLT) is a $20 billion telecommunications and technology company with operations around the globe. The stock has been red-hot so far this year – up nearly 53% – and hit a new 52-week high following its recent quarterly earnings report.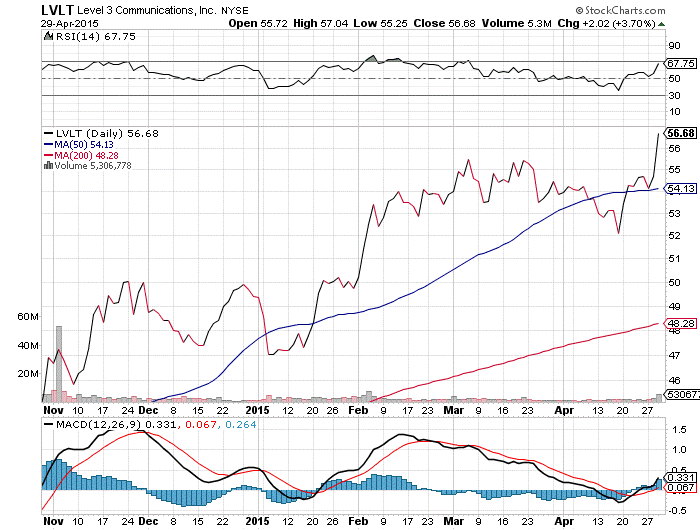 Chart courtesy of StockCharts.com
Level 3 Communications stock chart looks similar to LogMeIn with a 50-day moving average far above the 200-day although the MACD doesn't show the explosive momentum the former does. Still, there's a positive upward trend in the chart that should continue.
The company posted an quarterly earnings beat of $0.35 per share versus the expected $0.33 with $2.05 billion in revenues as opposed to $2 billion. While positive, the real reason the stock hit a new high was the updated outlook for the full year. Expected adjusted EBITDA was raised from a range of 12% to 16% to a range of 14% to 17% while full year EPS was increased to $1.63.
The company has done well consolidating debt and expects lower interest expenses for the year as well as a higher free cash flow. FCF between $600 and $650 million is anticipated for FY2015 – above the original estimate of $550 to $600 million.
The acquisition of TW Telecom last year added some debt to Level 3's balance sheet, but integration issues are almost completely worked out. For the remainder of 2015, look for greater-than-expected growth contributed by TW to bolster future earnings.
Check back to see my next post!
Best,
Daniel Cross
INO.com Contributor - Equities
Disclosure: This contributor does not own any stocks mentioned in this article. This article is the opinion of the contributor themselves. The above is a matter of opinion provided for general information purposes only and is not intended as investment advice. This contributor is not receiving compensation (other than from INO.com) for their opinion.