Today I'm going to be looking at nine major sectors and finding the strongest stocks in each sector. I will be using the Trade Triangle technology to determine which stock is the strongest in each sector.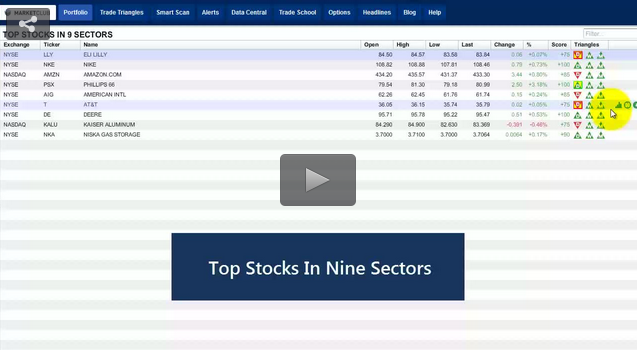 Here are the stocks I will be looking at today:
Health – Eli Lilly and Company (NYSE:LLY)
Consumer – Nike Inc. (NYSE:NKE)
Service – Amazon.com Inc. (NASDAQ:AMZN)
Energy – Phillips 66 (NYSE:PSX)
Financial – American International Group Inc. (NYSE:AIG)
Technology – AT&T Inc. (NYSE:T)
Industrial – Deere & Company (NYSE:DE)
Materials – Kaiser Aluminum Corporation (NASDAQ:KALU)
Utilities – Niska Gas Storage Partners LLC (NYSE:NKA)
In today's video, I will be analyzing each of the stocks above and seeing whether they are a buy based on yesterday's market correction.
Every success with MarketClub,
Adam Hewison
President, INO.com
Co-Creator, MarketClub