It is no secret that energy has been a big disappointment to many investors in 2015. I do not believe anyone predicted that crude oil would be so low during the month of August which is the peak travel month here in the US. That's all the more reason to see why these 3 energy-related stocks are doing what they're doing right now.
In today's video, I'm going to be analyzing each of these stocks and projecting what I think the upside targets will be in the near-term and longer-term.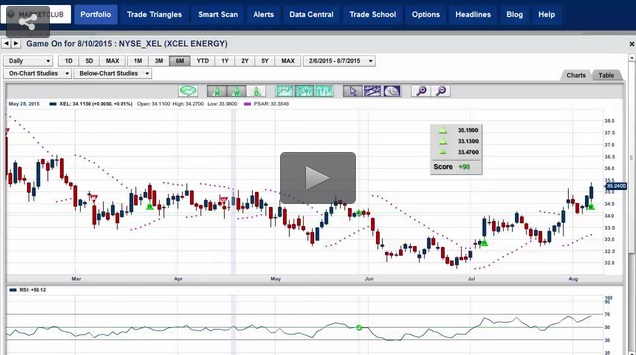 The first stock I'm taking a look at is Xcel Energy Inc. (NYSE:XEL)
Xcel Energy Inc., through its subsidiaries, engages primarily in the generation, purchase, transmission, distribution, and sale of electricity in the United States. It operates through Regulated Electric Utility, Regulated Natural Gas Utility, and All Other segments. The company generates electricity using coal, nuclear, natural gas, hydro, solar, biomass, oil and refuse, and wind energy sources.
Last Friday, this stock signaled a major trend change at $35.15. The market closed on Friday at $35.24.
The next stock is Southern Company (NYSE:SO)
The Southern Company, together with its subsidiaries, operates as a public electric utility company. It is involved in the generation, transmission, and distribution of electricity through coal, nuclear, oil and gas, and hydro resources in the states of Alabama, Georgia, Florida, and Mississippi. The company also constructs, acquires, owns, and manages generation assets, including renewable energy projects.
Last Friday, the Southern Company gave a major trend change signal at $45.33. The market closed on Friday at $46.51.
My last energy-related stock for the day is Dominion Resources Inc. (NYSE:D)
Dominion Resources, Inc. produces and transports energy in the United States. The company operates through three segments: Dominion Virginia Power (DVP), Dominion Generation, and Dominion Energy. The DVP segment engages in regulated electric transmission and distribution operations that serve residential, commercial, industrial, and governmental customers in Virginia and North Carolina. The Dominion Generation segment is involved in electricity generation through coal, nuclear, gas, oil, hydro, and renewable sources; and related energy supply operations.
Last Friday, Dominion Resources gave a major trend change signal at $72.37. The market closed on Friday at $72.31.
Have a great trading day everyone.
Every success with MarketClub,
Adam Hewison
President, INO.com
Co-Creator, MarketClub