Whether we like it or not, the markets made history with yesterday's 1000+ point swing in the Dow. We've also never seen three days in a row where this index has lost 300 points each and every day. So what does all this mean? What it underscores is just how fragile the world markets are at the moment and the general uncertainty and concern that investors have in the U.S., Europe and Asia.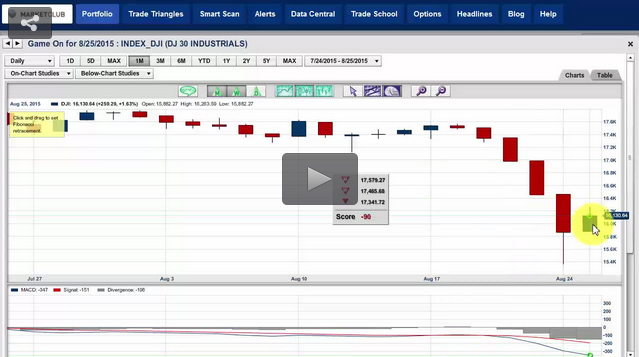 At the moment, China is writing the script and with today's announcement of yet another cut in interest rates I don't see how China can win no matter what it does. It is very hard to bring back investor confidence and trust to the markets once it has gone. I think the loss of confidence has already happened in China and no matter what the government does, it is not going to be enough to bring it back any time soon.
The fact is, the government of China is in a lose-lose position no matter what they do and they have just brought this upon themselves. I do not expect the Shanghai index to rebound in a sustained manner anytime soon.
I'm not sure who created the phrase "dead cat bounce" and how it relates to the market, but it goes like this. When a market has had a pronounced move down like we've just seen in all the major indices and in many stocks, it's not unusual for the market to rebound. Professionals call this a "dead cat bounce" and it is not to be trusted as it does not change the previous negative direction of the market. It is simply a rebound, possibly caused by news or a short covering rally.
Yesterday I went through the reasons why I thought the markets were fragile and it really falls down to the "drug" known as QE. Quantitative easing was used as an easy fix for the market. The problem now is the market continually needs to get a "fix" if it is going to move higher. This is clearly an unsustainable path and it puts the Federal Reserve between a rock and a hard place with no where to turn. The Federal Reserve and most central banks are in a hole that is much deeper than they ever expected and out of ammunition. Quite frankly, they are not in control of the situation.
As we move forward, remember the market always looks 6 to 9 months ahead. We are going to see a very contentious primary season both from the Democrats and the Republicans as they slug it out to win the right to guide the country in whatever manner they choose. All of this is adding to the uncertainty of the markets and in many ways undermining the confidence of the country.
In today's video, I'm going to be looking at areas where I feel a "dead cat bounce" will run out of gas and offer excellent opportunities for those traders who want to short the market. I'll also be looking at a few stocks that are still in a general bull trend of their own making.
Is the CEO of Apple in trouble with the SEC? Yesterday Tim Cook, who heads Apple, made a statement that some people say saved the market. Mr. Cook came out and said that Apple sales in China were going very well. This was conveyed to Jim Cramer who made a big point of it. Now CEOs of companies don't usually make statements like that during times of turmoil and the Securities and Exchange Commission (SEC) may be looking to this obviously positive statement. One thing I can say is Tim Cook's predecessor, Steve Jobs, would never have made a statement like that. He always said to let the stock go where it wants to go.
If you are trading, be careful and use stops.
Every success with MarketClub,
Adam Hewison
President, INO.com
Co-Creator, MarketClub