There is a lot of talk today about the stock Valeant Pharmaceuticals International Inc. (NYSE:VRX) from one of its largest shareholders, Bill Ackman. You may remember Mr. Ackman from his ill-fated forays into JCPenney, Herbalife and Target.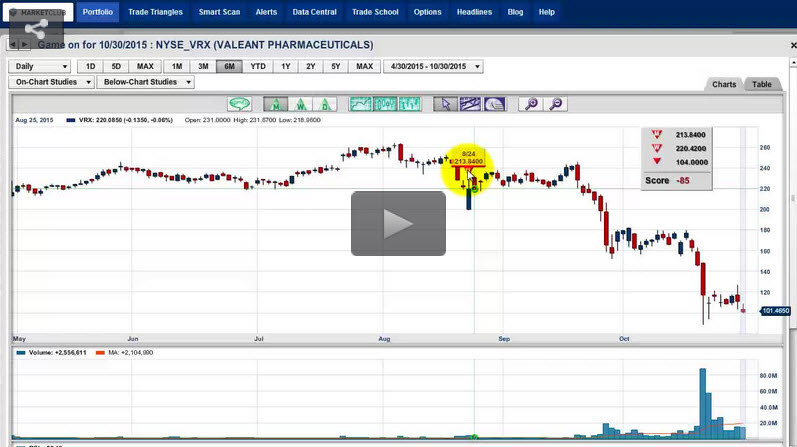 Today he is defending (via a conference call) one of his biggest investments in Canadian pharmaceutical company, Valeant. This stock was very instrumental in helping Mr. Ackman's Pershing Square Capital be the best-performing hedge fund last year, with a return of 40.4%. This year it's another story as this stock has tanked and Pershing has a reported paper loss of 1.5 billion dollars. Allegations of impropriety and finagling its sales and the way it does business have all contributed to Valeant's slide in the marketplace.
The reason I bring this to your attention is because sometimes as investors we get married to a position and long after our profit has dwindled, continue to justify that same position in our minds as being good ("it will come back tomorrow," "I'll give it more time," and a host of other excuses). All of the excuses are meant to justify that we're right and eventually everyone will see that.
As successful as Mr. Ackman has been, he does have a tendency to stay with losing positions too long, in my opinion. You only have to look back at JCPenney and Herbalife to know that what I say is true. Both of those stocks turned out to be disasters for Pershing Square Capital and Mr.Ackman.
And that brings me to my next point, which is that an unemotional approach allows you to be a "lover and not a fighter." By using a program like MarketClub's Trade Triangles in a stock like Valeant, you would've made more money in a systematic fashion than Pershing Square Capital and Bill Ackman made and have now lost in this stock.
In today's video, I will be looking at Valeant and showing you exactly where the Trade Triangles would have bought and sold this stock. I will also show you how much money you would've made following this simple formula.
In addition to Valeant Pharmaceuticals International Inc. (NYSE:VRX), I will be doing my weekend round up of what the markets have done for the week and where I see some major stocks headed for the rest of the quarter.
Have a great weekend everyone.
Every success with MarketClub,
Adam Hewison
President, INO.com
Co-Creator, MarketClub