Once again a Fed rate decision is coming. Yet, unlike the rate decision in September, investors are at ease. Recently, we've seen disappointing non-farms, weak retail sales and plunging new home sales. So, given that, it would seem that the Fed's decision is obvious. Of course, investors have come to the conclusion that a rate hike won't be coming. But investors are wrong, both in the perception of a soft US economy and in their conclusion.
Housing Market Not Really Weak
The first argument that Fed doves are using is the weak new home sales figure. It's true; the figure did undershoot. But take a look at US housing in the global scheme of things. It means nothing. In fact, the US housing market is actually getting stronger.
Here's why…
While new home sales are weak, existing home sales are in a very clear upward trajectory. That means that the demand for homes is there. Not only that, the Federal Reserve Branch of Saint Louis recently reported that inventories are close to record lows. If the US housing market really was weak, inventories would have been high.
That the S&P/Case-Shiller Home Price Index has been ascending throughout the same period strengthens that analysis. Despite a few soft patches here and there, the US housing market is getting stronger by the day.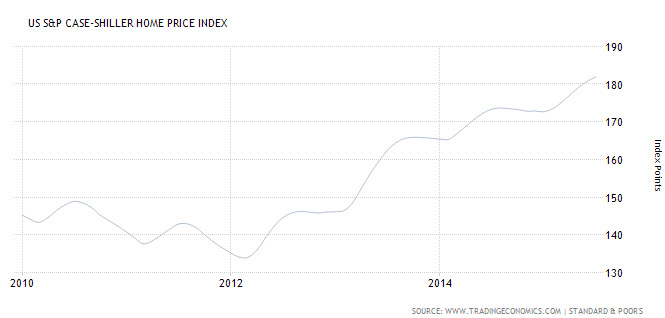 Chart courtesy of tradingeconomics.com
And finally, it's time to talk about rentals. One key reason why housing plunged during the mortgage crisis was due to record high home ownership. That literally meant too many individuals had homes to sell. And that, of course, amplified the burst of the housing bubble.
Now, though, it's the other way around. Home ownership is sitting at a record low of 63.4%. Consider that rental vacancy is the lowest it's been in roughly two decades and the picture becomes clearer. Soon, rents will begin to crawl higher amid strong demand. That tends to incentivize home ownership. Consequently, that could push housing demand much higher. So really, interpreting the US housing market as weak ignores the big picture.

Chart courtesy of The United States Census
Inflation Heating Up
Of course, one of the key elements in pushing the Fed into a rate hike is US inflation. However, the Fed has long been concerned that inflation would remain below its 2% target rate. That resulted in the Fed's postponement of a rate hike decision on quite a few occasions.
But now, even in spite of global weakness, US inflation is heating up. The latest data indicates that Core Inflation has crawled higher to 1.9%, after holding steady at 1.8%. That's a clear sign that US inflation is inching up towards the 2% level that Janet Yellen needs to green light a rate hike. We are, literally, almost there.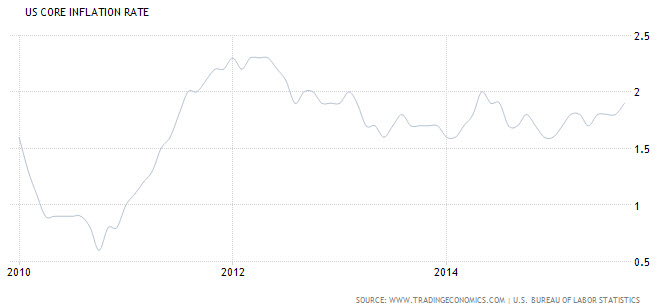 Chart courtesy of tradingeconomics.com
Banks want a rate hike
In my last review, I discussed how banks' balance sheets reveal how the credit market is faring. Indeed, they have once again confirmed that credit is growing and that demand for credit is strengthening. But beyond that something else became very clear. A large proportion of banks have stressed the need for higher rates to preserve their profitability.
There is no way around it; that is a clear message aimed at the Federal Reserve and its Chairman Janet Yellen. The Fed is, and always has been, pretty cozy with the big banks. And that's with good reason. It enables the banks to better judge how an interest rate hike would affect the banking system. With most of the big banks in favor, that's another green light that the Fed is getting ready for a rate hike.
Why is November ideal for a liftoff?
Of course, one cannot rule out a rate hike this week. After all, if it's coming it's coming; a month earlier or later won't make any real difference. But for the Fed, politically, it would be more "convenient" to wait until next month. Then, Core Inflation could finally hit 2%, retail sales might bounce back and for the Fed would get a last reality check on GDP.
After waiting so long for a rate hike, the Fed would prefer to wait one month. Then, it can ensure that the US economy is closest to the textbook definition of what really warrants a rate hike. Of course, there is always the risk of indicators undershooting. But make no mistake; the train heading for a Fed rate hike has already left the station.
Look for my post next week.
Best,
Lior Alkalay
INO.com Contributor - Forex
Disclosure: This article is the opinion of the contributor themselves. The above is a matter of opinion provided for general information purposes only and is not intended as investment advice. This contributor is not receiving compensation (other than from INO.com) for their opinion.