Hello MarketClub members everywhere, I thought that I would take a look at a stock that's been in the news and that everyone has heard of. The stock I will be looking at today is Twitter, Inc. (NYSE:TWTR) which announced yesterday it would trim its workforce by up to 8% which meant they would be laying off 336 employees.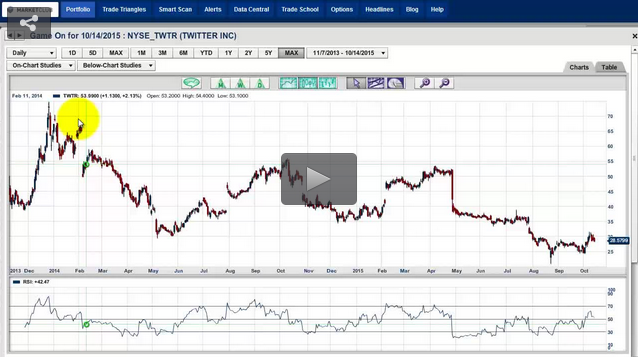 This once darling of the tech world has seen its stock price consistently move lower since its IPO when it traded a short time later up as high as $74.73 on December 26th, 2013. Since that time, Twitter has seen its influence and stock price steadily erode with the stock price hitting a low of $21 this past August.
So what's changed at Twitter? Jack Dorsey, one the original founders, is back in the picture and is set to take the helm and hopefully restore those early investors, who lost over half their money, back to a healthy bottom line. I wish Mr. Dorsey luck in what I believe is going to be a long and challenging journey.
In today's video, I will be analyzing every aspect of Twitter in detail and sharing with you some specific areas to watch in the stock for changes in direction.
I will also be looking at yesterday's and today's market action in the major indices, as well as the gold market, which I have been bullish on and seems to be working out well..
In addition to those markets, I'll be looking at Wal-Mart Stores, Inc. (NYSE:WMT) along with Netflix, Inc. (NASDAQ:NFLX), who reports earnings after the close today.
Every success with MarketClub,
Adam Hewison
President, INO.com
Co-Creator, MarketClub