This stock goes along with family, apple pie and the American flag. I'm talking about is Macy's, Inc. (NYSE:M). Every year for as long as I can remember Macy's has their annual Thanksgiving parade. It's quite a spectacle with marching bands, TV coverage and floating balloons. It all sounds wonderful and glossy and bright, but underneath the glitz and glamour, how is the business of Macy's really doing?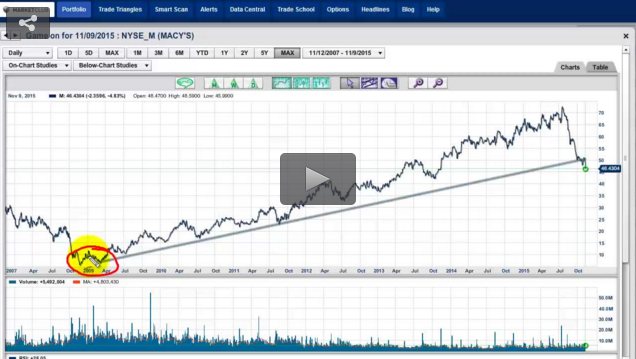 Not so good!
A red weekly Trade Triangle was triggered today for Macy's, Inc. (NYSE:M) at $47.10. This is a confirmation that the downward trend has once again resumed. I believe that the brick and mortar businesses in America are having a very difficult time competing with the likes of Amazon and other online retailers that can deliver a package to your door just as quickly as you can get in your car and drive to a regular store. This is not good news for the thousands of people that work in any kind of brick and mortar business.
On the flip side of the coin, I'll be looking at two stocks I mentioned last week that I still think have a lot of potential on the upside. The first one is Taiwan Semiconductor Manufacturing Company Limited (NYSE:TSM). The second one is TE Connectivity Ltd. (NYSE:TEL).
I will be covering those two stocks in today's video along with updates on the major indices, gold, crude oil and the dollar.
Every success with MarketClub,
Adam Hewison
President, INO.com
Co-Creator, MarketClub