Hello MarketClub members everywhere! Today I'm going to be looking at some well-known, household-name stocks at the request of one of our members. I will be analyzing AMZN, GOOGL, CMG, TSLA, IBM and FB, along with the usual suspects, in today's video.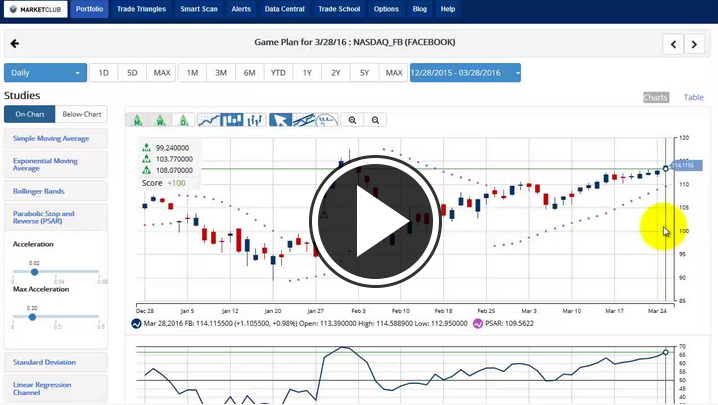 Amazon.com Inc. (NASDAQ:AMZN) It's no secret Amazon wants to take over the world and they certainly seem like they're well on their way to doing that. Looking at the stock however, it is showing a mixed picture. The long-term monthly Trade Triangle continues to be red which is perhaps indicating a cap on this market for the moment. Both the weekly Trade Triangle and the PSAR are indicating more of a trading range. Amazon would have to move over the $638 level before everything was lined up and ready to go on the upside. I prefer the sidelines at the moment.
Alphabet Inc. (NASDAQ:GOOGL) This stock is another juggernaut and much like Amazon controls e-commerce, Google controls advertising on the web. Also like Amazon, this stock is caught in a broad trading range with the monthly Trade Triangle red and both the weekly and PSAR being green. For the moment, I suggest staying on the sidelines.
Chipotle Mexican Grill, Inc. (NYSE:CMG) With diners getting sick from eating at company stores and all the negative publicity surrounding this stock, it's no wonder that it is on the defensive. With both the monthly and weekly Trade Triangles red, indicating that the trend for CMG is down, I prefer to be on the sidelines or short this stock.
Tesla Motors Inc. (NASDAQ:TSLA) After a $100 rally in early February and March, Tesla has run out of juice. The stock is now reflecting a trading range with a conflict between the monthly and weekly Trade Triangles. At the moment, I would prefer a neutral stance on TSLA even though I think that Elon Musk is an extraordinary visionary.
International Business Machines Corporation (NYSE:IBM) After trading over $210 in the summer of 2015, IBM dropped almost in half bringing the price back down to the levels of the summer of 2010. The trend for this stock according to the Trade Triangles is positive and you can use any pullbacks as an opportunity to purchase this stock.
Facebook Inc. (NASDAQ:FB) It is all systems go as all of the indicators are in a positive mode and FB is very close to making all time highs. You'll want to trade this stock on pullbacks as I expect to see it head towards the $120 area in the short term.
Stay focused and disciplined.
Every success with MarketClub,
Adam Hewison
President, INO.com
Co-Creator, MarketClub