The Federal Reserve, the only central bank in the G7 economies and China to raise rates and the only central bank to lead a tightening cycle, is also the only central bank to get it right. As counter-intuitive as that may sound, higher rates in a world of negative rates and massive monetization is the only viable solution to stimulate growth. To understand the irony, we must delve into credit markets and assess what's broken.
Cheap Credit Expensive Growth
One of the arguments espoused by critics of monetary stimulus, whether it's negative interest rates or quantitative easing, is inflation. But in reality the real cost of a ultra-loose monetary policy is the exact opposite—deflation; prices in most of the world and, in fact, in most products are either falling or stagnating. The reason is that when the policy is ultra-loose inefficient sectors of the economy are kept artificially afloat. As long as interest rates are close to zero failing sectors can keep on piling debt and thus contribute less and less to growth while leaving less available capital to the more efficient sectors that really need to grow.
One of the clearest examples of how an inefficient sector provides insufficient value comes from the energy sector. The ultra-loose monetary policy allowed the oil shale industry to grow, resulting in competition with the Saudis on cheap oil which ultimately pushed oil prices south. Under a higher interest rate environment, many of the smaller, inefficient shale producers would likely not survive while producers that employ green energy solutions would. That is but one example of how a low-interest rate environment keeps the energy sector from becoming "greener."
So how can we know when an abundance of credit no longer produces enough value? The best tool is comparing debt to growth. If the debt burden to GDP grows, it means that for every $1 of debt less growth is generated. And that means, as mentioned above, that many inefficient sectors in the economy that have no growth potential in them are accumulating debt. So, what needs to change to redistribute capital into growing sectors? Higher rates—higher rates make it difficult for inefficient sectors to accumulate debt while allowing more efficient sectors room to grow.
When we look at the data and compare, for example, the debt accumulation in the US to that of Japan we see a very interesting picture. Until around 2012-2013 government debt to GDP grew roughly at the same pace in the US and Japan. But as the Fed started to back away from stimulus, first by talk, then by cutting quantitative easing, and eventually by raising rates, the government debt to GDP ratio rose at a slower pace than in Japan. When we compare the debt burden of the private sector the contrast is even clearer; debt to GDP of the US private sector plunged while in Japan it stayed about the same.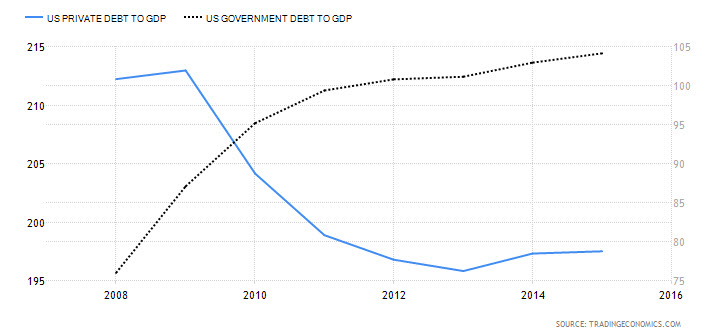 Chart courtesy of Tradingeconomics
In other words, higher effective rates in the US meant that for $1 of GDP growth less debt was required. Meanwhile, in Japan, where monetization of debt has intensified, and rates are now negative, for every $1 of debt less and less growth is generated in Japan. That's because less efficient sectors in the Japanese economy are kept afloat.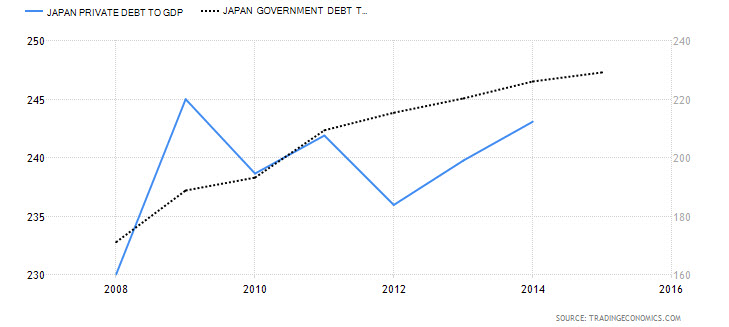 Chart courtesy of Tradingeconomics
This leaves us to conclude that as the Fed raises rates, less efficient sectors in the US economy will clear the way for more efficient sectors and unleash long-term growth potential. The Fed is very much aware of this fact, and that is why the Fed is pressing forward with rate hikes despite external economic pressures from weak global growth.
Normalizing Rates, the Dollar
So how far are we in this process? Perhaps the best illustration is when we compare the effective Fed Funds rate to inflation. When the effective Fed Funds rate is higher than the rate of core inflation (which excludes food and energy), it means that real rates (rates minus inflation) are positive, which is considered normal. So for the process to be complete or close to complete, real interest rates in the US at least have to return and become positive and stay positive. The chart below, which measures the difference between the effective Fed Funds rate and the annual core inflation rate, demonstrates that real rates in the US are still well below 0%. This means that the current tightening cycle still has far to go, and while it tightens, higher rates will allow the US economy to move back to its average long-term growth rate of 3%-3.9%, and the US Dollar will continue its long-term bullish cycle.

Chart courtesy of Federal Reserve Bank of St.Louis
Look for my post next week.
Best,
Lior Alkalay
INO.com Contributor - Forex
Disclosure: This article is the opinion of the contributor themselves. The above is a matter of opinion provided for general information purposes only and is not intended as investment advice. This contributor is not receiving compensation (other than from INO.com) for their opinion.