Hello MarketClub members everywhere. Like the other 84 million Americans, I watched the presidential debate and I have to say it was as boring as watching an uneventful Super Bowl. The interesting thing is the next day the stock market had a very healthy bounce. I don't think there is one particular event you can point to that caused the bounce, but nonetheless, it was a bounce.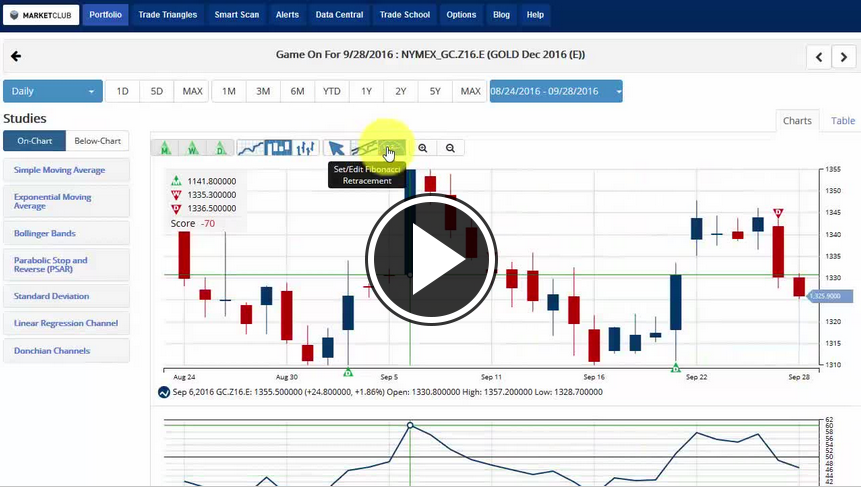 The question is, should you buy stocks now? The answer will be if you are long-term trader it may be a good time to be a buyer. On the other hand, if you're an intermediate or shorter-term trader it would be best to wait for a green weekly Trade Triangle in the Dow or the S&P 500 to be a buyer of stocks in those indices. The NASDAQ is a different kettle of fish as that is clearly in a strong upward trend.
Let's begin by looking at the major indices and see what they're doing trend wise.
DOW (INDEX:DJI): The monthly Trade Triangle remains green and the weekly Trade Triangle is red indicating a sidelines position. In situations like this, it is advisable to remain on the sidelines and out of harm's way until the trend of conflict is resolved one way or the other.
S&P 500 (CME:SP500): Much like the DOW the S&P 500 is on the sidelines with a green monthly Trade Triangle and a red weekly Trade Triangle. Again, this calls for sidelines position until the weekly and monthly Trade Triangles are green.
NASDAQ (NASDAQ:COMP): Both the weekly and monthly Trade Triangles are green indicating a strong upward trend and a long position.
Crude Oil (NYMEX:CL.X16.E): The trend for crude oil is negative at the moment. However, looking at the chart, it would appear as though this market is biding its time moving sideways. This is particularly true when you look at the RSI which is dancing just below the 50 line. I would say a move and close over $46 a barrel would begin to give this market some upside momentum. For the moment I recommend watching the Trade Triangles from the sidelines.
Gold (NYMEX:GC.Z16.E): The gold market continues to be on the defensive with the RSI just below the 50 line. Both the weekly and daily Trade Triangles are red indicating a short position. It's interesting to note that the pullback in found support at a Fibonacci 61.8% support area. That area is the $1,324 level. I would watch for a possible bounce from the Fibonacci support level.
Stay focused and disciplined.
Every success with MarketClub,
Adam Hewison
President, INO.com
Co-Creator, MarketClub