Analysis originally distributed on January 4, 2017 By: Michael Vodicka of Cannabis Stock Trades
Cannabis stocks had a ridiculous year in 2016.
The MJIC North American Cannabis Stock Index was up 208%. Take a look below.

Chart courtesy of MarijuanaIndex.com
Congratulations to the smart people who invested. Your portfolio had a great year.
Looking forward, I am expecting more of the same in 2017.
I see two powerful catalysts for cannabis stocks.
In the U.S. 8 States Legalized Medical or Recreational Cannabis in 2016
Legal cannabis took a huge step forward in the United States in 2016.
In November, eight states voted to legalize medical or recreational cannabis.
Today, as 2017 unfolds, these new cannabis programs are taking hold.
To get the latest analysis as soon as it is released, please subscribe to our free weekly newsletter.
For example, recreational cannabis is now legal in Nevada. This is projected to generate tens of millions of dollars in new industry revenue.
That's good news for U.S. cannabis company Terra Tech (OTC: TRTC) – it owns a line of cannabis stores in and around Las Vegas.
These new state legalizations also set the stage for more states to follow suit in 2017.
Up to eight more U.S. states could be voting to legalize medical or recreational cannabis in 2017.
Right now, 28 states have already legalized. Pushing that number above 30 creates a strong national majority.
While the U.S. market has great potential, Canada could be the single biggest influence on the global cannabis market in 2017.
Canada Could Vote on Federally Legalizing Recreational this Spring
Canada is already an early leader in legal cannabis.
Unlike the U.S. medical cannabis is already legal on the federal level in Canada – it has been since July of 2001.
Today, Canada is ready to take the next step.
It is very likely the country will vote to federally legalize recreational cannabis this spring.
New Prime Minister, Justin Trudeau, has made the legalization of recreational cannabis one of his top legislative priorities.
I expect it to happen.
And if it does, it would be a major profit catalyst for the entire cannabis industry and all of our favorite cannabis stocks.
So as you can see – there is plenty to look forward to in 2017.
I am constantly searching for great ways to help investors profit from this booming industry.
Here's one of my favorite companies that every cannabis investor needs to know about.
Massachusetts Will be Home to the Largest Cultivation Facility in the United States
Massachusetts is about to become home to the largest cannabis cultivation facility in the United States.
In October, Denver-based cannabis company AmeriCann (OTC:ACAN) announced it had completed the acquisition of the 53-acre Massachusetts property from Boston Beer Company (NYSE:SAM) for $4.5 million in cash.
Take a look below.

Did you notice the high barb wire fence around the big building on the left?
Or how about the trucking port, rail tracks and port at top right and ample room for expansion?
These are all good things.
This new facility will be named the Massachusetts Medical Cannabis Center.
When fully built out, it will be home to a 1.1 million square foot cultivation facility – the largest in the United States.
It will also be one of the most technologically advanced.
The facility will include a 30,000 square foot research and development center.
This is where AmeriCann will develop emerging technologies and intellectual property. That includes studying plant science and genetics, infused products, lightning systems and nutrient lines.
The timing on the build out could hardly be any better.
The East Coast of the U.S. just took a huge step forward on legalization.
Recreational cannabis became legal in Massachusetts on January 1.
Same story in Maine.
AmeriCann is positioning itself to be a major player in the East Coast cannabis industry.
AmeriCann Shares are up 363% in the Last 12 Months
AmeriCann has not gone unnoticed by cannabis investors.
Shares are up 396% in the last 12 months. Take a look below.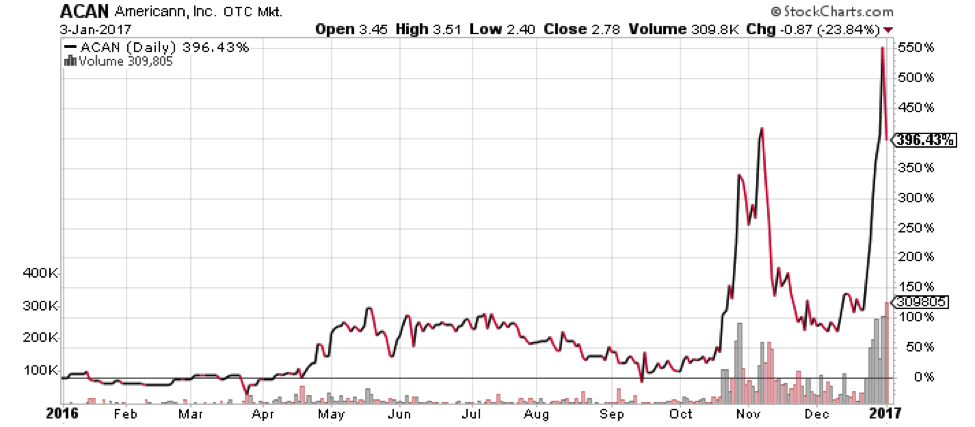 Chart courtesy of StockCharts.com
Despite those impressive gains, AmeriCann has a market cap of just $46 million. That is tiny in the world of publicly traded companies.
AmeriCann is still in its early stages of growth. The company isn't profitable right now but I don't view that as a problem. Some of the best companies in the world weren't profitable for many years.
Amazon (NASDAQ:AMZN) is a great example. Founded in 1994, Amazon logged its first profitable quarter in the fourth quarter of 2001.
In light of the big gains, I would be cautious buying shares right now.
Buy dips and pullbacks and look to hold shares for the long run.
Other than AmeriCann, here's one more cannabis stock everyone needs to know about for 2017.
Click Here to See My #1 Cannabis Stock for 2017
Enjoy,
Disclosure: At the time of original publishing, Michael Vodicka owned/owns shares of Terra Tech (TRTC) and Canopy Growth Corp (CGC).
The information contained in this post is for informational and educational purposes only. The trading ideas and stock selections represented on the Cannabis Stock Trades website are not tailored to your individual investment needs. Readers and members are advised to consult with their financial advisor before entering into any trade. Cannabis stocks carry a certain level of risk and we accept no responsibility for any potential losses. All trades, patterns, charts, systems, etc. discussed are for illustrative purposes only and not to be construed as specific advisory recommendations. All ideas and material presented are entirely those of the author and do not necessarily reflect those of the publisher.