Analysis originally distributed on March 8, 2017 By: Michael Vodicka of Cannabis Stock Trades
Honey my head hurts, can you please pass me the hemp oil?
I bet you've never heard that before.
But if an early leader in the U.S. cannabis industry has its way – you definitely will.
Cannabidiol, commonly referred to as CBD, is an extract from a hemp plant. While it does not get you stoned, researchers and patients alike are finding that it has widespread medical benefits.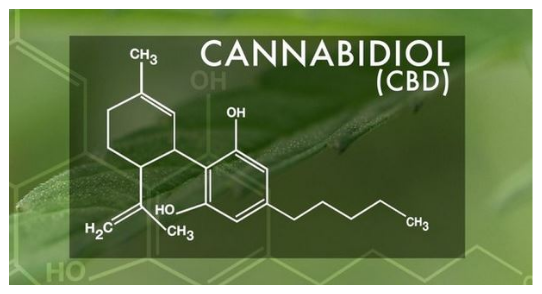 Studies are showing that the non-psychoactive elements of CBD can deliver powerful relief to a wide range of ailments, including aches, pains, anxiety, insomnia and arthritis – without the euphoric effects provided by THC.
The way this product looks on the Street in five years is seeing CBD oil and pills at CVS and Walgreens right next to Tylenol, sleeping aids and all the other OTC remedies.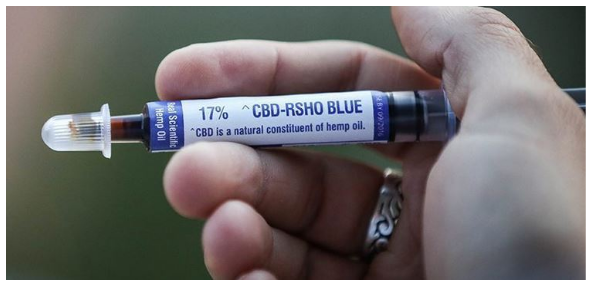 The Hemp Business Journal, a CBD media and data company, estimates the CBD market will grow to $2.1 billion in consumer sales by 2020. That would be a 700% increase from 2016.
This is an exciting segment of the cannabis industry that doesn't get a lot of attention.
BIG NEWS!!! We're now accepting new Cannabis Stock Trades Premium members!
Today, I am going to show you the best way to profit.
Medical Marijuana Inc. (OTC:MJNA) is an early leader in the U.S. and international cannabidiol CBD markets. Headquartered in San Diego, California, MJNA has a market value of $205 million, making it one of the largest cannabis companies in the U.S.
MJNA is structured as a holding company. It owns more than a 50% interest in eight companies that operate in the CBD industry. Take a look at the list of companies and ownership stake below.

These companies specialize in developing and selling CBD based remedies in the US and internationally.
For example, Kannaway company develops a line of CBD products called Revive.That includes Pro-X, marketed to athletes that want pain relief without failing a THC drug test.
MJNA also owns 45% in Axim Biotech (OTC:AXIM). Axim has been getting a lot of attention within the cannabis sector.
The young New York-based biotech has an impressive pipeline of CBD health and wellness drugs.
One of its most promising is CanaChew Plus, CBD-infused chewing gum designed to treat irritable bowel syndrome.
CanaChew is currently in Phase 2 FDA trials, moving closer to final Phase 3 and hopefully a good shot at approval and commercialization. I will definitely be keeping my eye on Axim.
With the CBD industry growing sharply in 2016, MJNA has been cashing in.
Sales growth has been somewhat volatile from quarter to quarter in the last year. But the bigger trend is clearly higher.
Third quarter sales ending September 30, 2016, were up 27% from the same period last year to $2.19 million.
On the chart, MJNA was hot in the fall of 2016 but has been mostly range bound for the last six months – much like most of the North American cannabis sector. Take a look below.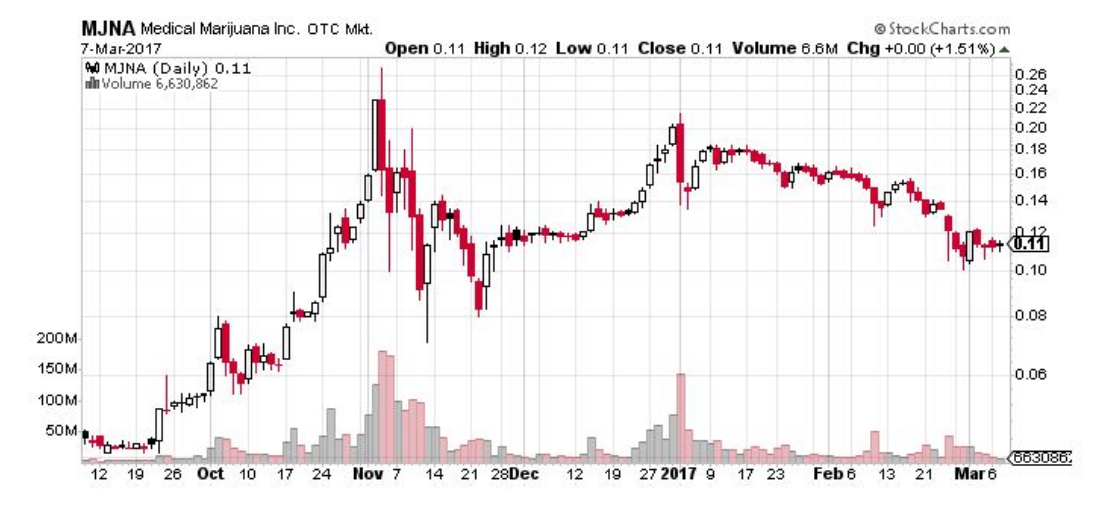 Chart courtesy of StockCharts.com
I Am Going To Keep A Close Eye On This Company
I like the MJNA story. It's an early market leader in a high-growth industry. It is also diversified by owning a basket of companies instead of betting on just one. Reminds me of a cannabis mutual fund. I am going to be watching this company closely.
BIG NEWS!!! We're now accepting new Cannabis Stock Trades Premium members!