Analysis originally distributed on August 16, 2017 By: Michael Vodicka of Cannabis Stock Trades
This week, I want to share AusCann Group Holdings Ltd. (NASDAQ:ACNNF)/ Cann Group (ASX:CAN) with the free newsletter crowd.
This is a stock I rolled out to members two weeks ago as one of our most recent trades. Members will always get the first look at the best ideas and information we have to offer at CST.
Since being added to the CST portfolio, Cann Group has been surging - Cannabis Stock Trades members are up around 75% on this trade.
2nd Australian Cannabis Permit Holder up 99% in 15 Days - More to Come?
Medical cannabis became legal in Australia in November of 2016.
Under the new program, companies interested in entering the industry must apply for and receive a permit from federal regulators to grow and sell cannabis.
Although Australia's medical cannabis program is off to a great start with thousands of patients already enrolled, federal regulators are restricting access to these permits.
Don't worry, that's not a bad thing. This measured approach is designed to help regulators monitor the industry and ensue a smooth rollout and long-term success.
However, in the meantime, it's also creating a ridiculous investment opportunity that is already delivering big profits to early shareholders.
Australia is creating legal monopolies in its young cannabis industry.
The companies receiving these permits have a priceless first mover advantage over the competition and are positioned to be future industry leaders. More importantly to us, investors who are wise enough to see what is happening here are in position for big gains in the next few years as Australia's medical cannabis program blossoms.
So far - only two companies have permits: AusCann Group Holdings Ltd. (NASDAQ:ACNNF) and Cann Group (ASX:CAN).
Don't worry, that's not a bad thing. I wrote about Auscann back in March - feel free to take a second look.
First Ever Australian Cannabis Stock Set to Lead Industry
Today I want to reveal the second company to receive a permit - Cann Group.
This is a stock I added to the Cannabis Stock Trades member portfolio on July 31. Since then, shares are already up 75%.
Let me tell you why I believe Cann Group is a future industry leader and why this is a good time to buy shares.
On March 8, 2017 - the office of drug control issued just its second license under the medical cannabis provisions of the Narcotics Drug Act 1967 - to Cannoperations Pty Ltd., a wholly owned subsidiary of the Australian company Cann Group Limited.
Cann Group has been issued with one medicinal cannabis permit and two cannabis research permits. These permits will establish breeding plants for propagation purposes, a research program being undertaken with CSIRO (Australian Federal research agency) to develop unique cannabis extracts and for supplying plant material for manufacturing into medicinal cannabis products for patient use.
Landing this permit was a huge win for Cann Group. It gives the company two important advantages over the competition.
The first advantage is a legal monopoly. It is difficult to get a cannabis permit in Australia. Many companies are in hot pursuit, but it can take months, years and millions of dollars to get one. Cann Group already has its permit in hand and for now is protected from a flood of up start competition.
Cann Group now also owns the incredibly valuable first mover advantage. First mover enables Cann Group to get the lead on building a new cultivation facility, gain customer loyalty and expand into new markets before new competition has even entered the market.
Production & Expansion Schedule
Despite just getting its permit this spring, Cann Group has quickly established production.
Its Southern Facility recently planted its first crop and will be set for its first harvest in early to mid August.
As of now I am not seeing any information on current and projected cultivation capacity - but like many other cannabis companies we have discussed - Cann Group is investing millions to crank up its production capacity.
Cann Group is currently adding capacity at its Southern facility with the construction of three new secure cultivation rooms, a drying room, and secure storage room, all of which will be commissioned this year.
Cann Group is also busy laying plans for a second "North Facility."
Interestingly, it has partnered with Aurora Cannabis Inc. (NASDAQ:ACBFF), one of Canada's largest cannabis companies and I expect Aurora to help Cann Group build an awesome new cannabis greenhouse. Here's a clip from the press release.
"Cann announced it had signed a technical services agreement with Aurora Cannabis Inc, Canada's second largest publicly listed medical cannabis producer and the first Canadian company to establish purpose built cultivation facilities. Aurora is a 19.9% shareholder of Cann, having taken a cornerstone position in Cann's IPO. The agreement, which extends to the end of 2022, will facilitate an exchange of information and support across areas including the cultivation and processing of medical cannabis; extraction and manufacturing technology; and analysis of cannabis extracts."
Revenue, Balance Sheet & Capitalization
Cann Group is such an early stage cannabis company it doesn't really have any revenue right now. I expect that to change soon with its first harvest coming online.
In the meantime it will fund operations and growth with cash from its balance sheet.
Right now Cann Group looks well capitalized.
It raised $13.5 million on its IPO. It's using that cash to fund its expansion in the South Facility and set plans for a second North Facility.
After these two capital expenses, Cann Group should still have millions left to pay salaries, rent and fund more growth for the next year.
Cann Group is o Rallying Big on the Chart
Cann Group began trading on the Australian Stock Exchange on May 15.
Shares began trading at $0.55. For the first few months investors weren't really paying attention.
That started changing in late July and early August. Shares are up close to 100% in the last month. Early shareholders are already sitting on big gains. Take a look below.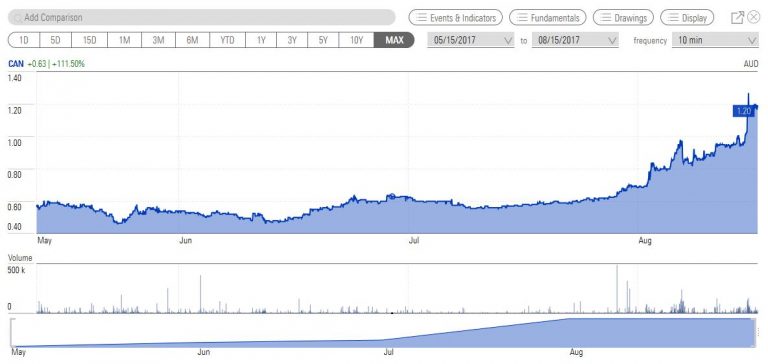 You Can Purchase Shares of Cann Group on the Australian Stock Exchange
Shares of Cann Group are traded on the Australian Stock Exchange under the ticker symbol CAN.
These shares are not traded in US OTC markets yet. I am expecting that to change sooner than later as this stock continues to gain more attention.
That means for the time being, if you want to invest - you have to purchase shares on the Australian Stock Exchange. Most brokerage firms shouldn't have any problem providing access to this exchange.
The Big Picture on Cann Group
Cann Group is an early leader in a high-growth industry. The companies exclusive cannabis permit gives it a legal monopoly and an priceless first mover advantage over the competition.
Buy shares now early in the game, hold for the long haul and look for Cann Group to evolve into an industry leader.
Enjoy,
The information contained in this post is for informational and educational purposes only. The trading ideas and stock selections represented on the Cannabis Stock Trades website are not tailored to your individual investment needs. Readers and members are advised to consult with their financial advisor before entering into any trade. Cannabis stocks carry a certain level of risk and we accept no responsibility for any potential losses. All trades, patterns, charts, systems, etc. discussed are for illustrative purposes only and not to be construed as specific advisory recommendations. All ideas and material presented are entirely those of the author and do not necessarily reflect those of the publisher.