Analysis originally distributed on September 14, 2017 By: Michael Vodicka of Cannabis Stock Trades
Pets are big business in the US and around across the globe.
In 2016 U.S. consumers spent over $67 billion on pet-related products, up 11% from the year before.
While food accounts for the highest percent of spending, pet medications were close behind at $8 billion. Spending on pet medications is expected to grow another 10% in 2017 to $9 billion.
These huge sales numbers have gotten the attention of the cannabis industry. Capturing even a small percent of the pet medication market could mean hundreds of millions in profit.
That's why I am excited to share an early industry leader that most investors have never heard of.
- Sales are up more than 1,000% in the last 12 months.
- Shares have risen 122% since January.
With the cannabis for pets industry still in its early stages - I see plenty of room for growth for this undercover cannabis company. True Leaf Medicine International Ltd. (TRLFF) is a Canadian cannabis company founded in 2013 and headquartered in British Columbia.
Shares are listed on the Canadian Securities Exchange under the ticker symbol MJ. I see average daily trading volume around 100,000 shares here, so this stock has plenty of liquidity for most investors.
I also see the U.S., OTC listing for True Leaf under the ticker symbol TRLFF. This ticker has an average daily trading volume of just 10,000 shares. That's not a lot of trading volume.
Anyone interested in this stock, I recommend buying the Australian based ticker.
True Leaf is an early stage cannabis company. It has a market cap of just $25 million - a fraction of the size of Canada's largest cannabis company, Canopy Growth Corporation (TWMJF) with a market cap of $1.3 billion.
True Leaf Medicine currently has an application under review with Health Canada for a license to grow and sell medical cannabis.
The goal is to become a licensed Canadian cannabis company similar to industry leaders such as Canopy Growth Corp and Aphria.
This division has potential, but its success relies on receiving a permit.
The second division, True Leaf Pet, is what makes this company interesting.
True Leaf Is Already Selling A Line Of Pet Medications
True Leaf is making a big push into the pet medications market.
True Leaf has already developed and commercialized hemp focused natural products that are professionally designed, scalable and legal for sale in the USA and Canada and Europe.
On August 8, Creso announced it had entered into a distribution partnership with Virbac, a global pharmaceutical animal health company, to launch anibidiol in Switzerland.
The company's initial product line uses hemp-based antioxidant designed to treat joint pain and anxiety in a soft chew format. Take a look the pics from the website below.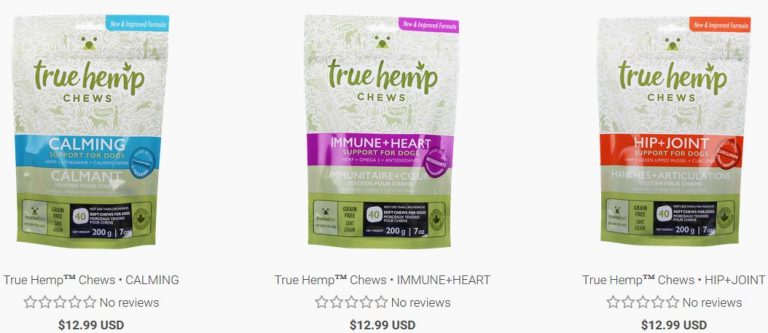 True Leaf's hemp-based soft chews are competing in the $3.2 billion natural pet product market and classified in the 'functional chew' category. This is a high-growth segment of pet medications as pet owners look to add health benefits to tasty treats.
These hemp-based products also help True Leaf avoid legal complications. While the FDA (Food and Drug Administration) has not approved cannabis for pets, hemp products are 100% legal.
In addition to its soft chews, True Leaf also sells a line of oil products for pets. Take a look below.
I see these products being sold on Amazon with a lot of positive reviews and a high overall rating.
This is a good sign. Getting listed on Amazon opens up huge new markets across the globe and it's pretty obvious from the reviews that pet owners are getting a lot of value in the products.

Looking forward the plan is to get a license to sell CBD (cannabinoid) products that are believed to have even better healing powers than hemp and eventually shoot for an FDA approved cannabis medication for pets.
Here's What True Leaf Says About Its Early Pet Products On Its Website
"These two products lay the foundation for the company's 5 year goal; to receive FDA approval for a cannabis - based pet medication that will be sold by veterinary prescription in the $13.8 billion pet medication market."
Revenue And Financials
As I mentioned True Leaf is still a tiny company with a market cap of just $25 million.
In May, Creso announced it had signed an agreement with LeafCann, a leading Australian cannabis grower, to accelerate the growth and commercialization of domestically grown cannabis within Australia.
But based on recent sales growth True Leaf is set to get a lot bigger.
Creso Is Taking Aim At The Canadian Recreational Market
Revenue has exploded in the last year, climbing more than 1,000% from $37,000 in 2016 to $374,000 in the first six months of 2017. Take a look below.

On The Chart
True Leaf rallied with the broader cannabis sector in early 2017. Since June shares are up about 10%, trading directly below the recent all-time high.
I see a very strong level of support between $0.35 and $0.40.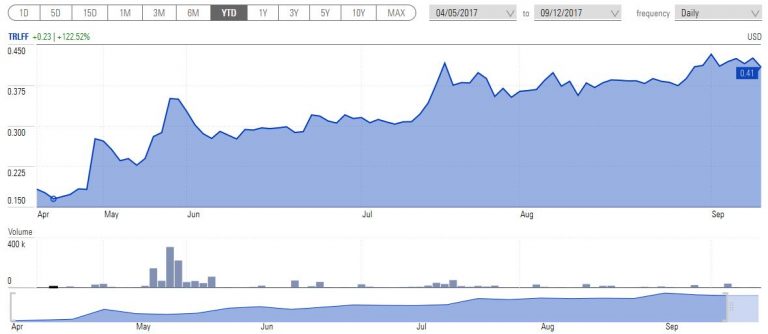 The Big Picture
True Leaf is an intriguing cannabis company. It's one of the few cannabis companies developing hemp, CBD and cannabis products for pets.
This is a high-risk stock with a market cap of just $25 million. But that also comes with the opportunity for more gains if the company is successful. This is a high-risk, high-reward cannabis stock that should be a peripheral holding in a diversified cannabis portfolio.
Enjoy,
The information contained in this post is for informational and educational purposes only. The trading ideas and stock selections represented on the Cannabis Stock Trades website are not tailored to your individual investment needs. Readers and members are advised to consult with their financial advisor before entering into any trade. Cannabis stocks carry a certain level of risk and we accept no responsibility for any potential losses. All trades, patterns, charts, systems, etc. discussed are for illustrative purposes only and not to be construed as specific advisory recommendations. All ideas and material presented are entirely those of the author and do not necessarily reflect those of the publisher.