Back in December, I deduced that the Saudis had budgeted a little less than $53 for oil in 2017. Their budget was based on their belief that they didn't expect to see any U.S. shale oil production response in 2017. Saudi Energy Minister Khalid A. Al-Falih said it in answer to a question in the press conference after the OPEC/non-OPEC meeting (see video starting at 51:35). He backed-up his belief basing it on the time lag of when oil prices had peaked in 2014 and when production peaked in 2015.
After the deals went into effect on January 1st, oil prices remained above $50 per barrel. According to the EIA's weekly production data, U.S. crude production rose by 318,000 b/d between the last week of December and the week ending March 3rd, just before Al-Fahil's speech in Houston during on March 7th.
He said he is optimistic about the global oil market in the weeks and months ahead, but "I caution that my optimism should not tip investors into 'irrational exuberance' or wishful thinking that OPEC or the Kingdom will underwrite the investments of others at our own expense."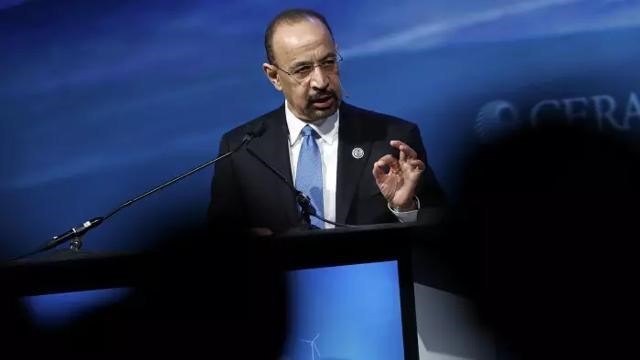 Khalid al-Falih: 'I am optimistic about the global market outlook in the weeks and months ahead' © Bloomberg
His speech was most notable for the following quote:
"Saudi Arabia will not allow itself to be used by others. My colleagues have heard that privately, and I am saying it publicly. This is for the benefit of all and needs to be achieved by the contributions of all," he said. "But this time around, we made it clear that we will not bear the burden of 'free rides,' and both groups are reinforcing one another through voluntary management of their production."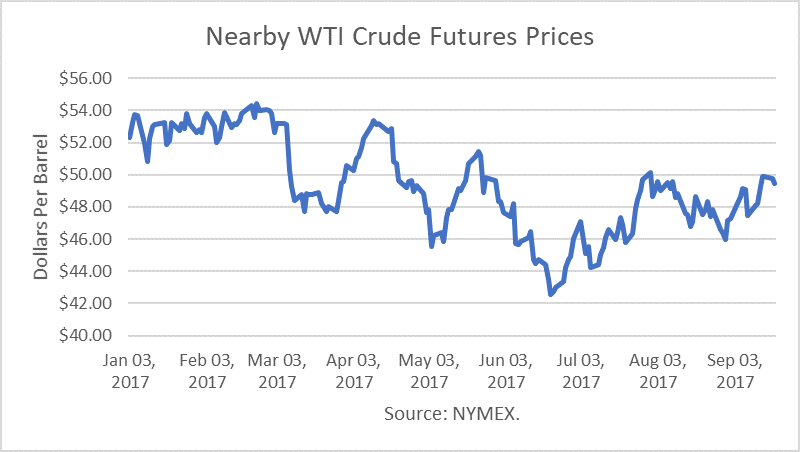 Futures prices quickly collapsed below $50 per barrel. Long speculators, who had built record-high positions in February, had already started to liquidate, raced out of the trade.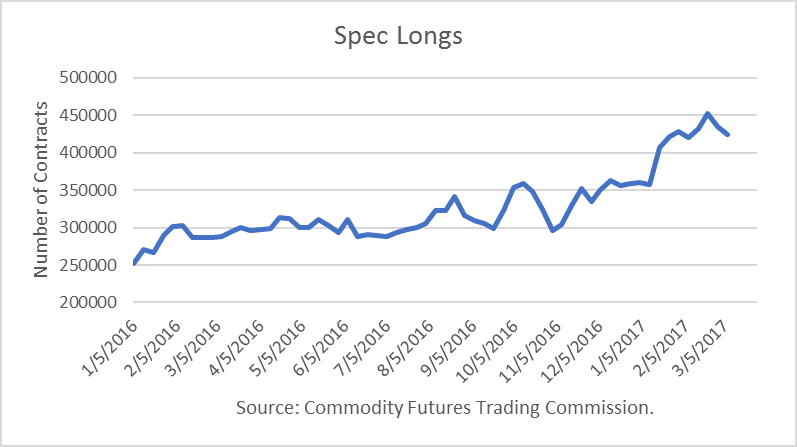 According to the EIA, U.S. crude production had risen by another 232,000 b/d between March 3rd and May 19th to 9.320 million barrels per day since oil prices had spent time north of $50/b. After dropping again, oil prices recovered during May as the semi-annual OPEC meeting was drawing near. Prices topped $51/b just before the May 25th meeting.
At the meeting, OPEC announced it would extend the deals for nine more months ending March 2018. Prices collapsed again because there was no announcement of a further cut.
Throughout the summer, oil prices remained below $50, except for a one-day close (July 31st) at $50/b. During July, the Baker-Hughes oil-directed rig count broke from its linear trend.
Since it is the most appropriate leading indicator for future U.S. oil production, it is implying that prices below $50/b are not high enough to incentivize growth in crude production. Also, U.S. crude production had only increased by 33,000 b/d between the weeks ending May 19th and September 8th.
Conclusions
The OPEC market monitoring committee is scheduled to meet this Friday, and the question is, what sort of signal does OPEC want to send the market? Based on the facts above, I believe they will conclude that they do not want oil prices above $50 at this time to restrain U.S. crude production growth. Saudi Arabian Energy Minister Khalid al-Falih, who traveled to similar meetings earlier this year, might not attend Friday's gathering, a source said. That confirms my belief that he does not want to encourage prices in the $50s.
Check back to see my next post!
Best,
Robert Boslego
INO.com Contributor - Energies
Disclosure: This contributor does not own any stocks mentioned in this article. This article is the opinion of the contributor themselves. The above is a matter of opinion provided for general information purposes only and is not intended as investment advice. This contributor is not receiving compensation (other than from INO.com) for their opinion.