Analysis originally distributed on January 3, 2018 By: Michael Vodicka of Cannabis Stock Trades
2017 turned out to be a great year for cannabis stocks - particularly if you knew which stocks to buy.
The North American Cannabis Index was up 86% in 2017.
Canadian stocks were on fire - the Canadian Cannabis Index was up 160% in 2017.

Most improved award goes to US cannabis stocks - they were steadily falling for most of the year - down 40% on the year in late October.
Then in early November, a major rally kicked in and US cannabis stocks rallied hard - with the US cannabis index jumping more than 100% from the 52-week low.
The Cannabis Stocks Trades model portfolio had an awesome year too - delivering a 101% gain in 2017.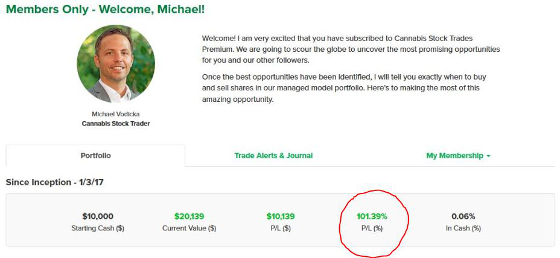 Our strong performance was driven by our Canadian holdings.
I felt strongly that Canadian cannabis stocks would outperform their US counterparts in 2017 - so the CST portfolio was heavily overweight in Canada. That turned out to be a great move.
Four of our largest holdings are the top performing Canadian stocks of the year.
That includes:
Aurora Cannabis (ACBFF) was up 336% in the CST portfolio.
Aphria (APHQF) was up 291%.
Canopy Growth Growth Corp (TWMJF) was up 241%.
Australia was another sweet spot for the CST portfolio in 2017.
Cann Group (CAN) was up 310%.
Our second Auscann (ACNNF) trade is up 114%.
Australia looks like the next Canada to me. I see Australia following Canada and legalizing recreational cannabis within the next two years. If that happens, now is the time to buy Australian cannabis stocks.
Outlook: 2018 Should Be Another Great Year For Cannabis Stocks
2017 was another awesome year for cannabis stocks - making it two years in a row after a strong 2016.
Despite the impressive string of gains, I believe 2018 could be the best year ever because of the two historic events.
On January 1 California went legal. This is the single most important event in the history of the cannabis industry.
In the long run, it is set to unlock a $6 billion industry within the next two years.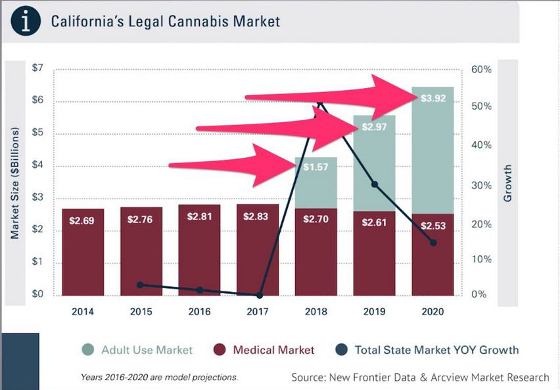 In the short run, it sent cannabis stocks soaring on the very first day of trading in 2018.
For example, Potnetwork Holdings (POTN), a stock held in the Cannabis Stock Trades model portfolio, was up 71%.
I expect this strong upward momentum to continue for at least the next few months as California attracts more cannabis investors.
Then - it's on to the main course - another historic event for the cannabis industry.
On July 1 Canada Will Become The First Developed Nation In The World To Legalize Cannabis
Much like California, legalization in Canada is expected to unlock a $6 billion industry within the next three years.
When you take a look at the force of California and Canada together - the North American cannabis industry is expected to explode to $23 billion by 2021.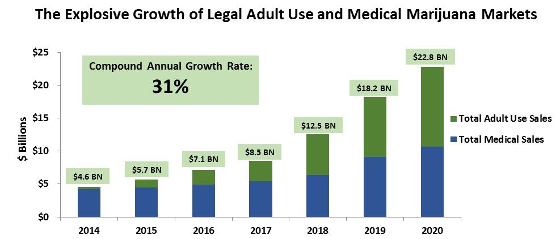 As you can see, despite the fact that many cannabis stocks were up a lot in 2017 - the cannabis industry is still in its infancy and has many years of outsized growth ahead.
My plan is to be aggressive. That means holding many of the trades in the CST model portfolio while also adding a steady stream of new trades.
If you own shares: keep holding. Anyone buying as recently as last month is looking good right now. Sit tight and let momentum and sentiment support your trade.
If you want to buy shares: I know it can be hard to buy stocks that are sitting on huge gains like cannabis stocks are right now.
That's why I want to share two tips to help reduce risk.
1.) Start Small: If you want to eventually invest 5K into cannabis stocks - start with 1K now. This way - you'll profit if cannabis stocks keep rallying. But if cannabis stocks fall - you'll have cash on the sideline to buy more shares.
2.) Be Diversified: I recommend being diversified. Don't put all your money into one stock! It's a smart idea to own five or more. This reduces risk if one company underperforms or fails.
Happy New Year - I am looking forward to sharing another profitable year in the cannabis sector!
Enjoy,
The information contained in this post is for informational and educational purposes only. The trading ideas and stock selections represented on the Cannabis Stock Trades website are not tailored to your individual investment needs. Readers and members are advised to consult with their financial advisor before entering into any trade. Cannabis stocks carry a certain level of risk and we accept no responsibility for any potential losses. All trades, patterns, charts, systems, etc. discussed are for illustrative purposes only and not to be construed as specific advisory recommendations. All ideas and material presented are entirely those of the author and do not necessarily reflect those of the publisher.