Analysis originally distributed on April 12, 2018 By: Michael Vodicka of Cannabis Stock Trades
Winning a license to sell cannabis in Canada is a lot like winning the lottery. It's an immediate pathway into an untapped $5 billion market.
However, just like the lottery – it's not easy to get one of these permits.
Four years after Canada updated its domestic cannabis laws – only 97 companies have been licensed. Around 30 of those companies are publicly traded and control around 45 permits.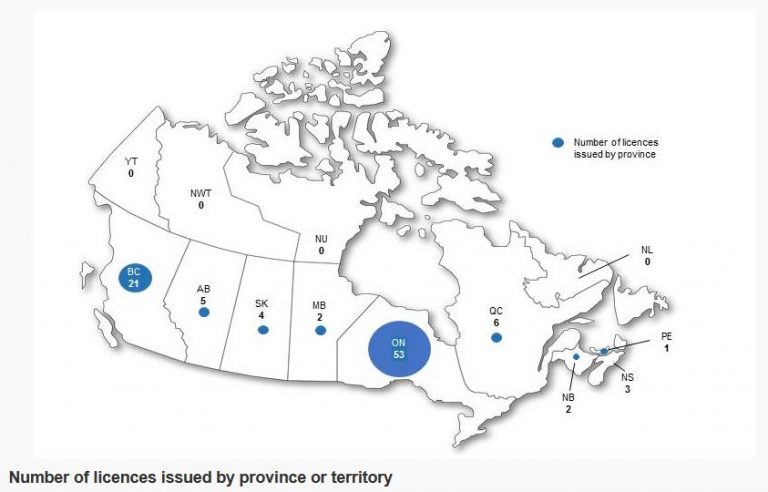 Today – I am going to reveal the most recent winner of Canada's cannabis permit lottery.
This up-and-coming Canadian cannabis company:
Just submitted a license to sell cannabis oils.
looks like an excellent buyout target.
Is trading at a 65% discount to recent 52-week high.
Hiku Brands Ltd. (CSE:HIKU, OTC:DJACF) is an up and coming Canadian cannabis company headquartered in British Columbia.
Shares are traded on the Canadian Stock Exchange under the ticker HIKU and in US OTC markets under the ticker DJACF.
Hiku's wholly-owned subsidiary, DOJA, is federally licensed to cultivate and sell cannabis by Health Canada. The company owns two production facilities located in British Columbia's Okanagan Valley.
With a market cap of just $84 million, this is one of the smallest public Canadian cannabis companies. By comparison, Canopy, the largest company in the sector, has a market cap around $5 billion.
This smaller size makes Hiku a higher risk, reward opportunity.
Despite its smaller size, the company is making big moves to cash in on Canada's legal cannabis market.
Last week Hiku became the latest winner of Canada's cannabis lottery.
Hiku announced its wholly-owned subsidiary DOJA had received an amendment to its license from Health Canada to include the sale of dried cannabis, cannabis plants and seeds, effective April 6, 2018.
This is a nice win for Hiku that I expect to drive renewed interest in shares.
Winning the sales permit enabled DOJA to accelerate its biggest project – "FUTURE LAB" – a high tech cannabis greenhouse being built in British Columbia.
"FUTURE LAB will incorporate solar power, LED lighting, two-tier vertical farming, a state-of-the-art extraction lab and be capable of producing approximately 4,500 kg/year of dried cannabis flower. The retrofit of the 27,362 sq ft building, with 22,076 sq ft of canopy area over two-tiers, is budgeted to cost approximately $9 million."
FUTURE LAB is also a play on the high-growth cannabis oils market.
On March 7, FUTURE LAB submitted its application to Health Canada for the production of medical cannabis oils at its second site facility in Kelowna, British Columbia.
The new facility is expected to increase DOJA's production capacity to over 5,000 kg of dried flower and is expected to be completed by the end of 2018.
This isn't the only win for Hiku. The company has been on a roll in 2018.
On February 16, Hiku's wholly-owned subsidiary, TS Brandco Holdings Inc. – Tokyo Smoke – was conditionally awarded one of just four master retail licenses in Manitoba's competitive Request for Proposal process for the right to operate retail cannabis stores.
Here's more from the press release.
"The License gives Tokyo Smoke the ability to operate legal retail cannabis stores and an online cannabis sales platform in Manitoba. Hiku plans on participating in future licensing processes across the country under the Tokyo Smoke and DOJA brands and growing its national retail footprint."
As you can see, Hiku's companies are making big moves to get ready for the $5 billion recreational market.
Shares are up almost 200% Since Going Public
Hiku began trading on the Canadian Stock Exchange in August on 2017 around $0.50.
Shares jumped higher with the broader cannabis sector in late 2017 and early 2018.
Shares are still up almost 200% from the IPO last summer, but down 60% from the 52-week high. The relative strength index below the chart is the most oversold ever.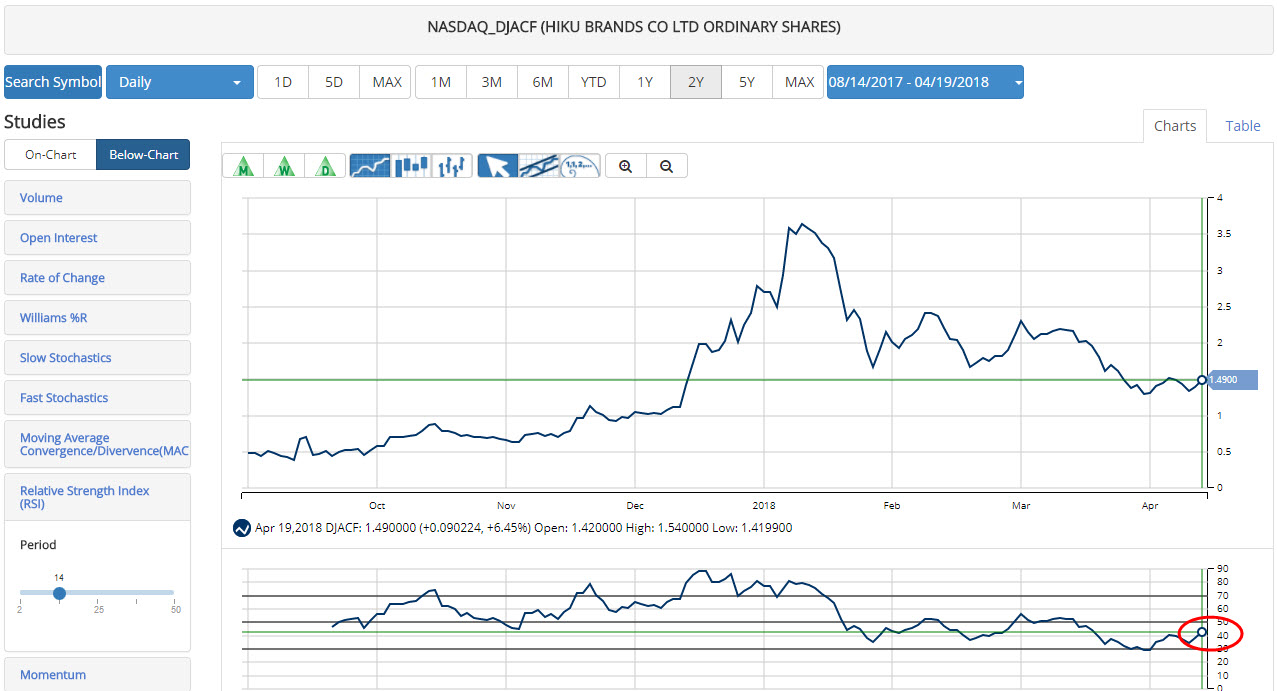 Risks to Consider
This is still an early stage cannabis company with little revenue. Although I expect that to change with its new projects coming online, DOJA needs to execute its growth strategy.
Action to Take
Hiku is a one of the smaller Canadian cannabis stocks. But I see plenty of reason for optimism. The recent sales license puts the company in a position to capitalize on recreational cannabis. I also see Hiku as a great acquisition for a larger industry player such as Canopy or Aphria.
Enjoy,
The information contained in this post is for informational and educational purposes only. The trading ideas and stock selections represented on the Cannabis Stock Trades website are not tailored to your individual investment needs. Readers and members are advised to consult with their financial advisor before entering into any trade. Cannabis stocks carry a certain level of risk and we accept no responsibility for any potential losses. All trades, patterns, charts, systems, etc. discussed are for illustrative purposes only and not to be construed as specific advisory recommendations. All ideas and material presented are entirely those of the author and do not necessarily reflect those of the publisher.