Analysis originally distributed on April 4, 2018 By: Michael Vodicka of Cannabis Stock Trades
Warren Buffet is the most successful investor of all-time. His net worth of $84 billion makes him the third richest person in the world.
Buffet's fortune was built on a contrarian view on investing. He once said, "Be fearful when others are greedy and greedy when others are fearful."
This is good advice for the cannabis sector right now.
After posting huge gains in 2017, the global cannabis sector fell into a bear market in the first quarter of 2018.
However, despite that short-term weakness, the long-term picture for the cannabis industry and cannabis stocks has never looked better.
Cannabis stocks got off to a blazing start in early 2018. Since climbing to an all-time high, the sector spent most of February and March trickling lower.
The Canadian Cannabis Index fell 15% in the first quarter.

The U.S. Cannabis Index fell 28%.

The industry's weakness was slowed by two short-term speed bumps:
1: Canada's Cannabis Industry Was Up Huge in 2017
Canadian cannabis stocks saw huge gains in 2017, with the Canadian cannabis index jumping more than 300% in the second half of the year. This pullback resulted from shorter-term traders taking quick profits off the table.
2: U.S. Cannabis Industry Battling Legal Uncertainty
U.S. cannabis stocks are battling a restrictive legal environment where medical and recreational cannabis are both still illegal at the federal level. The U.S. cannabis industry is growing quickly, but this legal uncertainty has prevented billions in fresh capital from flowing into the industry and into stocks.
However, despite the weakness and these are short-term speed bumps, Warren Buffet's advice tells me this is the time to be aggressive.
I see two major triggers directly on the horizon:
1: Seasonal Cycle for Cannabis Stocks
Cannabis stocks have been weak in the first half of the year for the last two years. What we see this year is a continuation of that pattern. Just like 2016 and 2017, I expect cannabis stocks to reverse and close the year with big gains.
2: Canada Goes Legal this Summer
Canada is set to become the first developed country in the world to legalize recreational cannabis this summer. This is expected to unleash billions in new sales, making legal cannabis one of the fastest growing industries in North America in the next five years.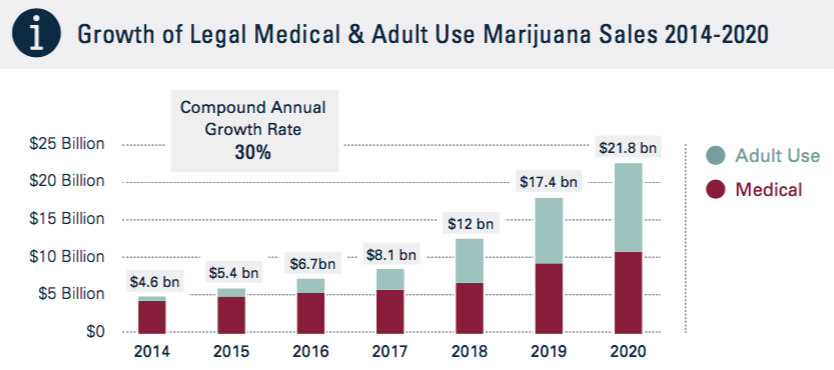 Despite the strong outlook, many early cannabis industry leaders and potential future global leaders, are trading at a rare discount to recent 52-week highs.
For example, Canopy Growth Corp (TWMJF) is the largest cannabis company in Canada and one of the largest in the world. The company is in position to be a domestic leader in Canada's high-growth recreational cannabis market. Canopy is also rapidly expanding into international markets in Europe and Australia – creating a huge new potential source of revenue. Canopy should benefit from first-mover advantage and low-cost production.
Despite the promising outlook, shares of Canopy are trading at a 40% discount to the 52-week high from late 2017.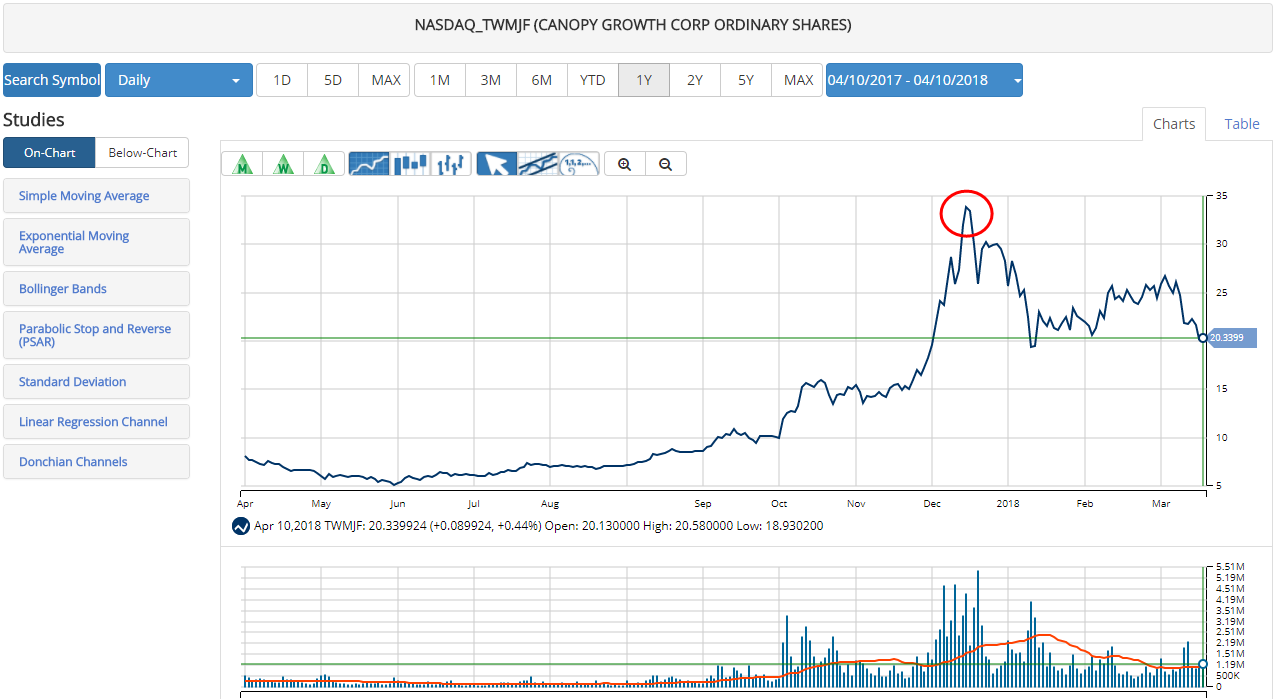 GW Pharmaceuticals (GWPH) is one of the most promising cannabis biotechs. The UK-based company is in hot pursuit of the world's first cannabis blockbuster drug. GW is expecting a critical update from the FDA in the first half of 2018 regarding their product Epidiolex, a drug candidate to combat symptoms of epilepsy. Good news should give shares a big boost.
In the meantime, with the broader cannabis sector selling off, shares are trading at a 21% discount to the 52-week high.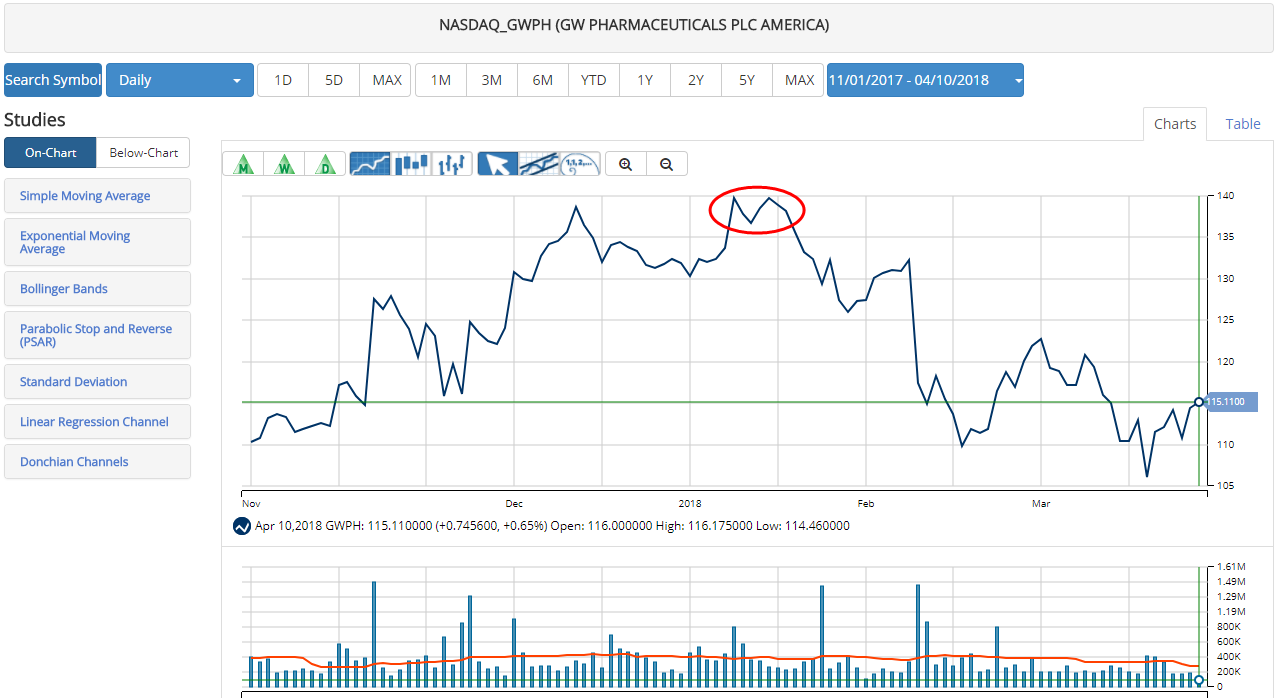 Risks to Consider
Despite a recent delay, Canada is still on course to legalize recreational cannabis by this summer. This is an important indicator to follow. More delays would weigh on the entire Canadian cannabis sector.
Action to Take
According to Warren Buffet, this is a good time to invest in the cannabis sector. Sales should surge in the next few years and, in the meantime, shares of early industry leaders are trading at a big discount to the recent 52-week high.
Enjoy,
The information contained in this post is for informational and educational purposes only. The trading ideas and stock selections represented on the Cannabis Stock Trades website are not tailored to your individual investment needs. Readers and members are advised to consult with their financial advisor before entering into any trade. Cannabis stocks carry a certain level of risk and we accept no responsibility for any potential losses. All trades, patterns, charts, systems, etc. discussed are for illustrative purposes only and not to be construed as specific advisory recommendations. All ideas and material presented are entirely those of the author and do not necessarily reflect those of the publisher.