Analysis originally distributed on May 16, 2018 By: Michael Vodicka of Cannabis Stock Trades
Canadian cannabis stocks got a big jolt this week after an early industry leader announced it has applied for a listing on the New York Stock Exchange. This looks like the beginning of a new trend in the cannabis sector – and today I am going to reveal three strategies to potentially profit.
Canopy Growth Corp (TWMJF) announced on Monday that it has applied to be the first Canadian cannabis company to trade on the New York Stock Exchange.
Here are some more details from Bloomberg.
"Canada's biggest marijuana company has applied to become the first pot producer to list on the New York Stock Exchange.

Canopy Growth Corp., which already trades on the Toronto Stock Exchange under the ticker symbol WEED, said Monday it expects its shares to begin trading in New York under the symbol CGC before the end of May.

Chief Executive Officer Bruce Linton said earlier this year that he was one day away from filing to list on the Nasdaq Stock Market but pulled back to focus on closing a deal with alcohol giant Constellation Brands Inc. He said Monday that he chose the NYSE over the Nasdaq because of the additional credibility it lends his company."
Read the article, Canopy Applies to Become First Pot Producer Listed on the NYSE.
This is big news and another big-time win for the fast-growing cannabis industry.
Canopy is in position to be the first Canadian cannabis company listed on the New York Stock Exchange (NYSE). That should increase interest in Canopy and the broader cannabis sector.
Canopy's potential uplisting to the NYSE also shows that the cannabis industry is quickly gaining a lot of credibility. The uplisting should trigger more capital inflows into the sector.
The good news sent the entire Canadian cannabis sector jumping higher. The Canadian cannabis index jumped more than 4%.
Canopy did even better – shares were up as much as 10% on the day.
Canopy is back within striking distance of a new 2018 high. Take a look.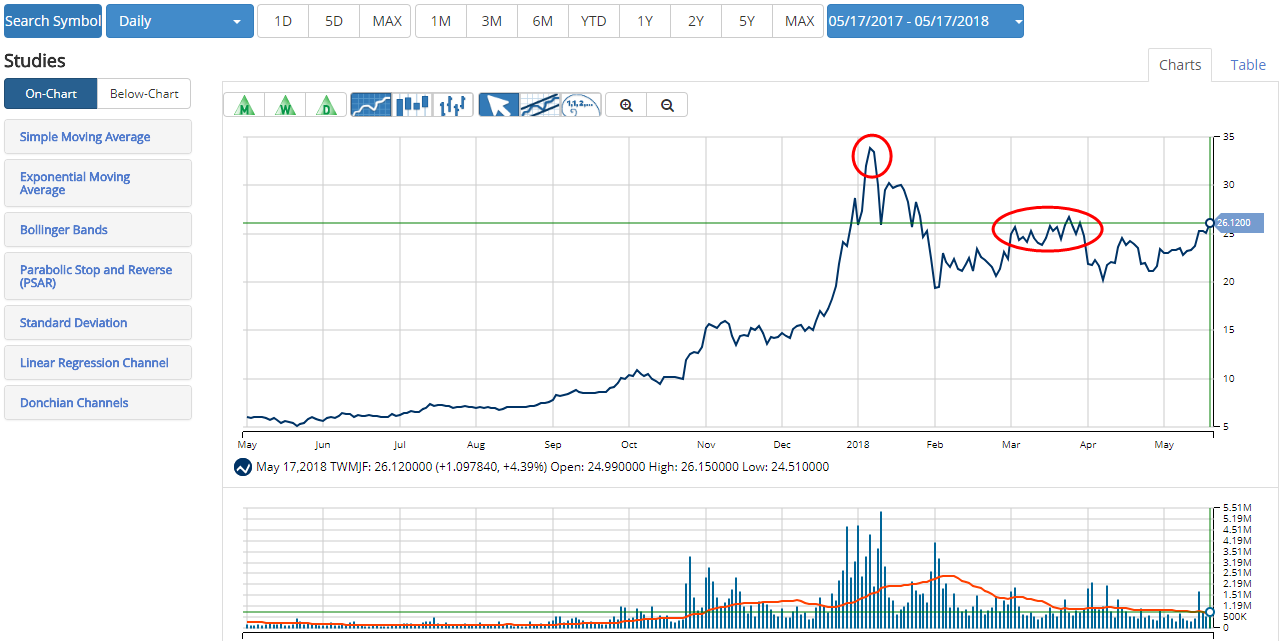 Looking forward – I am expecting more Canadian stocks to follow Canopy's lead and pursuit listings on the NYSE.
Below I reveal three Canadian cannabis companies that I expect to apply for listings on large US stock exchanges such as the NYSE and the NASDAQ.
If that happens, just like Canopy, I am expecting shares to get a nice short-term jolt and gain long-term credibility.
Aurora Cannabis (ACBFF) is the second largest Canadian cannabis company and one of the largest in the world. Aurora has been on a buyout binge lately, buying multiple companies to help Aurora grow production as quickly as possible ahead of recreational going legal. Aurora is also building a massive cannabis greenhouse Called Aurora Sky. When completed Aurora Sky is set to be more than 1 million square feet.
Aphria Corp (OTC: APHQF) is also one of the largest Canadian cannabis companies. Aphria is making big moves to cash in on Canada's high-growth recreational cannabis market. Aphria is building a 1 million square foot cannabis greenhouse that positions Aphria as a low-cost producer. Aphria continues to report excellent progress.
Aphria One – 700,000 square foot Part IV expansion project remains on-time, first sale continues to be expected in January 2019.
Aphria Diamond – 1,300,000 square foot retrofit project remains on-time, first sale continues to be expected in January 2019.
Broken Coast – Phase III expansion complete and awaiting Health Canada. Phase IV expansion project modified to increase capacity but moves first sale expectations to Fall 2019.
Organigram Holdings, Inc. (OGRMF) is a mid-sized Canadian cannabis company with a niche in organic cannabis. Organigram is already delivering impressive sales growth. The company reported awesome second-quarter results in late April. Sales jumped 123% from last year to $3.2 million. Net income increased to $1.1 million from a loss of $5 million last year. Phase 3 expansion of its new greenhouse is expected to be complete for the start of filling of rooms with first cannabis plants by June 1, 2018, bringing Organigram's pro-forma run-rate capacity to 36,000 kg per year. Organigram plans to launch its adult-recreational brand strategy on or about May 15, 2018. And finally, Organigram expects to announce one or more strategic or international investments in the upcoming quarter.
Risks to Consider
The Canadian cannabis industry faces a key vote on June 7 to finalize plans to legalize recreational cannabis. The bill is expected to pass – and set the stage for legalization – but the pending vote is driving some caution.
Action to Take
These three companies are early leaders in Canada's high-growth cannabis industry. Each of them are great candidates to follow in Canopy's footsteps and apply for an uplisting onto a major US stock exchange such as the NYSE or NASDAQ. If that happens, I expect shares to jump higher in the short run and get a long-term boost.
Enjoy,
The information contained in this post is for informational and educational purposes only. The trading ideas and stock selections represented on the Cannabis Stock Trades website are not tailored to your individual investment needs. Readers and members are advised to consult with their financial advisor before entering into any trade. Cannabis stocks carry a certain level of risk and we accept no responsibility for any potential losses. All trades, patterns, charts, systems, etc. discussed are for illustrative purposes only and not to be construed as specific advisory recommendations. All ideas and material presented are entirely those of the author and do not necessarily reflect those of the publisher.