Hello traders everywhere. Overall the U.S. stock market is trading lower on the day after a slow opening and trading lower on the week. The reason for today's soft open is the Fed, which is set to release its latest monetary policy decision at 2 p.m. ET. Market expectations for a May rate hike are just 5.7%, according to the CME Group's FedWatch tool.
The NASDAQ is the only index in the green, but that is solely due to Apple. Apple is a cash generating machine rising +4% after it posted resilient iPhone sales in the face of waning global demand and promised $100 billion in additional stock buybacks. But the real surprise was the service revenue with total paid subscriptions reaching 270 million, that's up by 100 million from a year ago.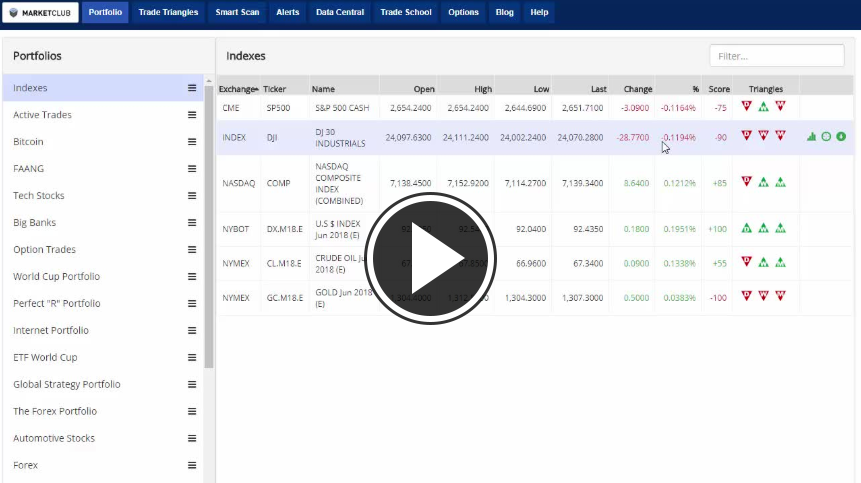 We finally got the green monthly Trade Triangle on the U.S. dollar as it passed through the $92 level hitting new 3 month highs and trading up a little over 1% on the week. The U.S. two-year Treasury yields hit a 9-1/2-year high after data showed U.S. private-sector payrolls for April came roughly in line with market forecasts, cementing expectations for a rate increase in June.
Bitcoin is up .2% on the day but is still stuck in a tight trading range. For the last 12 days, it's been trapped between the 50-day and 200-day moving averages. It needs to make a move above the 200-day MA, which currently stands at the 9,956.44 level, to break out to the upside.
Key Levels To Watch This Week:
S&P 500 (CME:SP500): 2,610.79
Dow (INDEX:DJI): 24,858.97
NASDAQ (NASDAQ:COMP): 6,926.97
Gold (NYMEX:GC.M18.E): 1,325.90
Crude Oil (NYMEX:CL.M18.E): 69.34
U.S. Dollar (NYBOT:DX.M18.E): 88.94
Bitcoin (CME:BRTI): 6,616.14
Every Success,
Jeremy Lutz
INO.com and MarketClub.com