Analysis originally distributed on June 21, 2018 By: Michael Vodicka of Cannabis Stock Trades
Germany has quickly emerged as one of the fastest-growing medical cannabis markets in the world.
According to a study on the German health insurance market, 500 German patients requested medical cannabis in January of 2017.
In December of the same year, the number of patients requesting reimbursements for cannabis prescriptions skyrocketed to 13,000.
What was the biggest factor that drove the huge spike?
German insurance companies started covering medical cannabis subscriptions in 2017 – and the number of patients surged.
Looking forward – this bullish trend is expected to accelerate.
Tens of thousands of new patients are expected to enroll in Germany's medical cannabis program in 2018.
Longer term – I expect the success of Germany's medical cannabis market to usher in recreational legalization.
If that happens, look out! It would be an enormous catalyst for the global cannabis industry, and Germany would quickly become the single largest cannabis market in the world. Germany is the largest country in the European Union, with a population of 70 million.
Despite the early and growing success of Germany's revamped medical cannabis market, Germany lawmakers have banned growing cannabis in the country.
Germany has turned to Canada's largest cannabis producers to fill the gap.
Canopy Growth Corp (CGC) is an early leader in Germany.
Aurora Cannabis (ACBFF) has also expanded into Germany.
I expect both of these companies to benefit from operating in Germany.
However – a new company has entered the race to capture Germany's medical market.
Unlike Canopy and Aurora – this company's smaller size means that success in Germany could have a big impact on sales and earnings growth.
Invictus MD Strategies Corp. (IVITF) is a small Canadian cannabis company headquartered in British Columbia.
Invictus is a direct play on Canada's high-growth recreational cannabis market – and a growing play on Germany.
Shares are traded on the Toronto Venture Stock Exchange and available to US investors through OTC markets.
Invictus's market value of $115 million is a fraction of industry giant Canopy's $7 billion.
However, Invictus has plenty of room to grow.
The company owns an impressive portfolio of Canadian licensed producers – and just announced its first deal in high-growth Germany.
Acreage Pharms Ltd. – WEST-CENTRAL ALBERTA – 100% Ownership
Acreage Pharms is a licensed producer under Canada's medical program. It has already finished construction on a 6,800 square foot production facility with plans for a major addition.
Secured perimeter: 60,277 sq ft
Phase I: 6,800 sq ft production facility – Complete
Phase II: 30,000 sq ft expansion – Complete
Phase III: 80K square feet.
Phase IV: 80K square feet.
Phase V: 160K square feet.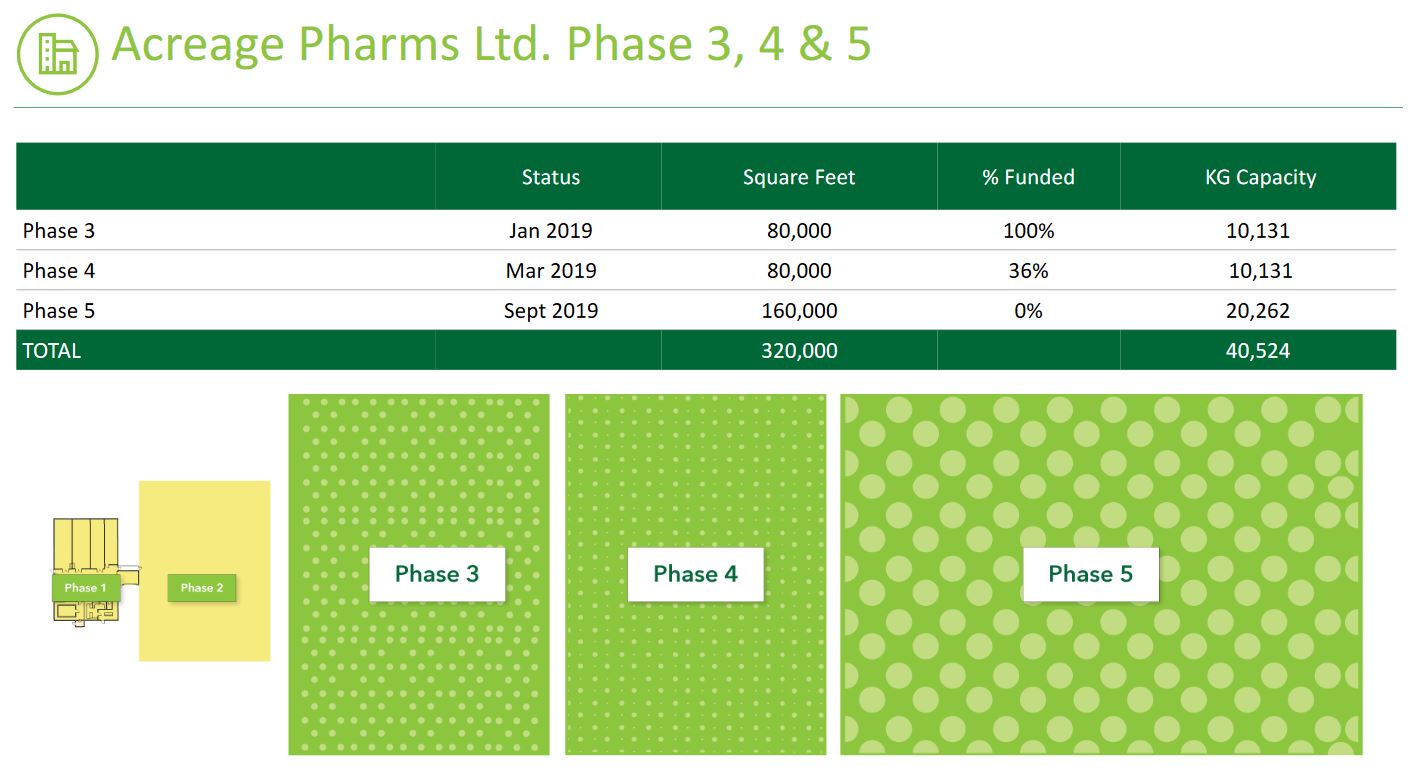 AB Laboratories Inc. – HAMILTON, ONTARIO – 33.3% Ownership
AB Labs is another licensed producer under Canada's medical program and occupies cultivation space of more than 60,000 square feet.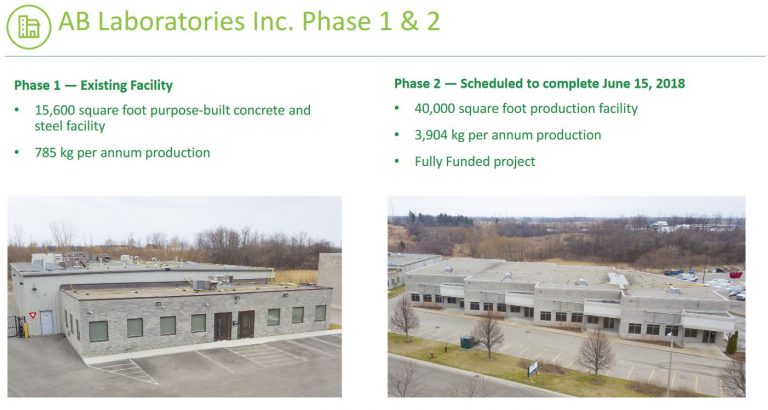 These are just a few examples of the cannabis producers that Invictus either owns or has invested in.
These licensed producers are in position to capitalize when recreational cannabis goes legal in Canada later this year.
In the meantime – Invictus is breaking into Germany's high-growth medical market.
On June 19 Invictus announced it has signed a non-binding Letter of Intent ("LOI"), executed on June 13, 2018, to sell dried cannabis to a German importer and distributor of medical cannabis (the "Importer"). The Company will initially commit to selling 1,000 kgs of dried cannabis flower per annum at a price of $6.50 per gram. The volumes and respective prices of dried cannabis flower for the second and consecutive years will be defined in a Definitive Offtake Agreement (the "Offtake Agreement").

The Importer, whose name will remain undisclosed until execution of the Offtake Agreement, combines a highly competitive business model with a vast distribution network of 20,000 pharmacies and a clear focus on product marketing and professional education. The Importer's experienced management team previously led an international joint venture successfully to the final stage of the German tender for domestic cannabis production and unites the expertise of medical professionals, experts in pharmaceutical regulatory law as well as experienced entrepreneurs. This unique combination will serve to ensure the secure and reliable import and distribution of Invictus' products to the exponentially growing market in Germany and Europe.
Here's a link to the full press release.
Invictus Signs LOI For Cannabis Sales in Germany
This isn't exactly a game changer – as you can see in the notes the deal is expected to generate around $6,500 in revenue.
However, it's a solid entrance into Germany, and I am expecting the relationship to grow.
Invictus is up Huge Since Going Public Last Year
Invictus is up big since going public last May – gaining more than 477%.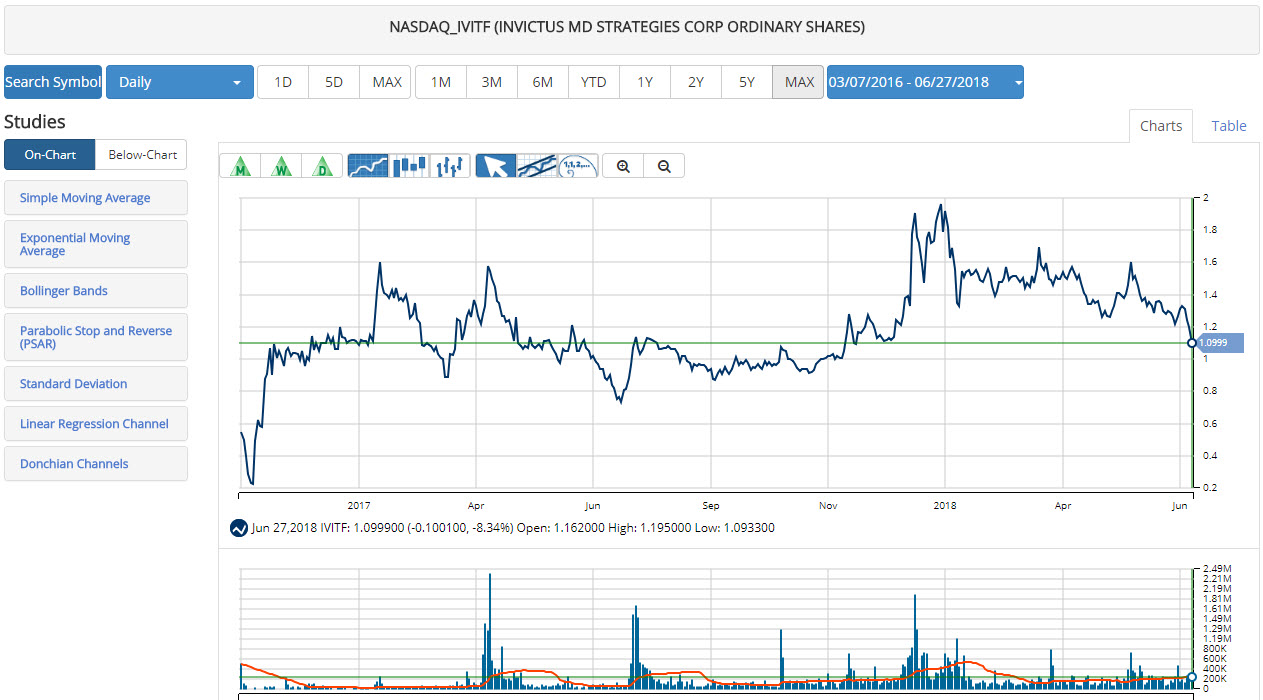 For the last few months, Invictus has been trading in a narrow range below the high. Looking forward, I expect shares to strengthen and move back to the high.
Risks to Consider
Invictus is a smaller Canadian cannabis producer. Smaller producers have high growth potential but larger companies such as Canopy have the advantage as low-cost producers.
The Big Picture
Invictus has a strong foothold in Canada's high-growth recreational cannabis market. The company parlayed this progress into a new deal to sell cannabis in Germany, another high-growth cannabis market. I expect this relationship and deal to grow and give shares a boost on the chart.
Enjoy,
The information contained in this post is for informational and educational purposes only. The trading ideas and stock selections represented on the Cannabis Stock Trades website are not tailored to your individual investment needs. Readers and members are advised to consult with their financial advisor before entering into any trade. Cannabis stocks carry a certain level of risk and we accept no responsibility for any potential losses. All trades, patterns, charts, systems, etc. discussed are for illustrative purposes only and not to be construed as specific advisory recommendations. All ideas and material presented are entirely those of the author and do not necessarily reflect those of the publisher.