Analysis originally distributed on May 31, 2018 By: Michael Vodicka of Cannabis Stock Trades
Cannabis IPOs have a proven history of delivering big returns in a short amount of time.
Medreleaf (LEAF) is a great example.
Medreleaf became the largest Canadian cannabis IPO ever in June 2017. Investors were eager to buy and shares quickly began rising.
Less than 12 months later, shares are up 275% from the IPO price.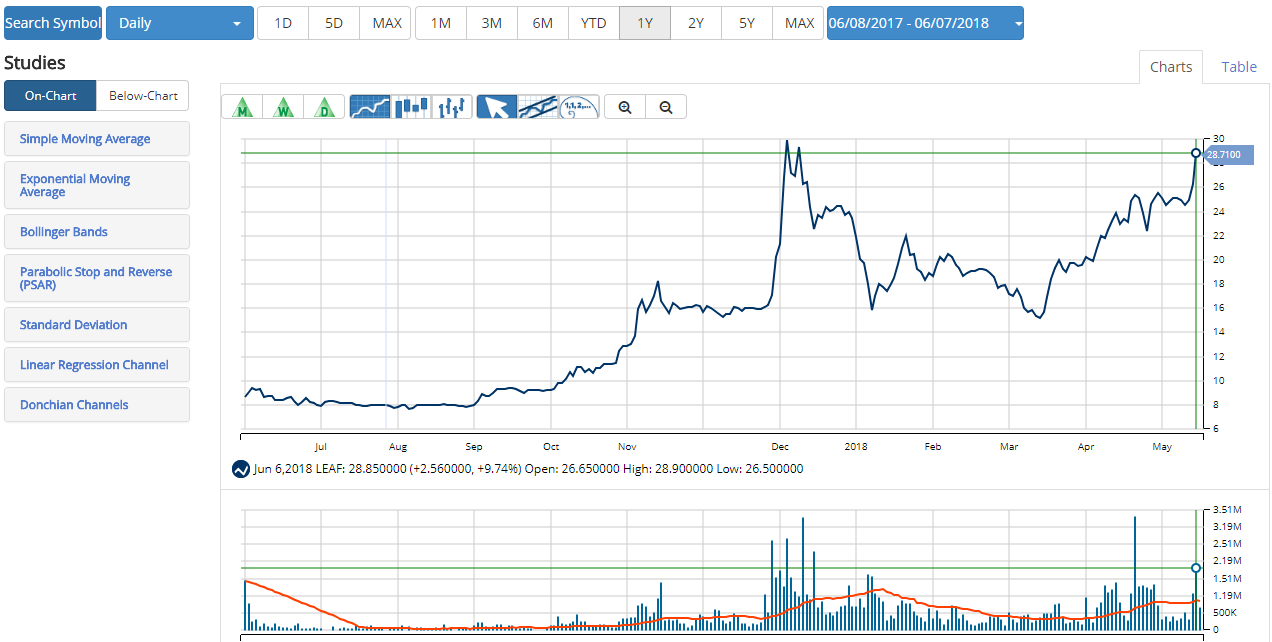 Today – I see this same cycle repeating itself.
One of the largest US cannabis companies just began trading on the Canadian Stock Exchange – and much like Medreleaf – I am expecting good things.
Medmen Enterprises, Inc. (MMEN) just pulled off one of the biggest IPOs in the history of the cannabis sector.
Shares began trading on the Canadian Stock Exchange yesterday under the ticker symbol MMEN.
Here are a few more details from the press release.
"The listing follows the successful completion of a reverse takeover of a Canadian public company by U.S.-based MM Enterprises USA, LLC. In connection with this reverse takeover and the listing on the CSE, the Company raised approximately CA$ 143 million, or US$ 110 million, through a private placement at an implied enterprise valuation of CA$ 2.14 billion, or US$ 1.65 billion."
Although Medmen chose to list shares on a Canadian exchange, the company is headquarters in Culver City, California and operates primarily in the US.
Medmen is a broad play on the US cannabis sector.
The company owns a portfolio of cannabis greenhouses and dispensaries in high-growth states California, Nevada and New York.
Medmen Is Running One 45,000 Square Foot Cannabis Greenhouse and Building Two More
Medmen recently kicked off production at its brand new 45,000 square foot cannabis greenhouse located in Nevada. This facility is state of the art and is expected to produce more than 10,000 pounds of cannabis per year.
While this facility ramps up, Medmen is building two more cannabis greenhouses, one in Hot Springs, California and the other in Utica, New York.
Medmen Operates 12 Dispensaries with Plans for Three More in 2018
Medmen is utilizing the cannabis from its greenhouses to supply its dispensaries. This is called 'vertical integration.'
Medmen currently operates 12 dispensaries in high-growth states California, Nevada and New York – with plans to open three more. Take a look at the locations below.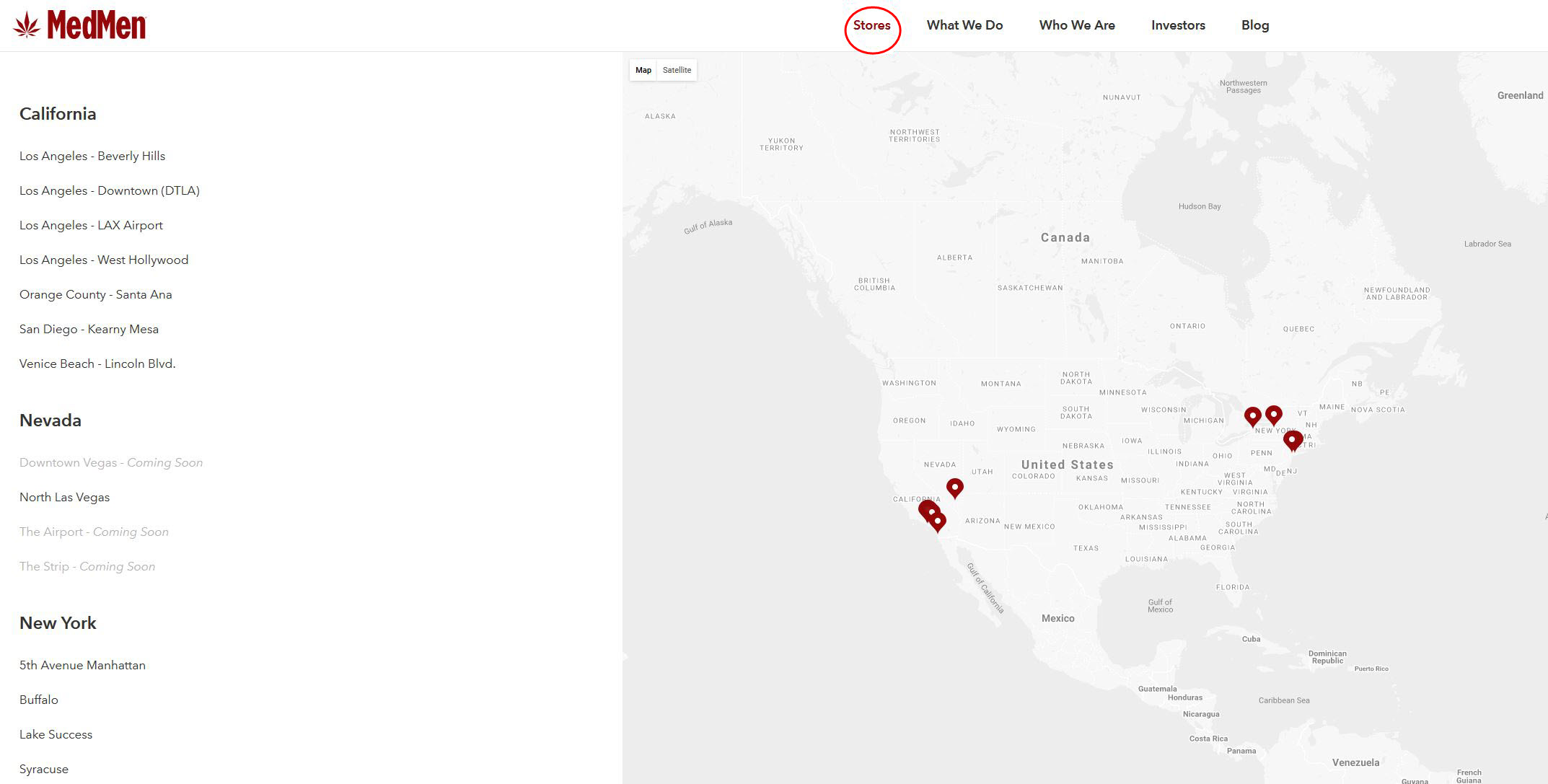 Medmen Just Partnered with One of the Largest Cannabis Companies in Canada
Medmen is also expanding into international markets.
The company announced a partnership with Cronos Group (CRON), one of Canada's largest cannabis companies.
Here are a few more details from the press release.
"The joint venture, called MedMen Canada Inc. ("MedMen Canada"), will develop branded products and open stores across Canada, leveraging Cronos' Canadian reach and expertise, as well as MedMen's class-defining retail expertise. MedMen is the largest cannabis retail chain in California, which welcomed adult use sales this year. The company owns and operates factories and stores in three states and anticipates going public in Canada in the second quarter of this year. Cronos operates two wholly-owned Canadian Licensed Producers under Health Canada's Access to Cannabis for Medical Purposes Regulations: Peace Naturals Project Inc. and Original BC Ltd."
Shares Were down on the First Day of Trading
Medmen was a bit weak on the first day of trading. Shares opened the session around $5.75, bottomed out around $4.75 before closing at $5.00.
I don't view that weakness as a negative signal. Longer term, I expect investors to be interested in this company and shares to rise.
Enjoy,
The information contained in this post is for informational and educational purposes only. The trading ideas and stock selections represented on the Cannabis Stock Trades website are not tailored to your individual investment needs. Readers and members are advised to consult with their financial advisor before entering into any trade. Cannabis stocks carry a certain level of risk and we accept no responsibility for any potential losses. All trades, patterns, charts, systems, etc. discussed are for illustrative purposes only and not to be construed as specific advisory recommendations. All ideas and material presented are entirely those of the author and do not necessarily reflect those of the publisher.