Editor's Note: Our experts here at INO.com cover a lot of investing topics and great stocks every week. To help you make sense of it all, every Wednesday we're going to pick one of those stocks and use Magnifi Personal to compare it with its peers or competitors. Here we go…
---
The never-ending demand for more technology creates long-term growth trends for semiconductor businesses. In the short term, however, they are vulnerable to wider economic pressures – demand for chips will fall off as the economy slows down.
In fact, as far as the chip industry is concerned, the world is already in a recession.
For the past three decades, a globalized production model has created a series of semiconductor giants across the world. In other words, in this sector, bigger has been better. Despite recent struggles, the stocks of all the semiconductor companies market caps have at least doubled in the past five years.
Many on Wall Street believe investors are already starting to look beyond the prospect of a recession. The market is becoming more desensitized to negative estimate revisions, as the focus begins to shift towards signs of recovery.
So let's look past the possible coming recession, and see what semiconductor designer stocks are the most attractive right now. To do that, we used Magnifi Personal's Compare function to compare Advanced Micro Devices (AMD) and Nvidia (NVDA).
All we had to do was type in "Compare AMD and NVDA."
To join in, ask for more details, or expand the search by asking something like "Compare AMD to its competitors," just click here to get a free trial of Magnifi Personal.
Instead of having to pore over financial statements and earnings reports yourself, Magnifi Personal can do this kind of research for you. Here's what it showed me when I asked it to "Compare AMD and NVDA."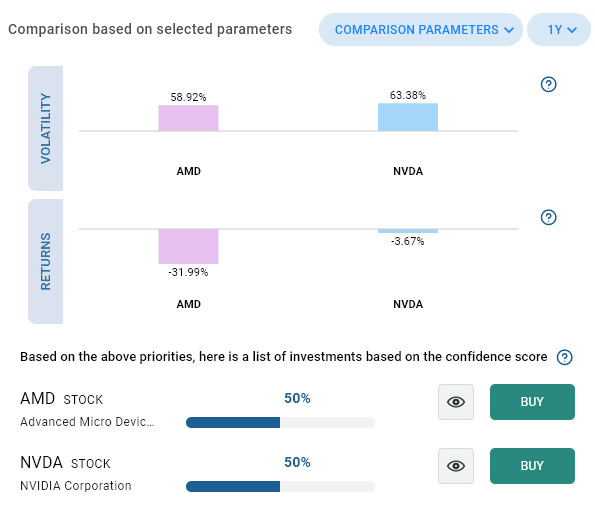 This is an example of a response using Magnifi Personal. This image is not a recommendation or individual advice. Please see bottom disclaimer for additional information, including INO's relationship with Magnifi.
Now, Nvidia is the leading designer of graphics processing units (GPUs). These are essential for training machine learning models, as well as for the video game industry. The company also designs the cabling and software that connects GPUs with each other. In short, Nvidia covers the whole ecosystem needed to build the supercomputers that train AI models.
AMD, meanwhile, has become the leading designer of central processing units (CPUs). Its market share gains from the likes of Intel have been notable in the growing data center sub-sector. A 42% rise in sales for its data center segment helped drive company revenue up 16% in its latest quarter.
As you can see above, AMD and NVDA are fairly evenly matched. Both have been very volatile of late, and neither have generated great returns recently.
So we asked Magnifi Personal to add each stock's Sharpe Ratio to the comparison. This is a standard and well-proven measure of how much extra return for each unit of added risk a given investment gets you. Generally speaking, a higher Sharpe Ratio means you're getting more return for the risk you're taking on.
Here's the result Magnifi Personal showed us: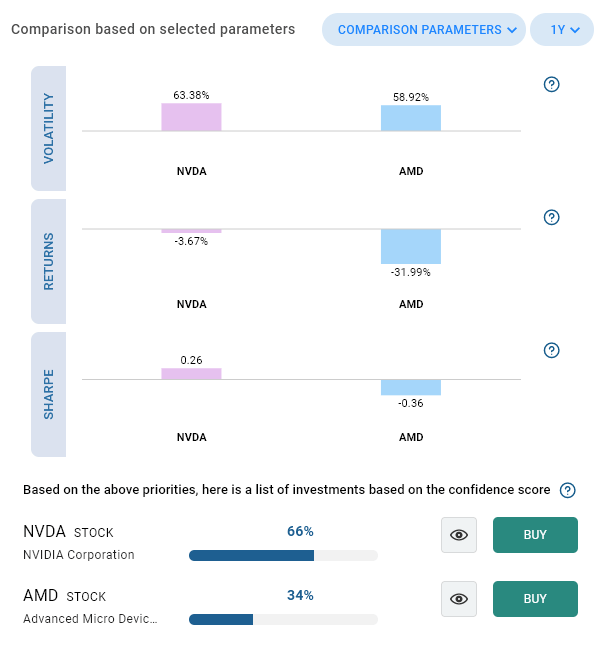 This is an example of a response using Magnifi Personal. This image is not a recommendation or individual advice. Please see bottom disclaimer for additional information, including INO's relationship with Magnifi.
You can easily do this yourself, or ask Magnifi Personal to add other measures to the comparison, including dividend, valuation metrics such as P/E or P/B ratios, gross margin, and more. Just click here to see how to set up your Magnifi Personal account!
Now, as you can see in the screenshot above, once you include Sharpe Ratio in the comparison, Nvidia - the leader in GPUs - came out the clear winner.
Magnifi Personal makes visualizing these kinds of fundamental and financial statistics simple, making it easy to find new or better stocks for your portfolio. To get your Magnifi Personal account set up, free-of-charge, just click here!
Latest from Magnifi Learn: The economy isn't stopping investors, 63% plan to invest more in 2023 than 2022. Americans are more optimistic than last year, new Magnifi survey finds.
---
INO.com, a division of TIFIN Group LLC, is affiliated with Magnifi via common ownership. INO.com will receive cash compensation for referrals of clients who open accounts with Magnifi.
Magnifi LLC does not charge advisory fees or transaction fees for non-managed accounts. Clients who elect to have Magnifi LLC manage all or a portion of their account will be charged an advisory fee. Magnifi LLC receives compensation from product sponsors related to recommendations. Other fees and charges may apply.
Diversification does not guarantee a profit or protect against a loss in a declining market. It is a method used to help manage investment risk.
Mutual Funds and Exchange Traded Funds (ETFs) are sold by prospectus. Please consider the investment objectives, risks, charges, and expenses carefully before investing. The prospectus, which contains this and other information about the investment company, can be obtained from the Fund Company or your financial professional. Be sure to read the prospectus carefully before deciding whether to invest.