Today, I would like to show you how to create your own private hedge fund for your own account. It's not that difficult and it can make a huge difference to your bottom-line. Let me explain what I mean by that.
What Is A Hedge?
A hedge is an investment position intended to offset potential losses/gains that may be incurred by a companion investment. In simple language, a hedge is used to reduce any substantial losses/gains suffered by an individual or an organization.
A hedge can be constructed from many types of financial instruments, including stocks, exchange-traded funds, insurance, forward contracts, swaps, options, many types of over-the-counter and derivative products, and futures contracts.
Public futures markets were established in the 19th century to allow transparent, standardized, and efficient hedging of agricultural commodity prices; they have since expanded to include futures contracts for hedging the values of energy, precious metals, foreign currency, and interest rate fluctuations.[1]
Source: Wikipedia.org.
For our purposes today I'm going to be looking at hedging stocks. I'm going to give you specific examples of what you can do today. One stock you're going to buy and go long, the other stock you're going sell and go short.
In order to make this work, you need to have the same amount of invested capital in each stock. The two stocks I'm looking at today are traded on the New York Stock Exchange (NYSE). The first stock is ONEOK Inc. (NYSE:OKE), the second stock is Basic Sanitation Co. (NYSE:SBS).
For discussion's sake, let's say you have $10,000 to invest. Divide the money up into two buckets of $5,000 each. You would then look at what price each stock was trading at. OKE is currently trading around $43 a share and SBS is trading around $6 a share. Then divide the value of 1 OKE share (presently at $43) into $5,000. This gives you 116.27 shares that you can buy or short with your $5,000. To make things easier, I would round this down to either 110 or 115 shares.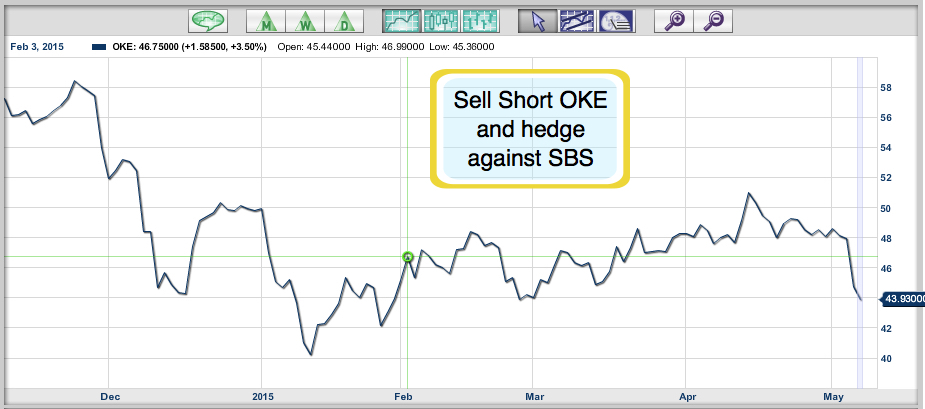 ONEOK, Inc. engages in the gathering, processing, storage, and transportation of natural gas in the United States. It operates in Natural Gas Gathering and Processing, Natural Gas Liquids, and Natural Gas Pipelines segments. Continue reading "How To Trade Like A Hedge Fund" →