Editor's Note: Our experts here at INO.com cover a lot of investing topics and great stocks every week. To help you make sense of it all, every Wednesday we're going to pick one of those stocks and use Magnifi Personal to compare it with its peers or competitors. Here we go…
---
Sometime in the third quarter of last year, legendary investor Warren Buffett's Berkshire Hathaway Inc. (BRK-A) took a $4 billion stake in Taiwan Semiconductor Manufacturing Co. Ltd. (TSM), the Taiwanese contract chipmaker.
With TSM being the world's largest and most valuable semiconductor fabricator with chips in most high-tech equipment the world over, and with Warren Buffett's reputation for making extremely savvy investments, lots of people took notice.
But just a few months later, Buffett seems to have said "never mind" and sold more than 85% of his stake.
We have no insight into Buffett's thinking, but it does seem odd for a buy-and-hold value investor to sell a great company that is so cheap. TSM is a well-run business with wide competitive moats and big profits. Yet, the stock is at a discount to its peers, at 17 times forward earnings.
By comparison, its rival Intel Corp. (INTC) — thanks to its crashing profits — has a price-to-earnings ratio (p/e) in excess of 60 times. And the company just slashed its dividend.
So, we thought it would be interesting to compare TSM to INTC using the Magnifi Personal compare function. Comparing two or more stocks has never been easier than with Magnifi Personal. All you had to do was type "Compare TSM and INTC" and Magnifi Personal showed us this: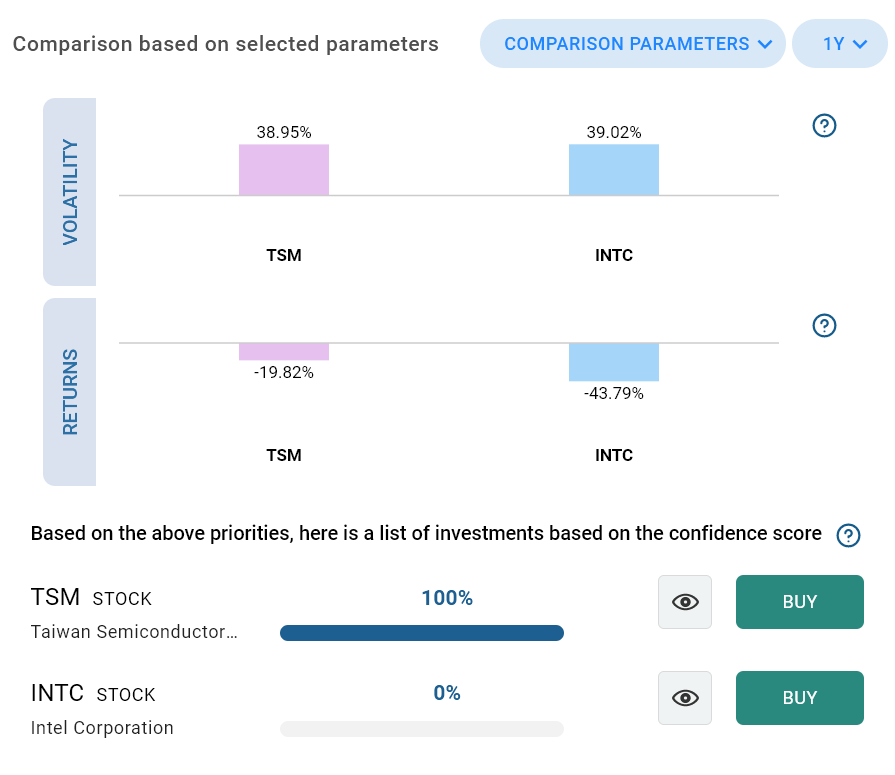 This is an example of a response using Magnifi Personal. This image is not a recommendation or individual advice. Please see bottom disclaimer for additional information, including INO.com's relationship with Magnifi. Continue reading "Why Warren Buffett Just Made a Huge Mistake" →