Editor's Note: Our experts here at INO.com cover a lot of investing topics and great stocks every week. To help you make sense of it all, every Wednesday we're going to pick one of those stocks and use Magnifi Personal to compare it with its peers or competitors. Here we go…
---
Sometime in the third quarter of last year, legendary investor Warren Buffett's Berkshire Hathaway Inc. (BRK-A) took a $4 billion stake in Taiwan Semiconductor Manufacturing Co. Ltd. (TSM), the Taiwanese contract chipmaker.
With TSM being the world's largest and most valuable semiconductor fabricator with chips in most high-tech equipment the world over, and with Warren Buffett's reputation for making extremely savvy investments, lots of people took notice.
But just a few months later, Buffett seems to have said "never mind" and sold more than 85% of his stake.
We have no insight into Buffett's thinking, but it does seem odd for a buy-and-hold value investor to sell a great company that is so cheap. TSM is a well-run business with wide competitive moats and big profits. Yet, the stock is at a discount to its peers, at 17 times forward earnings.
By comparison, its rival Intel Corp. (INTC) — thanks to its crashing profits — has a price-to-earnings ratio (p/e) in excess of 60 times. And the company just slashed its dividend.
So, we thought it would be interesting to compare TSM to INTC using the Magnifi Personal compare function. Comparing two or more stocks has never been easier than with Magnifi Personal. All you had to do was type "Compare TSM and INTC" and Magnifi Personal showed us this: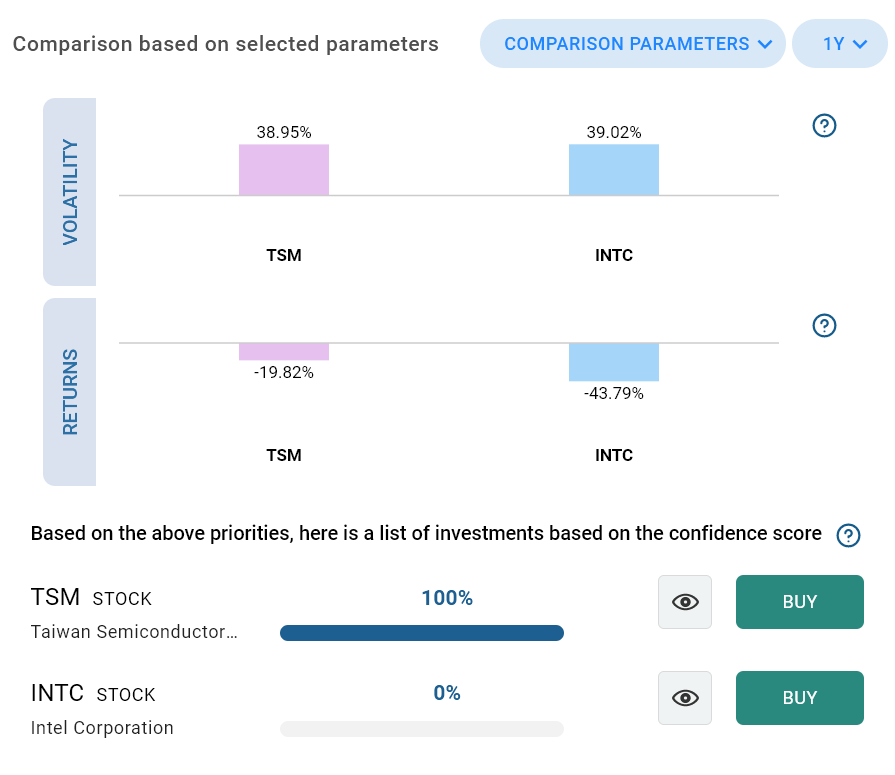 This is an example of a response using Magnifi Personal. This image is not a recommendation or individual advice. Please see bottom disclaimer for additional information, including INO.com's relationship with Magnifi.
With access to Magnifi Personal, you can do the same! Just click here to get started on this comparison, ask Magnifi Personal for more details to dig in deeper, or start your own comparison.
As you can see, Magnifi Personal has Taiwan Semiconductor as the clear favorite with higher returns and lower volatility.
But Warren Buffett is a value investor, so let's ask Magnifi Personal to compare the two chip stocks based on valuation instead. You can click "Comparison Parameters" up in the corner and pick the criteria, or simply ask Magnifi Personal to "Compare TSM and INTC including returns, P/E Ratio and EBITDA." Here are the results: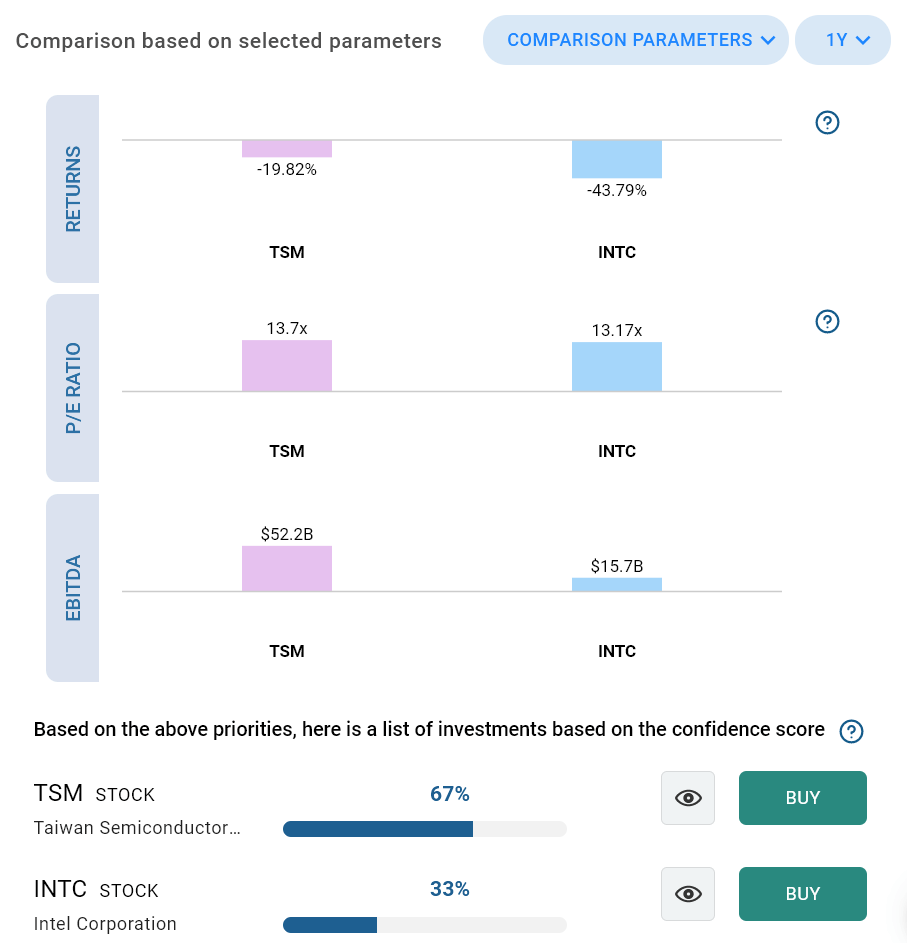 On valuation, TSM still comes out as the clear winner. And keep in mind that Intel's future looks even worse with, as we mentioned earlier, its earnings plunging.
Keep in mind, too, that TSM is outperforming the broader sector this year.
Mark Baribeau, a portfolio manager at Jennison Associates, told the Financial Times that the company is among the best-positioned semiconductor companies for weathering storms in the industry over the next year or two.
Poor Intel, in the meanwhile, had to recently admit that its tools are operating at only 20% to 25% of the efficiency of equivalent tools at Taiwan Semiconductor.
That technology edge gives TSM pricing power over its customers, even during a semiconductor bust. We expect the company will still pass higher costs through to its customers in 2023, via a 3%-to-6% price hike.
As much today as when Buffett first bought the stock, TSM enjoys durable advantages, pricing power, and a history of good management. Its valuation remains cheap, too.
It's something that's very easy to visualize using Magnifi Personal, as you've seen.
Instead of poring over financial statements and earnings reports, you can simply ask Magnifi Personal to compare stocks based on their valuation.
To do that yourself, or compare different stocks and even buy them right in the app, click here. It's all available to you right now. Just click here to open your Magnifi Personal account right now!
Latest from Magnifi Learn: Your money goals are unique to your life and can change over time. Learn how to choose your investing goals, find common goals to choose from, and learn the best ways to approach goal-based investing in the short- and long-term.
---
INO.com, a division of TIFIN Group LLC, is affiliated with Magnifi via common ownership. INO.com will receive cash compensation for referrals of clients who open accounts with Magnifi.
Magnifi LLC does not charge advisory fees or transaction fees for non-managed accounts. Clients who elect to have Magnifi LLC manage all or a portion of their account will be charged an advisory fee. Magnifi LLC receives compensation from product sponsors related to recommendations. Other fees and charges may apply.
Diversification does not guarantee a profit or protect against a loss in a declining market. It is a method used to help manage investment risk.
Mutual Funds and Exchange Traded Funds (ETFs) are sold by prospectus. Please consider the investment objectives, risks, charges, and expenses carefully before investing. The prospectus, which contains this and other information about the investment company, can be obtained from the Fund Company or your financial professional. Be sure to read the prospectus carefully before deciding whether to invest.