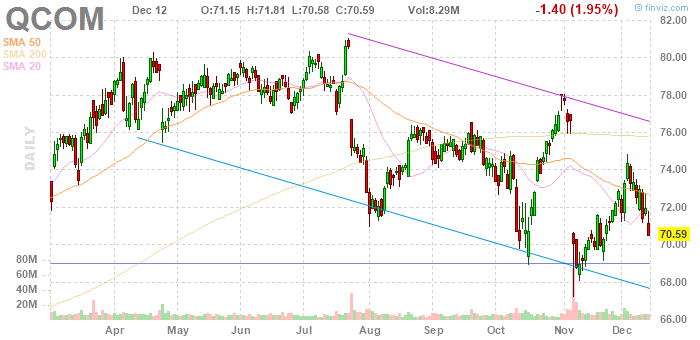 On July 23rd of this year, shares of Qualcomm (NASDAQ:QCOM) stock were quoted at $81.97, representing the highest price they've reached all year. At the time, its P/E ratio was just north of 20. In an overpriced market, for a company of Qualcomm's caliber - whose double digit earnings growth is projected to hold steady in the long term - one would logically think it was a rare bargain at the time.
But the way in which QCOM's priced has moved in recent months has been largely devoid of logic. On Friday, December 12th, the stock closed at $70.59, just 4% above its 52-week low. The price is indicative of a 14% drop which occurred within just 5 months of hitting its high point. That's a 34% annualized drop in price.
Speculation Has Been Hurting QCOM's Stock Price
...But for any well-known stock, speculative-based price movements never seem to hold steady in the long term.
Whenever a company has at least some level of earnings growth, its stock becomes an attractive target when its price takes a large enough dip to push it into value territory. In the case of QCOM, this would apply at its current price level. Continue reading "Buy Qualcomm (QCOM) While It's Cheap" →