Traders,
I wanted to share an incredible story with you in the spirit of our INO Cares campaign. It is amazing how one person can make such a tremendous impact and how a chance encounter can turn into something so wonderful!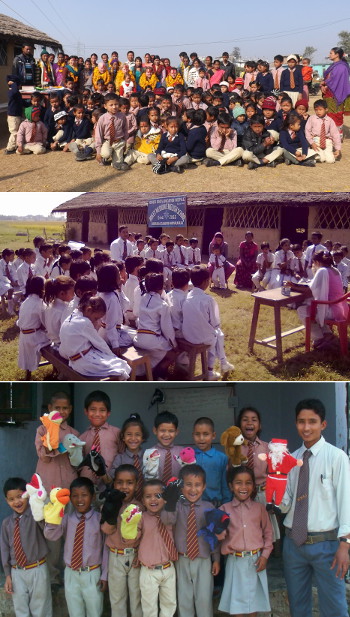 After graduating from college in January of 2005, Maryland resident, Mikey Church, decided to take a bicycle ride with his friends from Amsterdam to Cairo and then from India to China. They day they entered Nepal, the King dissolved the government and declared martial law. This caused Maoist Rebels to declare a strike across the country resulting in a halt in travel and commerce. Mikey and his friends happen to cross paths with local village residents and brothers, Ujjwal and Bol Bhat.
Ujjwal encouraged Mikey and his friends to stay with his family until political tensions eased. During this stay, the American boys spoke often with Ujjwal about the poor access to education in Nepal, especially for girls and the desperately poor, and also about Ujjwal's dream to open a school. Mikey safely returned home, but did not forget the conversations he had with the Nepalese brothers.
Mikey and Ujjwal kept in touch for a few years. When Mikey married his wife in 2008, he asked his guests to make donations in lieu of wedding gifts. Mikey was able to send this money to Ujjwal to open the doors of the Mikey Medium English School, a three room school house in Bauniyan, Kailali to 40 students, 20 of which were girls.
In a letter sent to family and friends, Mikey said, "I am a firm believer in the parable, 'Give a man a fish and you feed him for a day. Teach a man to fish and you feed him for a lifetime.' The benefits of basic education need not be reiterated here. They are plentiful and convincing. Never the less, here is a refresher. Girls who are educated are better able to protect themselves against HIV/AIDS, marry later in life, have healthier children and have work opportunities beyond the home. Boys who are educated may be able to break a family cycle of hard labor and typically earn more than their non-educated counterparts."
Read the full story about Mikey's journey and the Mikey Medium English School.
Today, the Mikey Medium English School enrolls 100 students and employs 5 teachers. Fifty percent of the students are females and fifty percent are desperately poor. Class size does not exceed 20 students. For only $200, Grassroots Education Nepal provides a student at the Mikey Medium English School year-round education, textbooks and supplies, two student uniforms (including socks and shoes), a backpack and sweater.
For our June INO Cares campaign, we are proud to offer scholarships to 5 students so they can attend the Mikey Medium English School for 1 year!
This is such a wonderful story and we could not be more honored to give the gift of education to a handful of Nepalese youth, as well as continue the dream of an American kid and a pair of Nepalese brothers!
To contribute to Grassroots Education Nepal or sponsor a student of your own, please visit Mikey Medium English School's page.
I hope you enjoyed this story. If you have any ideas for a future INO Cares campaign, please send them our way!
Best,
The INO Cares Team