Analysis originally distributed on November 16, 2016 By: Michael Vodicka of Cannabis Stock Trades
It's been a tale of two markets for cannabis stocks.
On one hand, U.S. cannabis stocks have struggled since eight U.S. states approved new marijuana programs last Tuesday.
For example, industry leader Terra Tech (TRTC) is down 18% in the last five days. Kush Bottles (KSHB) is down 35%.
On the other, Canadian cannabis stocks have been killing it.
Canopy Growth Corp (CGC), the largest medical marijuana company in Canada is up 74% in the last week. Aphria (APH) is up 51%. Organigram (OGI) is up 46%.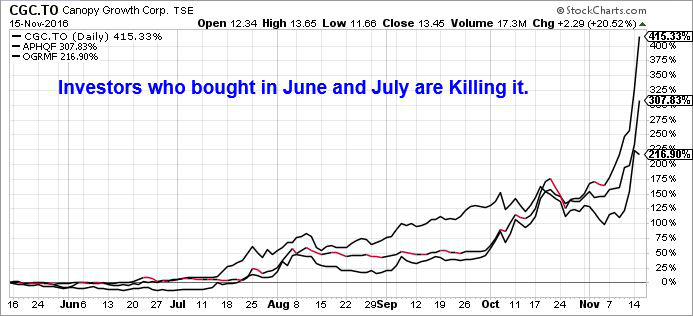 Chart courtesy of StockCharts.com
This has a lot of cannabis investors scratching their heads.
After all, didn't the U.S. market just see a big wave of legalization? Continue reading "Canadian Cannabis Stocks are Surging" →