Today we welcome Les Schwartz of DecisionBar Trading Software to the Trader's Blog. Les shares his thoughts on why many gamblers become traders and how those types of traders can shift their trading psychology to make more profitable moves in the market place.
---
Having been an active trader for 20-plus years, I've had the opportunity to observe much more than your average investor.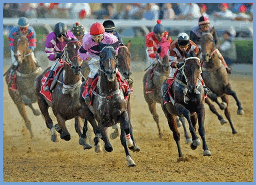 For instance, one of the unusual things I've observed is that many traders come from a gambling background, and horse betting in particular. In fact, many years ago I worked at a race track and placed a few bets myself.
Why do horse betters frequently gravitate toward trading?
I think it's because there are certain aspects of trading that are more predictable than horse betting. A stock or an option or a currency pair can't break a leg or unexpectedly fall ill.
Plus, very few guys who play the horses make a full-time living at it. But there are many, many traders who enjoy a healthy part-time income – or even make a full-time living – from trading.
Continue reading "From Gambling to Trading: Mindset Shifts That Help You Win" →