I've had the pleasure of meeting and enjoying a beer with Ron Ianieri from OptionUniversity.com. For those of you who've had the opportunity of learning options from him, you know what I mean when I say he's awesome! He's experience, poised, and his knowledge from REAL LIFE trading is outstanding.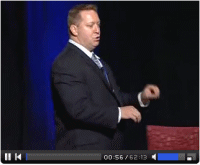 Well Ron (the linebacker looking guy to the right --->) has written this article for us today talking about "them", and I think you'll like it!
Please enjoy the article below, comment with your thoughts, and check out Ron's new online video!
=====================================================================
Are you one of the "misinformed? Are you losing the tremendous opportunities that using stock options can offer? No, options are not one of the more risky investments. "Oh, yea" you say sarcastically. "That's why my broker looks down at the floor as he hands me a risk disclaimer statement  which warns the reckless investor about the dangers of trading stock options", you say. Well, I say to you, dear reader that most investors don't want to take the time to learn about options-one of the most versatile in-vestment tools available. Too many investors go into trading stock options without adequate education and take the fall. They blame it on the vehicle….not the driver. Like anything, lack of knoweledge can cause problems and that holds in spades for options.
Consider the fact that the risk of purchasing an option is limited to the premium paid. Owning stocks, however, usually have a much larger ex-posure to risk.
Continue reading "Are You One of "Them", Too? Options Focused Post" →